My last post was over a month ago. Wow!
Anyway.. what have I done in the past few weeks?
At the beginning of April, I had some meetings to attend at Houston. It was my first trip to the US and was quite fascinating for me. Everything seemed larger in Houston - from the food serving sizes to motorways! Being there for meetings meant that I didn't have time to go anywhere much aside from the hotel and the office. However, I did tag along to the local Walmart Supercentre one evening and it was HUGE. I tried to describe it to Chris, but I don't think I did a very good job. I don't think we have anything quite that size here in Australia - not a single store by itself anyway. Alex was the sole beneficiary of that shopping trip. I was lucky that it's starting to warm up in the northern hemisphere while we are heading towards cooler weather here in the south. I managed to get Alex a whole lot of cheap sleepwear and teeshirt sets. He also has a pair of new shoes which he loves. I can't believe that I only paid all of about $11 for them when they would have cost at least twice that here in Sydney.
I stopped over at San Francisco to see
B1
and
B2
on the way home. I stayed with them for a night, and it was fortunate too that I planned on visiting them. My flight from Houston was terribly delayed due to rain and a stalled plane on the runway and I would not have made the flight to Sydney had I chosen to fly out on the same night.
Anyway, they live 1 street away from the steepest incline I have ever seen on a street. Then again, the slope of the street where they lived was pretty steep too!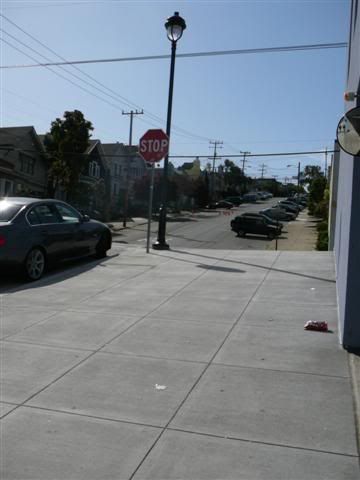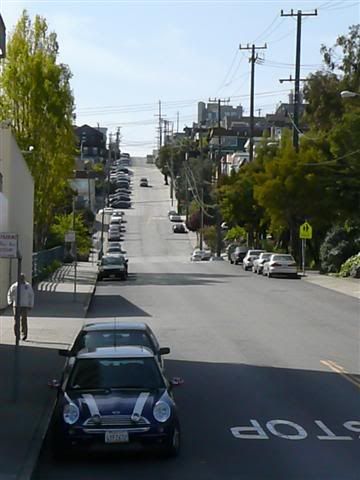 I spent all of Saturday with the Bs, and what great hosts they were. There was more shopping and some sightseeing. In many ways, San Francisco is very much like Sydney. It has that "city by the water" kind of feel to it. I tried to squeeze as much as I could into my one day in San Francisco, and I must confess I worked my hosts very hard. Poor B2 came shopping with us, and he was very tolerant too!
Along the way, we passed by the Transamerican building (or at least that is what I think it is called). It was a strange pyramid looking thing that shot up iinto the sky and appeared to almost go on forever,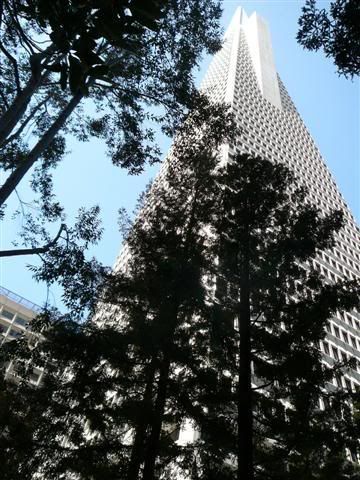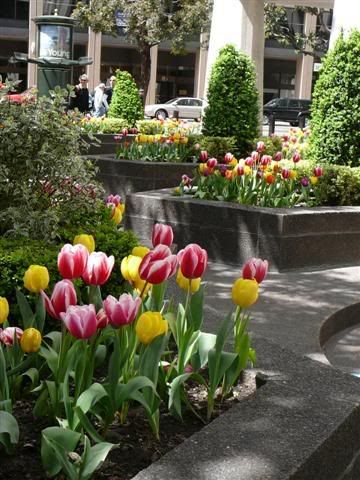 One thing that was a must have on my list of things to get was
See's Candies lollipops
. I have now stocked up enough for the next few months. I was first introduced to these pieces of heaven on sticks a few years ago, but seeing as they are very much an east coast of the USA thing, I had to wait till this year to be able to get some. We ended up finding a See's Candy store at the Embarcadero Centre, which is also where I saw this sculpture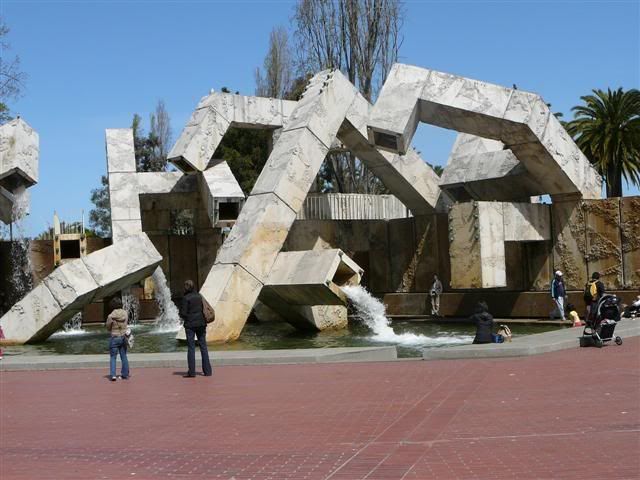 I was fortunate enough to be able to have lunch at
Boudin
- home of sourdough. The clam chowder was rather good. The sourdough was pretty good too. I'd be more than happy to go back there again..
Oh, and the fresh food markets in front of Ferry Wharf. That was fun too. Everything looked so good. If only I could bring more home with me, and if only the Australian quarantine rules weren't as strict.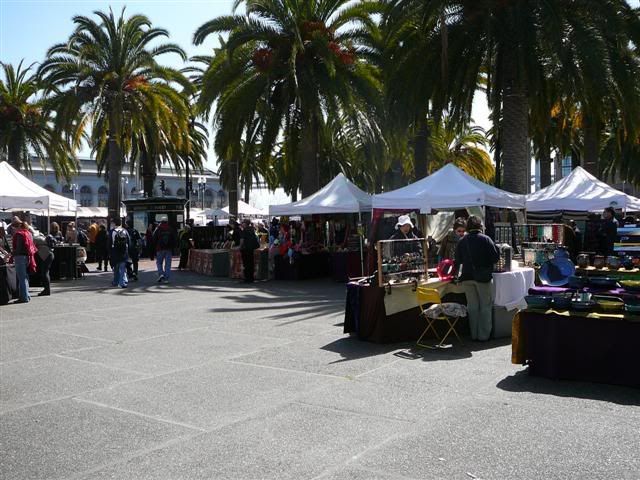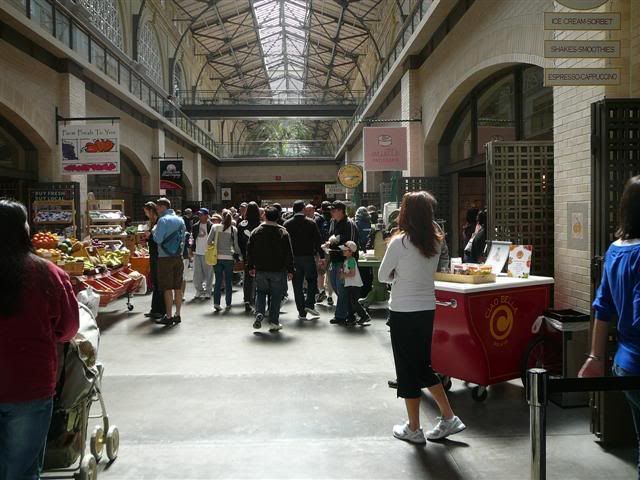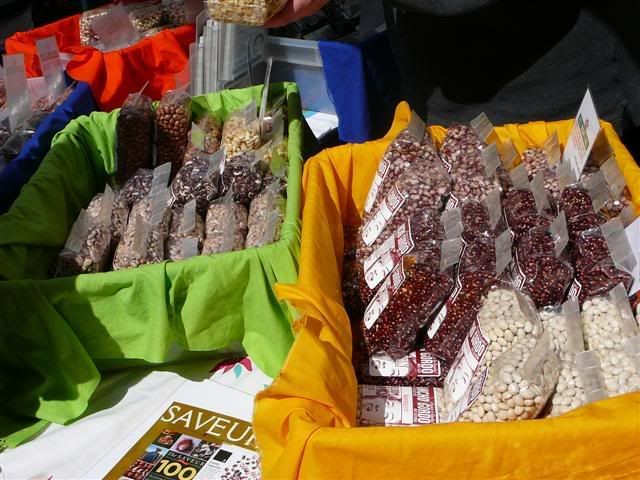 At Pier 39 I saw wild sea lions and a "double decker" carousel. It's the first time I have seen either...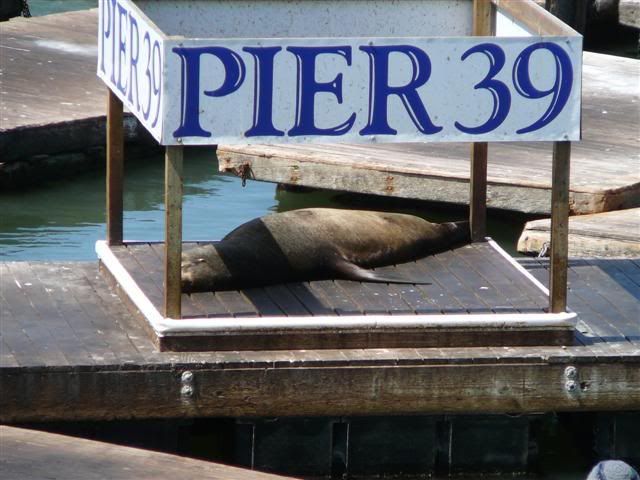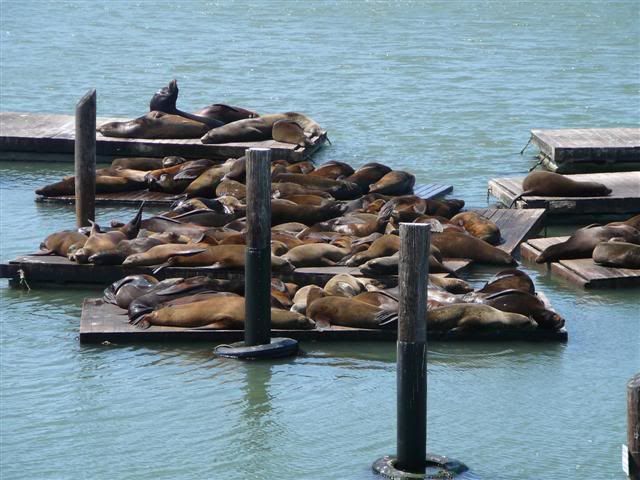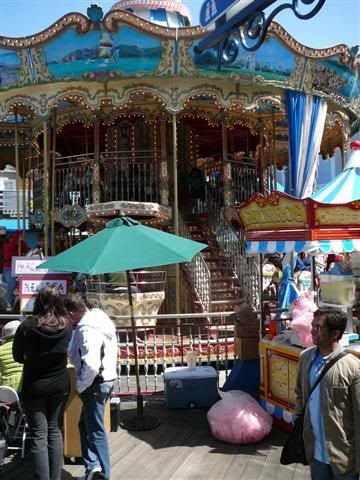 A side trip to the Gap store proved to be harder on my pocket than I expected. I went in looking for pants for myself and came out with a stack of discounted clothes for Alex. No, no pants for me, unfortunately.
Oh, and I only saw Alcatraz from a distance and caught a very very foggy glimpse of the bridge.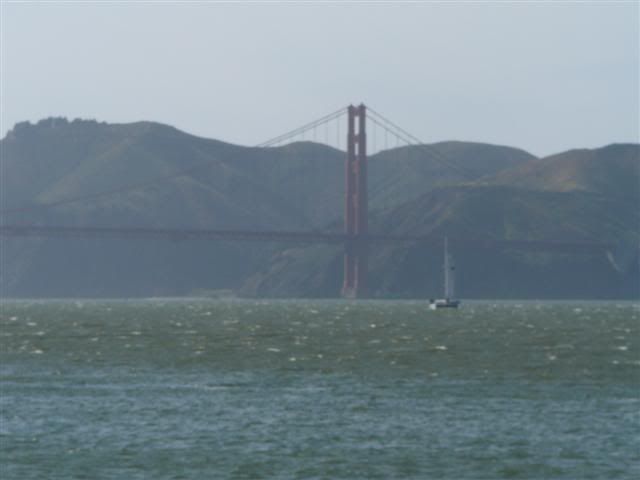 On the weekend after I returned from the US, we celebrated Chris' grandmother's 100th birthday. It was a big party with about 70-80 guests. The party had been planned months in advance, and what a lot of planning it was. I think the party was a success and Chris parents did very well organising it. They even organised entertainers and all.
On the weekend just past, Granddad turned 78 and we had a (much smaller) party at
Orso
for him. Alex was unbelievably well behaved in the 4 or so hours that we spent there. He was well entertained, and I think rather entertaining. It was good for both Chris and me that everyone wanted to play with Alex and so we had some "free" time to talk to the folks there. These days, "Free" time is defined as time when Alex is not hanging off us.
Alex is now a walking talking little boy. Whenever I see him, I am reminded that he is no longer a baby. He has quite a repertoire of "words" - enough to make himself understood most of the time. Amongst his favourite words (and most annoying to us) are "no", "more","more blish" (more please), "ree blish" (read please) and "no". Yes, I know I mentioned "no" twice, but he really does use it at least twice as often as the other words! You may be wondering why it is annoying when he asks us to read to him. It's a good thing that he loves his books and wants us to read to him, but too much of a good thing... Seriously, he is constantly shoving books at us asking us to read to him. He moos like a cow, baas like a sheep and meows like a cat very well. He also tells you when he wants to eat, or have a bath, or go upstairs, or go downstairs or go out. My boy is growing up so quickly.
He had a playdate with
Bernice
recently. They played together but not with each other, if that makes sense. It is amazing to see how much the both of them have grown. They were actually due to be born on the same day. Bernice's mother and I were in the same pre-natal class. However, Alex arrived early and Bernice arrived late, making the births about 3 weeks apart.
Not much has been done on the sewing/knitting front. My sewing machine stopped working before I went to the US and it took me forever to get it serviced. It's finally home now and works very well. I did make some small project bags but I don't have any photos of them yet.
I did make Alex a hat but it is a wee bit small for him. Aside from trying it on, he has not worn it. I need to make him a bigger one.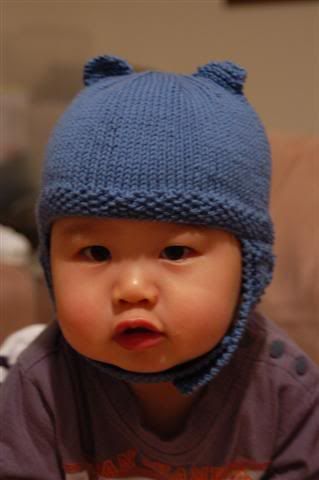 Also on the needles is an Arctic Diamonds stole. I have only just started it and have a fair way to go yet. I am knitting it in some white baby yarn and I plan on dip dyeing the stole when it's been completed.
Labels: Alex, Arctic Diamonds Stole, Bernice, birthday, hat, knitting, US