Oh dear, time does fly!
Aside from a trip to Malaysia, we haven't really done all that much in the past six weeks. We went to Malaysia for the last week of February and first week of March, and although it has been a couple of weeks since we arrived in Sydney, I am still getting over our trip. I think I can speak on Chris and Alex's behalves when I say that we all miss KL very much.
Alex, of course, misses all the attention he got. Although it was not the first time he is meeting my parents, I think he thinks that it was. The last time my parents visited was last Easter, when he was only 3 months' old. Alex also got to meet my grandmother who he calls "Ah Chor". Well, it sounds more like "Chor" or "Shore Shore" when he says it. Once he warmed up to her, and it did take a few days for that to happen, he was more than happy to go up to her and share his toys with her. Often my grandmother would find herself running out of hands to hold all the toys he had offered her.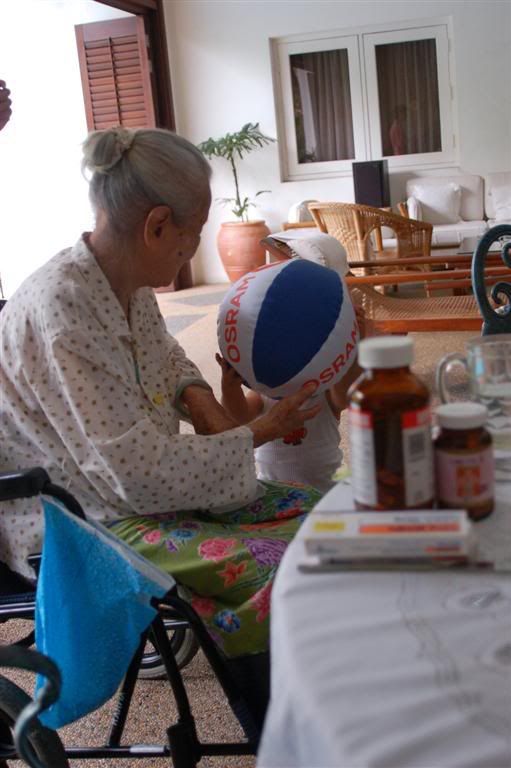 He also met a few of my parents' friends. Alex was happy, as long as he was the centre of attention.
While we were in KL, Alex had a lot of room in which to practise walking, and he very quickly went from toddling to walking. In fact, he even tried to run.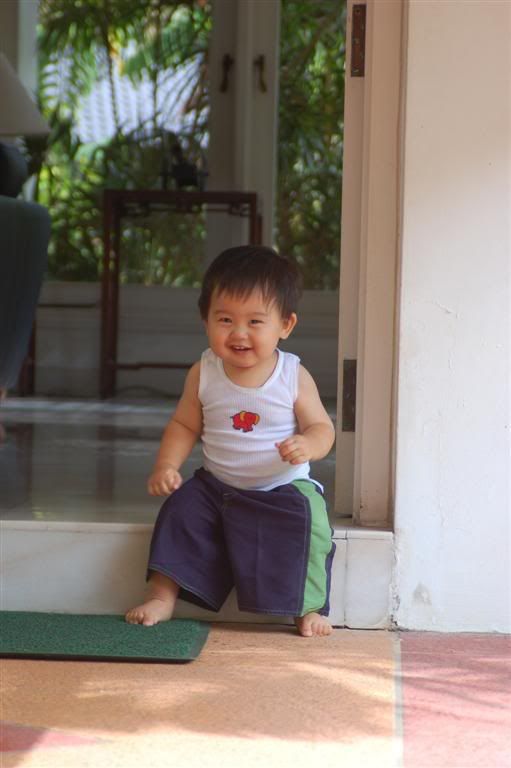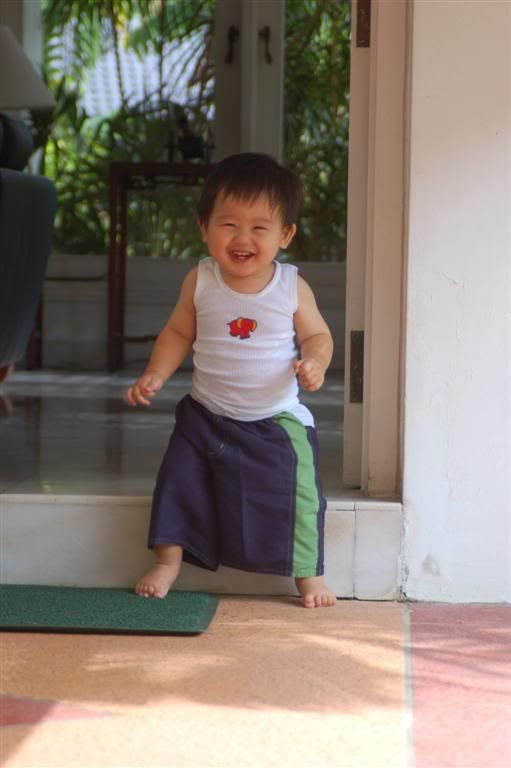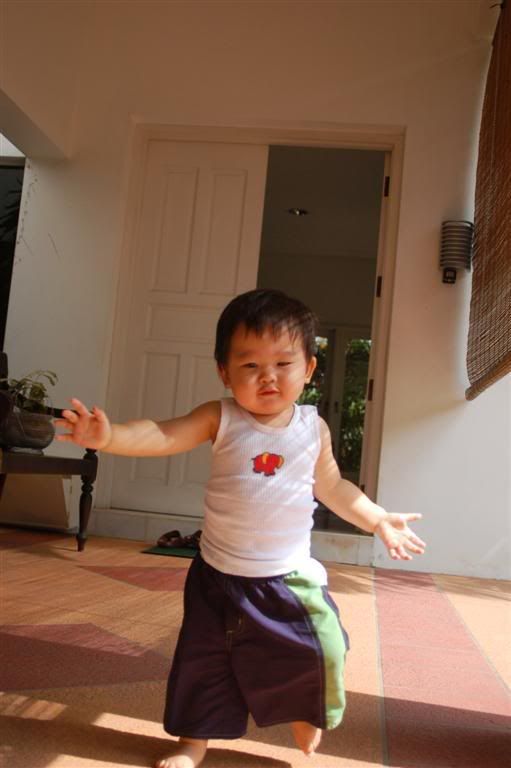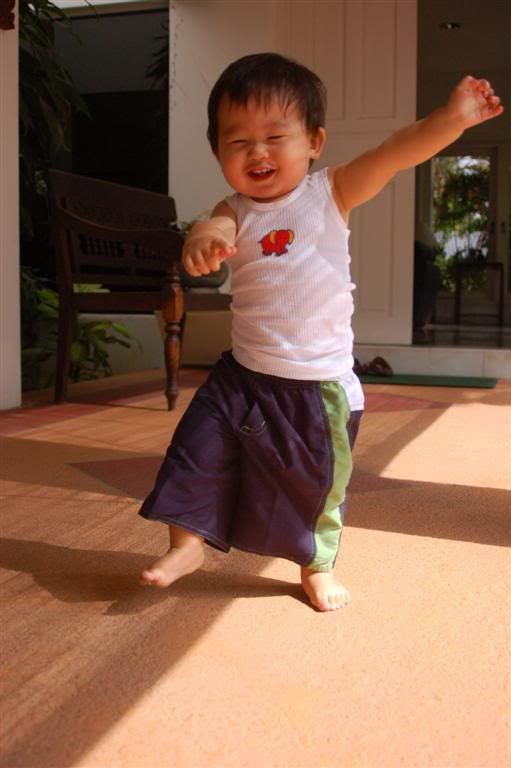 I am SO not ready for him to start running. I have enough trouble keeping up with him when he's only walking. I'd hate to think what mischief he'll get into when he is able to run. It actually surprises me how quickly his little legs can move.
One of his favourite games whilst in KL was running away with Daddy's shoes. He would pick up Chris's shoes and try to get away with them when he wasn't watching. He would then try to push them out of the window, like this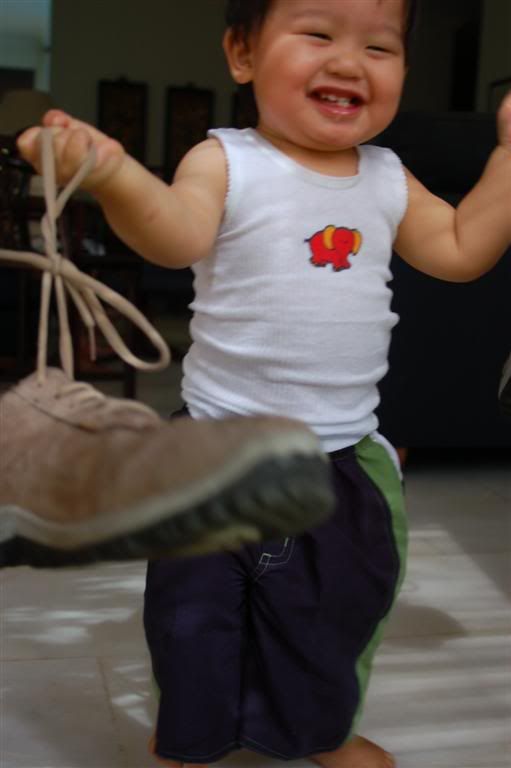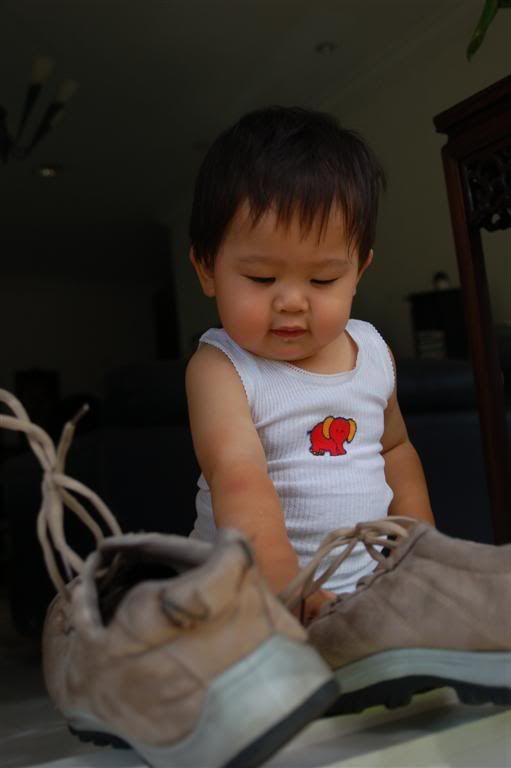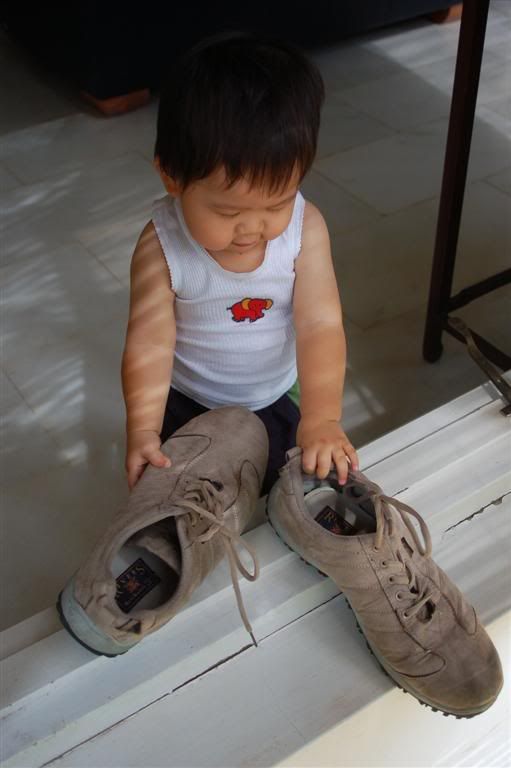 Another game he enjoyed was walking in Daddy's shoes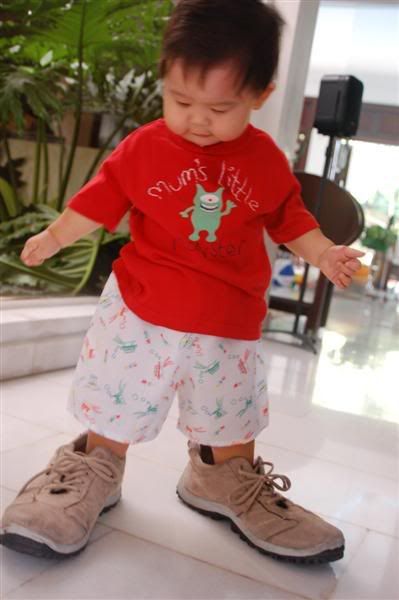 The main reason for our trip, aside from introducing Alex to my extended family, was to Attend my grandmother's 95th birthday. It was only a small party with soem family members coming for lunch and dinner. Our contribution to the festivities came in the form of a pair of suckling pigs. Picture is
here
for those of you who are squeamish. (
Note
: the photo includes the roasted head of a piglet) It was great fun seeing my cousins, aunts and uncles whom I otherwise probably wouldn't have seen this trip as they live in Singapore or Penang. Alex loved all his relatives and it didn't take long for him to warm up to them and start sharing his toys with them!
Alex also had a few dips in my parents' pool. It's his first time in a pool, and I think he rather enjoyed it. I guess to him, it's no more than just a giant bath.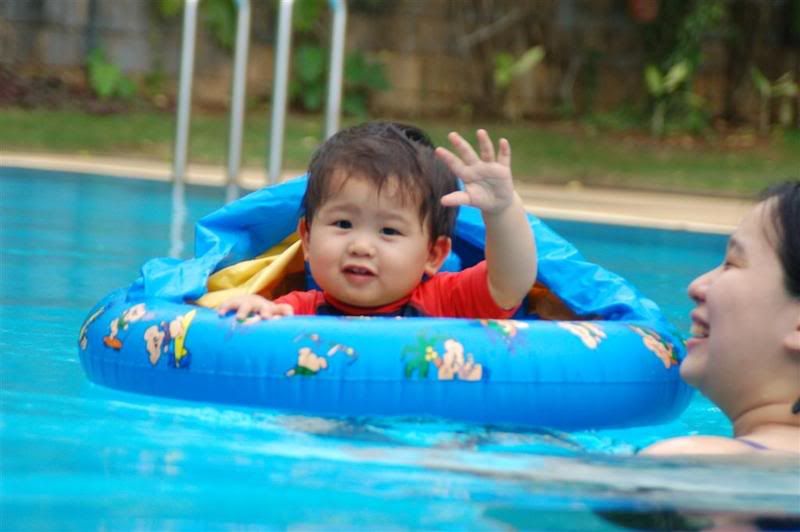 Madalena from my mums' group lent us some floaties and Alex enjoyed being pushed around in his "water throne". Alex enjoyed the pool so much that we'll probably sign him up for some swimming lessons next summer.
Since coming back to Sydney I have not had much time to sew or knit. As I came home to over 1200 emails in my mailbox, I have had quite a hard time catching up on everything that went on at work. believe it or not, I am STILL catching up! I think it is true what one of my colleague said - that it takes a month to catch up on work for every week that you're away.
However, I did manage to make these: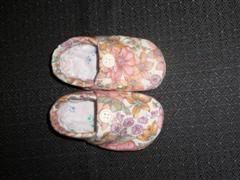 One of the carers at Alex's daycare is going to go on maternity leave soon. We bought her some little baby bodysuits (otherwise known as onesies?) in KL btu I wanted to give her something handmade. The shoes were easy to make, though finicky. The instructions are
here
.
On the knitting front, I have started Tahoe from
knitty
. I am using some
Schoeller Esslinger Edelweiss
from my stash in light gray. I think I will use either a darker gray for the edges or add some colour to the piece by using some maroon or blue variegated yarn. I haven't quite decided yet.
Labels: Alex, cloth shoes, KL, sewing