Friday, October 28, 2005
One year project
I read in one of my office newsletters that one of the managers in my office is taking a year's leave of absence to build an orphanage in Bolivia - where he comes from. From what I have read, it seems that much of Bolivia lives in poverty. Sounds like a good cause to me.

He is working in partnership with one of the large freight companies and will be able to send things cheaply to the orphanage in Bolivia. It (the orphanage) will be set up in the next year or so. Work has already begun and architects and engineers have started working on this.

Why am I bringing this up? Well, whenever I see the Dulaan projects or other similar projects, I think, "Wat a worthy cause". However the postage cost of sending things to these projects is quite beyond me. This time, I feel like I can help. I am happy to collect donations of hand-made items for these children. I have not been to Bolivia and don't know very much about the place. However, Nelson, the man from my office who is setting this up, has told me that the weather is much like Sydney - "When it gets cold it gets to as low as 6 degrees C or 8 degrees C and summer can get up to 29 degrees C". They will have a use for warm clothing, but probably not super bulky super warm knits.

If you are interested n contributing, please let me know and I will give you more details. Just so you know, I checked and the orphanage has no religious affiliation. They are, however, happy to receive items from anyone - religious or otherwise.

This just came up last night, so I haven't had an awful lot of time to think this through. I'd love to be able to help and do something, but the details have not been all worked out yet. so if you want to know more, just send me an email.
Monday, October 24, 2005
My 150th post
I can't believe that it's my 150th post already. Well, that's what Blogger is teling me, and rather than counting, I choose to believe it. It seems like I just started this blog a few months ago, but really, my first post was on 20th August last year - 14 months ago! That gives me an average of just over 10 posts a month. Hmmm, I thought I was blogging more regularly than that.
TwiggyAnn's scarf
Hey there,
TwiggyAnn!
Lookie here!
That's your scarf... well, the beginnings of it anyway. It's the only thing I am knitting right now. The pattern is easy to memorise and I can squeeze in a few rows here and there. I hope to have it done by early November.
I updated my
swap list/wish list
today. For those of you asking, the only reason why there's so much Knit Picks stuff on there is because I can't get it here in Australia and they won't ship it! I can get most other yarns here or at least shipped here somehow.
Sunday, October 23, 2005
Short post for TwiggyAnn
Progress in the hood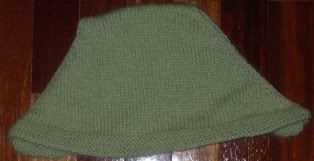 There you go. The hood is done. I am now knitting the scarf. Once I get past the garter edge, I will show you another picture...
Now we need to work out what else I am sending you :)
Post for everyone else
Work and uni is getting more hectic - testing is starting for one of my projects (uh oh..) and uni assignments are due in a couple of weeks. Man, I can't wait for 10th November. That is when I have completed my final presentation, been questioned and tested by my lecturers and have my fingers and toes all crossed waiting for the results.
Cynthia and I are putting together the questionaire for the scarf exchange. It will be ready soon. Keep signing up folks. It will be fun! I owe some of you email replies. I'll get round to them soon. Promise!
Malaysia's loss
Okay, so I am a little slow with the news. I read today that Datin Paduka Seri Endon Mahmood has passed away on Thursday after a 4 year battle with cancer. If you don't know who she is, well, she is the wife of the Malaysian Prime Minister. I am not all that familiar with Malaysian politics these days, but in the years that I have read about her (and her husband), I have a lot of admiration for both of them. This is very rare in this day and age - I don't have an awful lot of respect for most politicians.
Datin Endon was very interested in the local textile industry, with a particular focus on the traditional textiles. She wrote a
book
about the kebaya, a local dress type. If you're interested, one of the local newspapers has articles about her, including one where Malaysians have written in and paid their tribute to her -
here.
This
is from a local government website. It doesn't really say much about who she is, but it gives youa glimpse of her interests and what she did. Right now it's kinda hard to find links about her, apart from articles about her passng and her funeral.
Friday, October 21, 2005
So, THIS is a knopp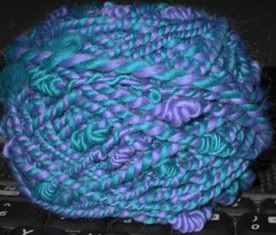 That's right, that's my ball of knopp-y yarn. It's overplied and won't hang straight, but I am still proud of it.
Hmm, all those knopps, what do you think it looks like when it is knitted up? Now, let's se...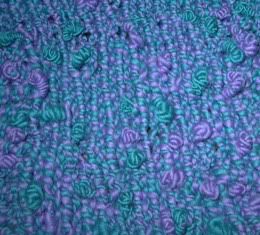 When I don't look too closely, it looks like little flowers on the swatch. When you look too closely, it looks like worms.. eeugh!
That said, I think I quite like it. I think it
can
look quite nice as a scarf or a scarf trim. maybe not as a hat - imagine that, wormies on your head! I wonder what my experiment will be next week..
Parting with a (not-so) old friend
I have decided to sell my Ashford Traditional. She's been a good friend for the past year or so. However, now that I have Suzie and can buy a jumbo flyer and bobbin fairly cheaply, I really don't think I need two wheels. Selling my Ashford wheel and the jumbo kit that goes with it means that I can buy the jumbo kit for my Suzie and have some money left in the pocket, AND more space in the living room. Yay for me!
Decision!
I have made up my mind. I am getting the Inky Dinky Spider Stole from Fiddlesticks. Thank you SP6!
Rules of the game
We're still signing people up for the scarf exchange. Interested? Go read the rules first, and then if you're still interested, you can sign up by sending an email to us from the link on
that
blog.
Okay, so you've been there, read the rules and think some of them a bit strange? Well, this is what Cynthia and I have learnt from the first scarf exchange. So, you can thank some of the participants for some of the more obscure sounding rules.
1. Minimum spend - why? We have not received any complaints about the inequality of value between the scarves sent and the scarves made. Judging by how many are returning for the second round, most of you must have been happy or at least satisfied. Anyway, we had a look around and thought that maybe we should set a minimum spend to make sure that people aren't too stingy with their purchases. It is okay to use stash yarn. We don't mean that you have to go out and buy yarn. The yarn that you use should be about $20 worth, whether it's newly bought or from your stash.
2. We need you to post on the scarf exchange blog - why? Because I am not so good at keeping up with your progress on your blogs. I really had trouble doing it in the first round. i don't think I can do it again, especially since we have more participants this time around. SO! This is how it is going to work. I am going to have a list of all the scarf set people and Cyn will have a list of the scarf only people. we'll be marking you off as we see you post each month. That way everyone can see what everyone else is doing. The other reason, and this is actually the more important reason, is that if you don't post we will follow up with you. Please don't wait till we email you. You know you want to share yur progress, or lack tehreof ;) We want to find out bright and early those of you who are not able to keep your scarf promises. I really can't make a whole lot of angel scarves at the end of January. No way! So, as we find the slackers, or the ones who can't fulfill their end of the bargain for whatever reason, we will be lining up angels to take their places. The ones who dropped ot of this exchange after signing up will be put on a list of people banned from future exchanges. There are few exceptions.
3. Angels - this was not mentioned in the rules, but I thought I'd bring it up. If you'd like to be an angel, email me. What this means is that some time between now and February, you may be contacted to knit a scarf for someone whose pal has backed out. If we can, we will arrange for you to receive the scarf from the person who was meant to send to the person who backed out. However, it may be too late and we may not be able to organise that. We will try our best. Since that scarf was not really meant for you, it may not be in your colours. We will try our best to consider colour choices and allergies when considering which angel to contact.
Anything else for which you'd like an explanation? Just contact me, and I'll do my best. We will have the questionaire published soon. Hang in there...
Have fun!
Thursday, October 20, 2005
A Knopp?
A Knopp
That's right. that's what I made tonight at spinning class. No pictures yet. Maybe tomorrow. Yes, Sue, that's right, no photos YET. See, I don't ALWAYS manage to post on the same night as class, only sometimes. Okay, maybe most times, but not always...
Thank you for the compliments
Thank you to everyone who wrote nice things about my Branching Out Scarf. It has now found a new home. Tara, who is moving away is clearing out some books. I scored some books, enough to keep me reading for a little while - including a copy of All Things Bright and Beautiful . I remember reading that as a child, and loved it. Also really enjoyed the other ones in the series - All Things Wise and Wonderful and All Creatures Great and Small. Thank you Tara! And may you have a warm winter ahead with Branching Out.
Scarf Exchange
We're still signing people up. I think we're up to nearly 40 people now. Cynthia and I are getting nervous about managing that many participants. I thnk we're going to sign up new members till we hit 60 participants or November 10th, whichever comes first. So if you're interested, sign up
here
!
Tuesday, October 18, 2005
I Branched Out
Branching Out
It is probably one of the prettiest and simplest lace things I have ever knitted. I used a skein of cream alpaca that I had spun a little while back (reember the flicking accidents?). I love how the uneven spinning is hidden once the yarn is knit up. It's a gorgeous scarf, even if I do say so myself.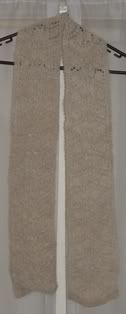 Okay, so that's not very clear. Try this: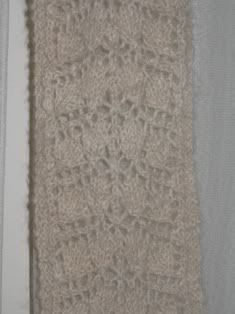 I wasn't sure I liked it in cream. I thought a rosemary green colour would suit its leafy design and name.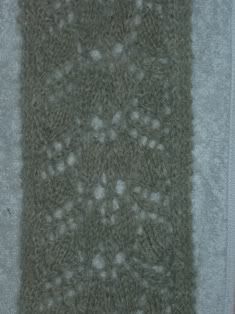 It's a little clearer against a red towel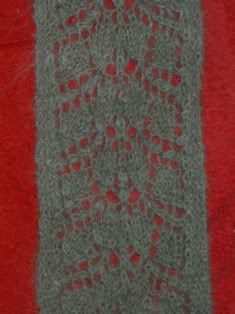 Like it? So do I!
Bendigo Mohair
I know, I know, I am not meant to be buying any more yarn. BUT IT WAS ON SALE!
Okay this is what I ended up with: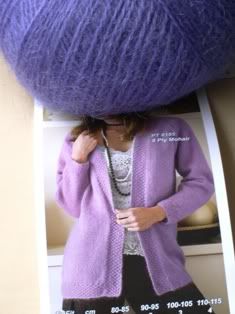 I liked the cardigan/jacket thing and thought it would be handy since I don't have a cardigan right now. The question remains, when will I find time to knit it?
I also bought one ball of this: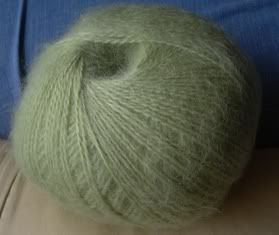 Yes,
Twiggyann
this is for your hooded scarf. tell me now if you hate the colour. There is still time to change! I will probably start working on it this weekend, if I have time.
Uni
Only a few more weeks of uni to go. Also means that I only have a few more weeks till the assignments are due. Uh oh!
Scarf Exchange
If you are thinking about it, stop thinking and get moving. Come join us at the International scarf exchange. Go to the first post on the
international scarf exchange blog
and email me from the link there. I will add you to the scarf exchange list. Come and join us!
Friday, October 14, 2005
Lotsa piccies
Treat in a clam
Remember how I mentioned that my cousin had brought me a present from Hawaii? Well, if you don't it's okay. I'm going to tell you about it again.
This is what I first saw:
I thought, "What? she brought me a seafood in a tin?"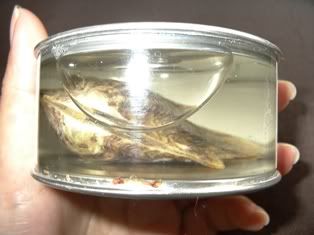 Then I saw this: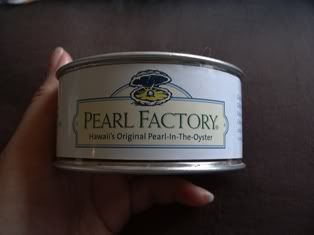 Aahh.. it makes sense now.
I finally got around to opening the tin today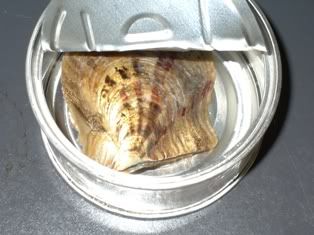 and went at it hammer and tongs.. and there it was, my reward.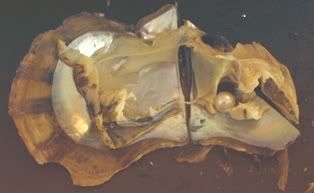 My cousin had also bought me a silver chain to go with it and a little silver pendant to put the pearl into. Isn't it pretty.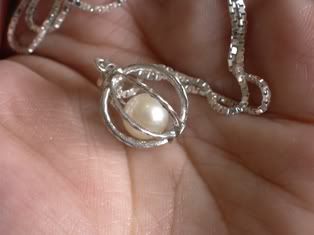 Elann Peacock Plumes Bolero completed
That's right! I completed it today, sewed in the ends and steam blocked it.
I used the recommended needles and some mystery blue yarn I had lying around. After testing it with some bleach, I worked out that it was at least half wool (or animal fibre of some sort) and the remained was synthetic.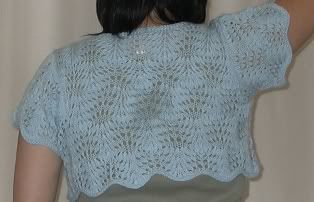 It's not looking too bad from the back.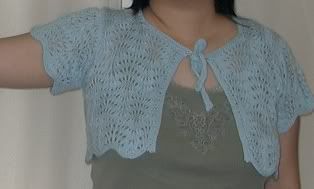 From the front it looks a little short. I think I will make another, but a little about two or three inches longer. I will also lengthen the sleeves I think.
Spinning news
I promised you pictures and here they are. This is the merino glitz that I spun last night. I think it is pretty but nothing to shout about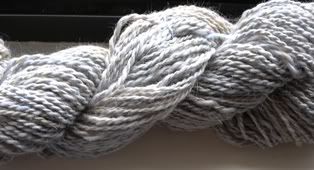 Want a closer view?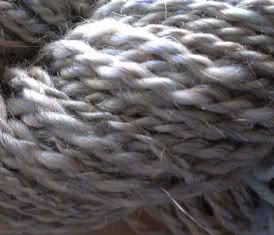 And just in case you don't remember what it looked like before it was spun...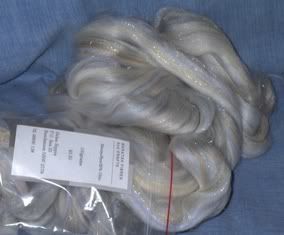 I told you I had lots of piccies, didn't I?
Miscellaneous News
I still haven't made up my mind about which Fiddlesticks pattern I want. The shortlist isn't any shorter. They are all so pretty!
I have started "Branching Out" in some handspun alpaca and US7 Boye needles. So far so god. It's not a hard pattern, just difficult to memorise I think. I have done 5 or 6 repeats so far and it's looking good. Once it is blocked the pattern should open up a bit more.
Thursday, October 13, 2005
Some spinning done.
Tonight I had my first spinning class in about a month. Gosh! It was ood to see everyone again. Sue surprised me with a box of baby hats. Isn't she a gem? It's amazing. There must be at least 20 in there. I'll have to get off my rear end tomorrow and take it in to church for Brenda. [note self: take hats in to church]
I am trying hard to spin up my stash of fibre. So tonight I took some merino glitz in to class. After much mming and aahing, we all decided that it looked best spun thikckly and plied with itself. I spun half of it in class, and the other half when I got home. I plied most of it with itself and the last 10 metres or so with some cream alpaca that I had on a bobbin. It's looing better than I thought it would. No pictures yet, as it is so pale, it will probably need some natural sunlight to show off the colours.
Scarf Exchange
Okay.. looks like most peopls have received their scarves. I know a couple of you haven't and we're looking into that. If you haven't reveived your scarf and have not emailed us, please email us! The address is se-admin[at]hotmail[dot]com. If you don't tell us, we won't know!
It looks like most of you enjoyed the exchange. Yay!
Now, since that was so much fun, we're organising another. This time, a blog has been set up
here
. Email me from the link on that blog to get an invitation to join us. You will be able to post progress pictures and reports there. It's always nice to see what others are doing. Great inspiration.
I am thinking that this next one will go over the Christmas period. Maybe start mid November and end mid February. What do you think? I'd also like to split it to two separate exchanges (similar to the last one). One exchange will be the matching set exchange (you will knit a scarf and a hat or a scarf and a pair of mittens). The other will be just the plain old scarf exchange. When you email me to say you want to join, let me know which one catches your fancy. After that, you can answer the questionaire at the blog so that we can always refer back to the blog - no more lost emails! I haven't written out the questionaire yet. I will.. soon.
Fiddlesticks
Okay, I have narrowed it down to
Lily of the Valley Stole
,
Garden Shawl
,
Tina Shawl
and
Inky Dinky Spider Stole
.
Lacy Lattice Stole
was removed from the list because I don't want to use mohair and I am not convinced it will be nice without the added fuzziness of the mohair halo.
Lotus Blossum Shawl
also did not make it into the short list because I realsied that it is not knitted using lace weight. That is not necessarily bad, but I
do
have lots of laceweight to use!
Wednesday, October 12, 2005
I can relax.. a little
For the first time in the last week or two, I can relax, just a little, but I don't feel like a wound up spring anymore. Okay, maybe that isn't entirely true, but you know, when you're like a wound so tightly, you can't just relax all at once. It takes time..
Work hasn't really slowed down much, and I don't think it is going to - not yet anyway.
Uni
I have handed in two assignments this week. I was in a hurry, it's not my best work, but I hope I pass. I really don't want to have to go through these two subjects again. I really don't.
After this I have two major group projects to complete and then I am done for the year. Can you say 'yay'? I feel like I still feel like I am chasing my own tail with one of the projects. I never realised it would be so hard to find information about the company (they aren't being the world's most co-operative) and about Hong Kong.
Knitting
Not much has been happening. I am knitting the second of the pair of Skinny Dip. So far so good.
Also knitting the peacock plumes bolero from Elann. I was part-way through when Elann put up the patter for the kimono sleeves. I worked out I liked it better. So I am extending the sleeves so that my bolero will have long wide sleeves. I hope to get some knitting done this weekend and have a bolero to wear next week...
No pictures of knitting or spinning for now.. maybe later in the week.
SP6
I received an email from Fiddlesticks saying that my secret pal had paid for a pattern for me and all I had to do was choose one. Hmm.. like it's easy - it's not. Have you seen the Fiddlesticks patterns?? I want them ALL!
Okay, after much mming and aahing, I have narrowed it down to a few patterns -
Lacy Lattice Stole
,
Lily of the Valley Stole
,
Garden Stole
,
Tina Shawl
,
Lotus Blossum Shawl
and
Inky Dinky Spider Shawl
. So, people, cast your votes. What do you think? I love themm all and can't work out which one to choose. I have miles and miles of laceweight I can use, I think, so that isn't a problem.
Thank you SP6! You're so kind!
Other stuff
We, as in Chris and I, are going to watch
this
on Saturday. We're really looking forward to this. I can't remember the last time we went and watched something. Oh wait, I do remember - it was the Soweto Gospel Choir performance.
Monday, October 03, 2005
A quickie
Long weekend
I had most of a long weekend. At this point in time, I hate work, I hate uni, I hate everything. I spent half of today and half of yesterday working, so what long weekend?!
It will all be better in a couple of weeks. I would have finished another two uni assignments by then (though not the major ones) and work should have slowed down some. Well, some.. not all. Be thankful for small mercies, right?
Salad Bars in 'Straya
To answer Bri's comment, we can't just study a salad outlet here in 'Straya as it's part of the assignment to study exporting a product or service to a foreign country. The company we are working with has salad-based fast food outlets in Australia and is looking at expanding to Hong Kong. This project is driving all of us nuts as we're not getting responses as quickly as we had hoped we would.
Ok, that's all I have time for tonight. More next time, and definitely more fiber-licious things and most definitely less whining. Promise!