Treat in a clam
Remember how I mentioned that my cousin had brought me a present from Hawaii? Well, if you don't it's okay. I'm going to tell you about it again.
This is what I first saw:
I thought, "What? she brought me a seafood in a tin?"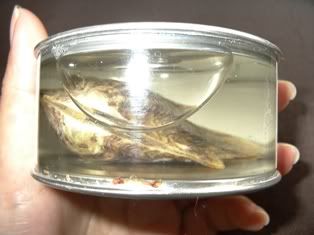 Then I saw this: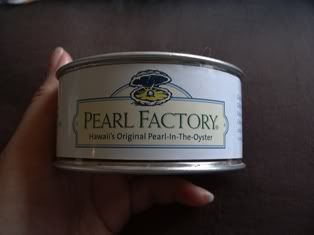 Aahh.. it makes sense now.
I finally got around to opening the tin today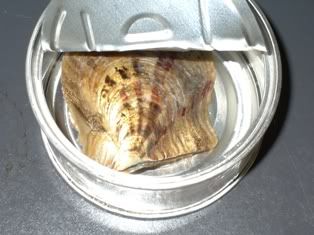 and went at it hammer and tongs.. and there it was, my reward.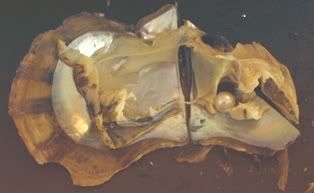 My cousin had also bought me a silver chain to go with it and a little silver pendant to put the pearl into. Isn't it pretty.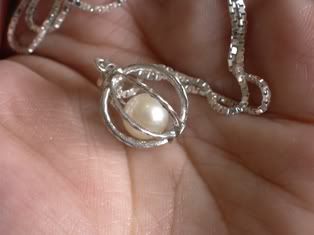 Elann Peacock Plumes Bolero completed
That's right! I completed it today, sewed in the ends and steam blocked it.
I used the recommended needles and some mystery blue yarn I had lying around. After testing it with some bleach, I worked out that it was at least half wool (or animal fibre of some sort) and the remained was synthetic.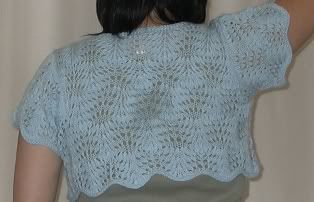 It's not looking too bad from the back.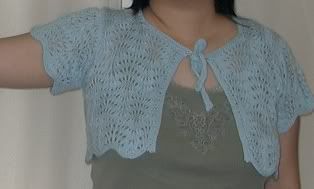 From the front it looks a little short. I think I will make another, but a little about two or three inches longer. I will also lengthen the sleeves I think.
Spinning news
I promised you pictures and here they are. This is the merino glitz that I spun last night. I think it is pretty but nothing to shout about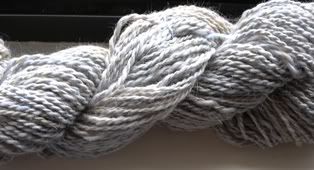 Want a closer view?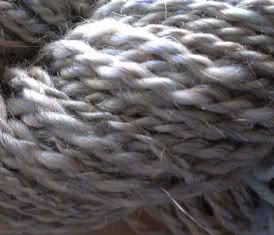 And just in case you don't remember what it looked like before it was spun...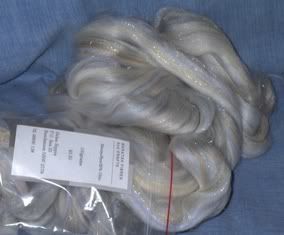 I told you I had lots of piccies, didn't I?
Miscellaneous News
I still haven't made up my mind about which Fiddlesticks pattern I want. The shortlist isn't any shorter. They are all so pretty!
I have started "Branching Out" in some handspun alpaca and US7 Boye needles. So far so god. It's not a hard pattern, just difficult to memorise I think. I have done 5 or 6 repeats so far and it's looking good. Once it is blocked the pattern should open up a bit more.