Thursday, June 30, 2005
Scarf Exchange - Revision 1
All the rules are the same (refer to yesterda's post)
I just need one more piece of informationw hen you sign up. I have received a request fom a crocheter, you see. So, If you would like to be sure that the scarf you receive is knitted, say so when you sign up. If youw ould like to be surprised (meaning you could be matched with a crocheter, knitter or weaver), please say so too.
Everyone who has signed up so far will be in the "knit only" group, unless you email me again to say yoou would like to be in the "surprise" group.
So here's the info you have to send me (again, in case you missed the first time)
Name
Email Address
Postal Address
Blog URL (if you have one)
Colour preferences
Yarn preferences (type of fibre, summer/winter weight, etc)
Fibre allergies
Colours you will definitely not wear
Yarns you will definitely not wear(mohair, eyelash, acrylic, angora, etc)
Scarf length preference (let's be reasonable here, no Dr Who scarf requests, ok?)
Other things your pal should know about you
Surprise or Knit Only group
Thanks for participating!
Wednesday, June 29, 2005
Scarf Exchange
Ok, so I missed out on Sockapaltwoza. The third one won't start for another few months, so I thought maybe there's a scarfapalooza or something similar. Apparently not. I don't want to wait so I am going to start my own. Would you like to play? Join in. You have until July 10th (Aussie time) to sign up. You do that by sending me an email. Just click on the email link on the top right. See it? Go on.. you know you want to. I will match you up with a pal by July 15th. All scarves should be sent out by the end of September. 2 1/2 months to knit a scarf, that should be enough, right?

How do you know what your pal would like? Well, each of you, in your sign up email, will need to answer these questions.

Name
Email Address
Postal Address
Blog URL (if you have one)
Colour preferences
Yarn preferences (type of fibre, summer/winter weight, etc)
Fibre allergies
Colours you will definitely not wear
Yarns you will definitely not wear(mohair, eyelash, acrylic, angora, etc)
Scarf length preference (let's be reasonable here, no Dr Who scarf requests, ok?)
Other things your pal should know about you

Remember, it's a secret ok, so don't go telling your pal who you are. It's going to be a surprise for your pal! You can write about it in your blog as long as you don't reveal who the recipient is

Please don't sign up if you don't think you can complete a scarf in the time allocated. If you start with all good intentions and something happens out of the blue, and you need a little extra time to finish your scarf, PLEASE tell yourrecipient so he/she isn't left wondering.

This is an international exchange, so please don't sign up if you don't want to pay for international postage. I will be matching people up at random and chances are that you won't get a pal from your neighbourhood.

Ok, now, how do I get to play? I guess I will know who I am getting my scarf from, unless I can get a helper, in which case we can all have surprises. So, any volunteers?

Edit: Oops, I forgot to mention that all scarves must be handknitted by you (yes, I know, that is stating the obvious, but just in case, you know)
Monday, June 27, 2005
It felted?!
For once, I am actually using the word 'felted' correctly. My alpaca fleece which I washed on the weekend FELTED! No, in case you're wondering, it is NOT deliberate. I have allowed it to dry, and ripped it apart with my hands in an attempt to rescue it. Most f it came apart in my hands so I think by carding it I can rescu maybe three quarters of it. It's still fairly dirty, but I won't wash it again till after I have spun it! Oh dear...
Tam completed her Irish Diamonds Shawl from the Folk Shawls book. Ok, I MUST get that book now. I keep thinking how lovely it would be in the grey yarn that my KRSP gave me. Just look at it - go to
http://www.knittersreview.com/forum/topic.asp?TOPIC_ID=37538
and click on her photos link in her signature. It's gorgeous isn't it?
I dug up some old hats that I had made and never worn. Adelina had also asked for a red hat. Guess what I found! I think I'll be able to keep her semi-bald head pretty warm this winter!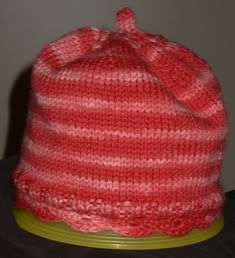 That was one of my earliest dyeing efforts. I made it a self striping sort of pattern and it's great! I love it, but I can't wear hats this winter. My hair is too short and they look strange on.
I also found this: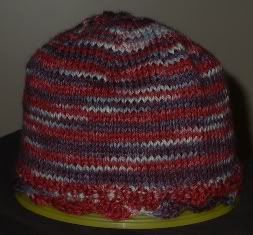 which I am keeping to wear whe my hair groes to a presentable length.
My
Ebay auctions
are going ok. They end on Sunday (Aussie time). I am already thinking of rolling over whatever money I get from the auctions into more yarn to dye so I can play with colours. I love colours right now. I wonder what it is about being homesick and the need to look at pretty colours. Greys and browns are just 'ick' right now.
I have been homesick for a while now. Poor Chris bears the brunt of it of course, as I get moody and horrible to be with when I am homesick. It's strange as I have spent more time at home this year than I did last year. I was looking forward to a trip home in August but that won't be happening now. The project that was the reason for me to go to Singapore (making a side trip to Malaysia really cheap and affordable) is now delayed. So I am not likely to be going home in August. On the bright side, Chris and I are planning a trip home this Christmas. Something I can really look forward to, I think.
Sunday, June 26, 2005
Yarn on EBay
I finally managed to put the yarn up for sale on
EBay
. Wish me luck!
Apart from that, I have nothing new to report, not since last night anyway.
Chris and I are going out tonight to celebrate his father's 60th birthday. We'll be going to a Filipino restaurant in Lidcombe. I'm a little nervous as the name of the restaurant include sthe word "karaoke". Hmm.. karaoke and I, well, let's just say we don't get on so well! It's going to be fun, I'm sure.. uhm.. yeah.. really!
Well, food will be good I guess. I heard that Chris' mum is calling ahead to pre-order some Crispy Pata (roasted pork hock) or lechon (roast pork). Yum! Now, let's hope tehre's enough crackling to go around.
Saturday, June 25, 2005
My first skein of Alpaca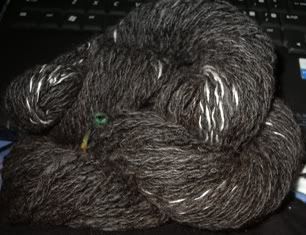 I'm still patting myself on the back for getting this done. I bought a pair of hand carders from
Jenny
on Thurday night at spinning class and carded the washed fleece and spun it all up. Out of 120g of fleece I got just under 100m of yarn, so it must be thicker than I thought it was. I had some extra alpaca on one bobbin when i was plying, so I plied the last bit with some leftover Optim (that's the white bits in the picture). I thought it would make a nice contrasting edge to the hat I am planning to knit out of this. The alpaca is not as soft as I had expected, but it is still softer than most wools I have felt.I have washed 200g of fawn alpaca and carded half of it. I can't believe how much it puffs up once it's carded! One small bag of fleece is now two grocery bags full.
At spinning class on Thursday night, I had the opportunity to play with two wheels. I think I am in love. Her name is
Suzie
. At $780, I don't think it's a luxury I can afford right now. I think I will wait for a good second hand one to come along. I love the higher orfice. It's much easier on my back. It's also easy to fold away for moving and you don't have to move the tension or anything so nothing changes the next time you sit down to spin. I also tried the
Little Gem
. I didn't like it as much. The orifice is lower and that's not good for me. It IS lighter and easy to carry around, though. I also did not like that the two treadles were not connected and treadlingw as more difficult for unco-ordinated old me. I was told the Ashford Joy has an EVEN LOWER orifice. Ouch. That is most certainly not the wheel for me. I'll have to start saving for a Suzie I think.
Here is a picture from an earlier spinning effort. I spun up just over 100g of Optim and dyed it before washing. The colour did come out more intensely than the first lot, which, but the way is now becoming a hat.
Here's a picture of the hat in progress, just for comparison
Adelina, a uni friend who now lives in Canberra shaved her head to raise money for the Leukemia Foundation. Her hair, unfortunately, is not growing back quickly enough to keep her warm this winter. if I am cold here in Sydney, it must be freezing there in Canberra! So this hat is for her. A group of friends, and Chris and I are planning to visit her in July. I am confident I'll have it finihsed befor ethen, uhm, if I don't get too distracted b the alpacas. Otherwise I could always kit it in the car I suppose.
Here is another spinning effort from last week:
It's a slubby cotton single plied with an even wool single that was dyed in variegated blues greens and purples. Here, see...

i have also been working on the test knitting that I am doing for
Figheadh
. It's a cuff to cuff lace sweater in cotton. I am using Heirloom's 8ply cotton which is knitting up nicely. I am nearly done with the first sleeve, as you can kind of see... I seamed up the sleeve at the lower edge so that I could try it on my arm. It's working up to a good length. Here's a progress picture:
Today Chris requested for another pair of socks. How could I refuse? (Not that i want to refuse... I started a pair for him. SInce it's only for wearing around the hosue, I decided to use some "what-was-I-thinking-when-I-bought-this-colour" yarn. I am using the Brittany needles given to me by my KRSP. I love them. I am not sure I'd be able to go back to metal DPNs now! They are 3.25mm, which is a little too thick for sock weight yarn, but it's ok for these socks as I am using 8ply (DK) yarn.
Chris' manly scarf has also been 'revised'. Remember how I didn't have enough black? Well, I started with the three new balls of Zara and I think I have enough for a full scarf. Since Chris appears to prefer the new colours, I am going to attempt to complete the scarf using these new colours. Quite attractive, even if I do say so myself, don't you think?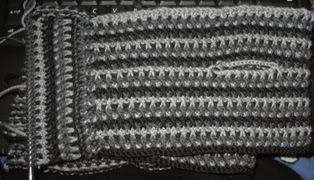 I received my AKSP pal on the weekend, and have been contacted by my secret pal. This is going to be a fun exchange, I think.
Two SP programmes and I am still giddily excited about my little international exchange with
Cynthia
. Hmm.. what else can I get her that is uniquely Aussie? I have bought her skein of white Corriedale yarn spun at a small mill just outside Canberra.I am trying to work out what else I can get for her... Suggestions are welcome.
Thoe of you who have not seen my recent dyeing efforts, go to the post below. Yes, this is a shameless plug for the yarn I would like tos ell seeing that I will never get around to knitting all of it up into socks. My steadily growing stash must not be allowed to grow any further. Prices start at AU$14 per skein, so go take a peek!
Thursday, June 23, 2005
Technical difficulties on EBay
I am having a few technical difficulties with EBay and probably won't have the yarn on EBay till the weekend (if there is any left). So you have till then to buy it here. This is how it works. On Ebay, the bidding will start at AU$14 per skein. I will sell to anyone who offers me $14 or more each. I check my email every day and will reply to the highest bidder confirming the sale. Once that happens, the sale is final and no higher bids for the same yarn will be taken. I will update this post from time to time.
They are approximately 100g each (have I mentioned that already?). Since they are all approzimately the same weight, you will get more yardage out of the thinner yarn. They are all sock weight and are meant to be knitted on sock needles between 2.0mm and 3.0mm. Well, the tags say 3.0mm or 3.25mm but I find that at 3.0mm the socks are not as hardwearng as they could be. All the yarn is machine washable 100%wool. The handle is nice and soft and a beauty to knit with.
First up - Berry splash. This is 4ply wool to all you Aussies. Recommended needle size is 3.25mm. There are regular splashes of colour on a background of variegated pinks. There are two pictures because I was tring to get the colour right.
I have 1 skein left


Berry Sprinkle - This has random splashes of colour. The colours are very similar to that of Berry Splash, but the splashes are random rather than regular.
This is 3ply wool (recommended needle size 3.00mm)
I have 2 skeins left

Forest Floor- This has random splashes of colour. The dyemethod is similar to that of Berry Sprinkle, but the colours are different, as is obvious.
This is 3ply wool (recommended needle size 3.00mm)
I have 2 skeins left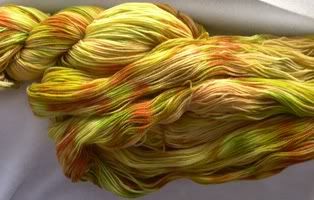 Mean green - As ou can see, the colours consist of different shades of green blending into one another. It is 3ply yarn (recommended needle size 3.00mm)
I have 1 skein left
Old Fern - Ok, the colour is not 100% accurate in this picture. there is a very slight green tinge that is not showing through on the lighter end, at least not on my monitor. The colours blend into each other like the colours of Mean Green. This is 4ply yarn (recommended needle size 3.25mm). I have 2 skeins left.

Purple Wave - The purple is not showing through as well as it should. It's less blue-is and more purplish than in the picture. This is 4ply yarn (recommended needle size 3.25mm)
I have 2 skeins left

Ok, while I am at it I have some other yarn for sale too. Hmm.. maybe I should start a little enterprise business of my own!
I have this in two lots - 5ply (sport weight) and 8ply (dk). Needle sizes are 3.75mm and 4mm respectively. Each lot weighs 200g. The price per skein is AU$20.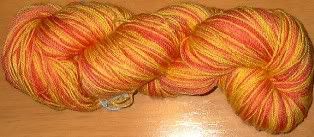 This is 5ply (sport weight) yarn. The skein weighs 200g and I am also asking for AU$20 for this skein. The brown tones are not showing up well. It's approximately the colour of milk chocolate with darker and lighter areas that blend into each other,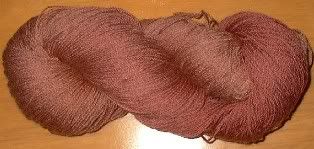 Another 200g skein of 8ply (dk) yarn. Also priced at AU$20.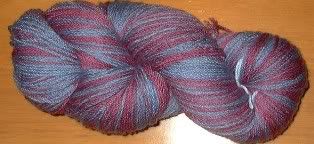 I called this 'aubergine' because it is a lovely purple and teal, like aubergines. It is 8ply (dk) yarn and is also priced at AU$20.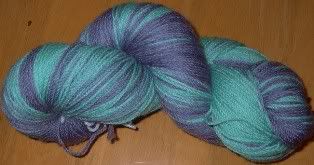 Postage in Australia will be whatever Australia post charges. Wherever possible, I use the post packs. Postage to anywhere else in the world will be approximately AU$10 for up to 200g of yarn and about $15 for up to 400g of yarn. If I get charged less than that, I'll let you know the difference and refund the difference.
Off to spinning class now. BYE!
Wednesday, June 22, 2005
I dyed
After two nights of playing with colours, I have this to show.
They are all sock weight yarns (The 6 skeins on the left are slightly thinner than the 6 skeins on the right)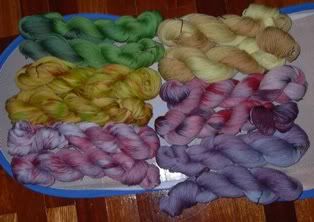 They are all approximately 100g in weight and should be more than enough for an average pair of socks. Of course they don't need to be for socks only. 100% wool and beautifully soft. If I could knit fast enough, I wouldn't sell a single skein! Unfortunately I an buying, dyeing and spinning quicker than I am knitting, so all 6 skeins will go to ebay tomorrow. Once again I am too tired to even try to do it tonight. The two colours on the top and the blue-ish mauve-ish skeins on the bottom right are dyed with the colours blending into each other. The other two colours on the left are randomly dyed and should not pool much (or at all). The middle skein on the right has colours painted at regular intervals on a background of variegated pinks that blend into each other. I have not found the energy in me to name them yet. Maybe I won't name them this time.
Wel, they'll be on EBay tomorrow. So if you're interested in any of them, drop me an email and make me an offer I can't refuse ;) and you'd better be quick, cos otherwise they'll be on EBay.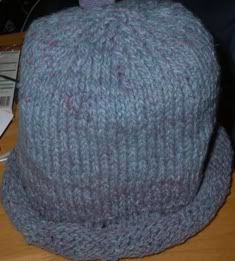 Okay, this is the hat I knitted last night - pre-felted. It didn't felt so well, and I haven't got a picture of it post-felting yet. I am planning to wear it tomorrow night to see how much I like it before trying to felt it again. The fit is ok, but it's not as stiff as I had hoped it would be, nor has it felted to the point where the stitch definition is lost. It's a cute hat thugh. Oh, and it's also notthe same colour now. It's faded!
I wonder how Chris' knitted cat is coming along. I haven't seen it in over a week. Hmm.. if he doesn't hurry up, he's not going to get it done before Joel's birthday.
Tuesday, June 21, 2005
Found
My friend B2 found this blog.
Well, his brother found it, and we don't know how, and passed the URL to him. Anyway, apart from Chris, he's probably one of very few people I know in real life who has read this blog. Hmm.. I should be careful what I say here.. don't want to make enemies now, do we?

Not a lot has happened over the past week. Work is still busy as ever, same old story.

On the knitting front, I have started on the test knitting I am doing for Figheadh. I hit a little bit of a problem, as is expected in test knitting, and Jen's corrected it so I need to go knit some more. Unfortunately, I was a little distracted by the Fibertrends pattern I received in the post. I used the yarn I spun from pencil roving to make this. I wanted to make the wide brimmed hat but thought that I may not have enough yarn for it. So I made the narrow brimmed one instead - it's the dark blue one in the center of the picture. I am so proud of myself! I started it tonight and completed it tonight. All that remains to be done is the felting - tomorrow morning!

I am at wit's end with that skein of Shimmer. I have tried another 2 lace patterns on it and it's still pooling strangely. I think I will try using it for a feather and fan stitch scarf or mini shawl. I don't know what to do if that doesn't work. Anyone used KnitPicks' Shimmer? What did you do with yours?

I also bought this pattern, this pattern and this pattern. Oh! And this one too. Isn't it gorgeous?! Hmm, I think I went overboard.. I will eventually get around to making all of them. Really!

Is it just me, or does the bluey green paper that Fibertrends uses hurt your eyes too? I don't know why they do that. Chris and I were speculating that maybe it is because the low contrast between the colour of the paper and the black print. That probably makes it hard to photocopy the patterns. Who knows, right? It sure does make the patterns hard to read, though.

I am also getting ready to put more hand painted sock yarn up on EBay. I am a little tired tonight, so maybe tomorrow. I have some bluey-mauve skeins which I quite like. I also have two skeins of pinkish coloured ones with bright pink and blue spots that should knit up quite prettily. The other skeins that I dyed were brown and green, sort of 'foresty'. It's deliberately 'spotty' and I think they will knit up really prettily too, because the colour spots are random and should not pool. If you're interested, keep an eye on my EBay sales page.

Oh yeah,I also washed the rose grey alpaca fleece I received. I think I'll need to get a pair of carders to prepare the fleece before spinning. So much for alpaca not needing any preparation, huh. I didn't want to be spreading sand and dust all over my living room so washing seemed like a good idea at the time. Mind you, it still does. The water from washing the alpaca fleece came out a really yucky shade of brown. Eeek! I will get my carders on Thursday, so I can't spin it till then.

Jenny taught me to spin cotton in the last class. I was convinced before that I can never spin cotton. Now I know I can! Over the weekend I spun up some thick thin slubby cotton (deliberately so! really!) and plied it with a bluey greeny single. It came out quite nicely, but I can't work out what to do with it.
Wednesday, June 15, 2005
Alpaca fleece from Blue Gum Alpacas
Arrived today. Yay! I can't wait to spin some of it up. I am busy trying to finish spinning up the other half of the 120g of Optim that I had started so that I can play it and get it off the bobbins before I start on the alpaca. I bought it from the listing on EBay, but the seller actually has a website
here
. I asked for 200g each of white, off white, fawn and black. She didn't have enough fawn (short by 12g) and she substituted that with 120g of rose grey. No, that is not a typo.. she was short by 12g and gave me 10 times as much as the amount by which she was short. What a generous seller! You can see the alpacas
here
. I have parts of fleeces from Tsunami, Ninka, Chantilly, Arizona and Pashmina. I have opened up the bags to feel the fleeces and they are gorgeous and soft and so yummy! Have I mentioned that I can't wait to try spinning it? So what am I doing here blogging??
Tuesday, June 14, 2005
What? No black?!
That's right, no black! I snuck to Tapestry Craft today before my exam to pick up 1 more ball of each colour for Chris' Manly Scarf. They had the charcoal and mid grey but no black! I decided to be adventurous and went with charcoal, mid grey and light grey. I had my fingers crossed the whole time. What if Chris didn't like it? I showed it to him as soon as I could. Thank goodness he likes it, or at least he said he did..

The exam was ok. I didn't remember a thing from the text book, so I may as well not have wasted time over the past few days studying! I gave up after about 2 hours - it was a 3 hour paper.

I wore my cabled sweater again today. It is grwing on me - not literally. It's warm and soft and super cozy. I do think I willkeep it as it is, even if it means I can not wear it out. It's great for wearing indoors on cold days. I wonder how many really cold days we'll have in a year to justify that, though. Although we are well into winter now, today was warm enough for me to walk through the city wearing jeans and a summer blouse.
Sunday, June 12, 2005
Maybe it's not all bad
I wore the casual cabled sweater today, and though it was loose, it was really warm and snuggly. I was so glad I had it with me as I would probably have been very cold otherwise. I was at Chris' parents' today and it gets really hot there on warm days and freezing cold during the colder months. they had two heaters on in the small living room where we were watching tv but it was still cold enough that I wore my sweater.
As you can see from the pictures below, it's HUGE. It looks like I stole someone's sweater or something.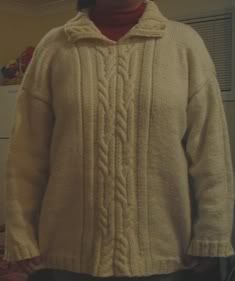 I don't like how the back lifts up a little. That could be made worse because I had my head tilted downwards, however, it does lift a little in the centre. It's not so bad that it's noticeable when I am wearing it and moving around, but enough to annoy me. It can be corrected by short rows, I was told, but I am yet to try it.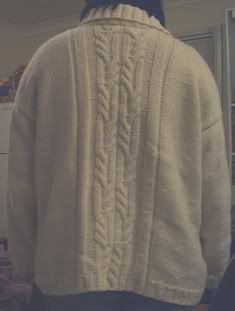 I love the cable on the sleeve, but I hate how the sleeve is so oversized. It eally looks so sloppy. I won't be able to wear it to work, not even on Fridays, unfortunately. In case you are wondering, I say "even on Fridays" because Fridays are casual days at my office.

We tested out my pizza stone at Chris' parents today. I made pizza with some help from Chris, his mum made pasta and his sister made the salad. Dinner was a collaborative effort tonight. It was a simple meal, but good. His mum also made fruit salad with almond jelly. Yum!
Te recipe for the pizza dough was really easy. I made it at home before we left my house and took it there in a covered bowl. I was a little concerned that it was not rising, and so when we got there, I placed teh bowl near the stove where Chris' mum was boiling pasta. That did the trick. The dough rose and we made great pizza!
I started a scarf for my KR secret pal. I wish I could show it here, but I don't know whether she reads this blog, so I guess it's better safe than sorry. I will show a picture of it after the reveal date in December, when she knows who I am. Meanwhile, I'll just have to keep it a secret. I think it's quite pretty although the colours aren't quite me. So that's my no-picture project right now. I am still plugging along with Chris' Manly Scarf. It's about 30% done now. I think I will need more of the Zara, I just don't know when I will have time to go buy it.
I have been spinning more of the Optim. It's a lovely fibre that spins into a nice soft yarn. The resuts of my spinning isn't quite as soft and smooth as the commercially spun stuff but that's ok. It's still nice, I think. It turns out that Jenny did not have much of it to sell, so I bought another 500g before it was all gone, since it's so nice to touch and beautiful to look at. Also, it' good practice as it's so slippery that I think if I can spin this, I can probably spin most other slippery stuff!
My final exam for this semester is on Tueday. I still haven't read my whole text book yet. Maybe I should get back to it, huh.
Friday, June 10, 2005
Casual Cabled sweater completed
And it does not fit! It's is way too big. I guess it was meant to be big but I don't think I will be able to wear it out as it is a lot bigger than I would like it to be. I don't have pictures yet. Maybe tomorrow. It is now still drying on the floor with a fan pointed at it. How disappointing.
Apart front hat I haven't been doing much. I swatched again for the fern lace jumper I am test knitting for
Figheadh
using 4mm needles. Much better this time. I think I will stick to the 4mm needles. The Heirloom cotton is lovely to knit with. I washed and blocked my swatches and they came out beautifully. They have lovely drape and gorgeous colour. When I am done with this jumper I may get more to make another summer jumper with it. I'd like the other purplish colour they have. Maybe I will get it from Bendigo instead. They come in bigger balls when you buy from them - I hate weaving in the ends!
I went to
spinning class
again last night. I am starting to really enjoy these classes. I know Jenny spends a lot of time with me because I am a newbie, but I feel kind of bad about it as the other two ladies are just spinning on their own without much help from Jenny. I hope it's because they are pretty good spinners and they don't feel deprived of attention. Philip fixed up my wheel for me. Thank goodness! It's finally stopped going "clunk.. clunk.. clunk..". Thank you Philip! I also got my jumbo flyer and bobbins put on it. It spins nicely now. I also noticed last night that the wheel has a slight wobble in it but it isn't too bad. It's just very very slight, barely noticeable. Poor Jenny. I think she was quite appalled at the way my wheel was set up. i had put it together with some help from Chris, and neither of us knew what a wheel should look like, so I tied knots wherever I needed to - on the bands, on the leaders.. everywhere!
I have my eye on another wheel that someone is selling. I am going to test it out. We'll see how I go. I want to make sure that it is not faulty in any way and that I like spinning on it. I initially wanted it because it came with a chair and it was the chair that I wanted. But then, I guess a
Traveller wheel
will be handy. I need something that is easily portable for taking to spinning class with me. It's an older model, with a single treadle, but that's ok. It takes the same bobbins as my Ashford Traditional. That's great for me. I hope I am able to get it if I like it. The bidding does not end till Monday. It's going to be a long wait!
Monday, June 06, 2005
I swatched...
I decided to swatch for the jumper I am test-knitting for Figheadh. Jen had sent me the yarn last week - a gorgeous cotton from Heirloom.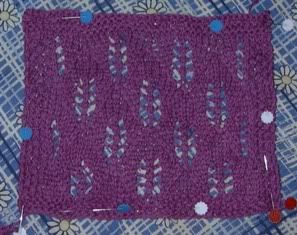 I made a small change to the pattern and I wonder whether Jen would like it.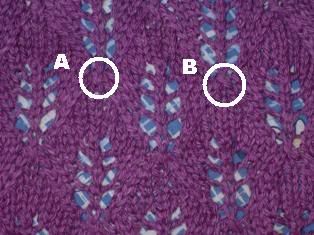 Look at A. That's what I changed. At the double decrease, I did "sl2, k1, psso". The original pattern was "sl1, k2tog, psso". This makes the right stitch the top most stitch. I didn't like it and decided to try knittng it with the centre stitch as the top most stitch. Jen, what do you think?
I also did not manage to get the gauge specified.
I will need to try again with larger needles. Jen needed 5st/inch and 7rows/inch. I got 6.2st/inch (which is nearly a whole stitch off
every inch) and about 6.25 rows/inch on the recommended 3.75mm needles. The problem with using larger needles would be that my row gauge will be even further off than it is now. Suggestions?

I have washed the swatch and blocked it. I will measure it again once it is dry. Back to swatching, I guess, if this doesn't work out.

There is some progress on the Manly scarf. I have now done 13 repeats. I will need to do 30 repeats, I think, before the pattern changes. I hope to have that done soon-ish, so that Chris can wear it before winter ends.

The casual cabled sweater is nearly done. The sleeves are about 25% done. I can't wait!

Unfortunately there will be no spinning class for me this week. I have a late meeting on Thursday night. From 8 to 10pm, would you believe it?! I was so excited bout my jumbo bobbins too. Next week, I guess. There will be lots of guilt-free spinning and knitting time after the exam (ot that I am not knitting right now..)
Sunday, June 05, 2005
Progress on the Casual Cabled Sweater project
I completed the collar today. The shoulder seams were sewn up and I attached the collar to the neckline before popping it on. It looks like it will be about the right size. Thank goodness. That would have been a lot of knitting gone down the drain if it did not fit.
I hand-wound more yarn so that I could start on the sleeves. I thought i'd share a picture of the massive balls of yarn I am working with. The little blue thing in the picture is a 9g glue stick - for size reference. The balls are HUGE!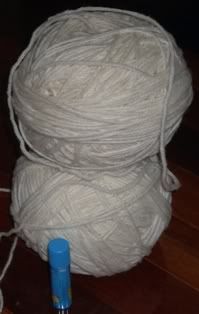 After all that winding, I realise that I probably don't need two balls for teh sleeves. I did sme maths and I do think that 1 ball will be enough for both sleeves, since it only took me about 3 balls for the front and back and collar with a little left over. So I am now knitting both sleeves together from the inside and outside of one ball.
I also tried sewing another cat. I have lots of that white polar fleece stuff to make cats and bunnies with. so ere is my second sewn cat: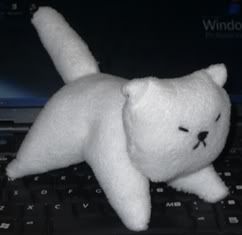 I like its big tail. I think it gives the cat character. Chris thinks it looks rude. Oh well, kids don't think that way - I hope!
Saturday, June 04, 2005
Sewing is quicker that knitting
We went out to Paramatta for lunch today and to get Chris some yarn with which to make the cat for Joel. After going around Lincraft fondling all the yarn available, we finally settled on this: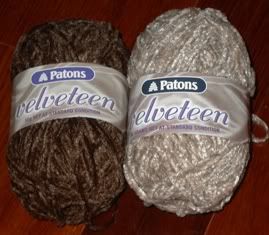 This is the cat which I had told Yenni, Joel's wife, that I wouldn't make. Well, it was too much stocking stitch for me. When I came home I decided to try to sew a cat. After all, sewing is probably quicker than knitting, right?
My attempt resulted in this cat: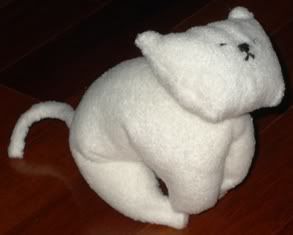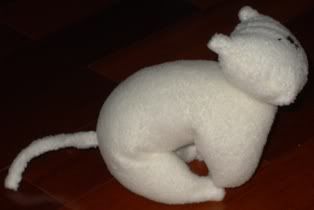 It didn't come out quite right. Next cat will have beans on its bottom to weigh it down. It also needs a fatter tail.
Also thought I'd try to show you a better picture of the Optin I spun. It's the same skein, no, I have not been spinning.. I just wanted to have a picture that looked better than the two bad ones I had in my last post.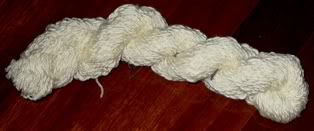 In fact, I have not been knitting much either. Here's the evidence. Chris' scarf has hardly grown.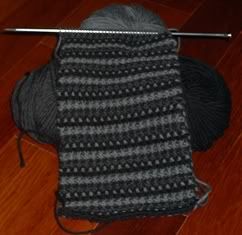 Time to get back to it, don't you think?
Friday, June 03, 2005
My first spinning class
I posted about my first spinning class last night, but Blogger ate my post. It must have been hungry! Well, I was excited, because I had bought some Optim top and really wanted to spin it up, so I didn't bother to re-post. As of now, I have spun up about 80g and here is a picture of it. I tried to show how silky it is, but the pictures really don't do it any justice. No wonder it is sold as 'silky wool'. It just slid through my fingers as I spun it. Pretty amazing stuff, this is.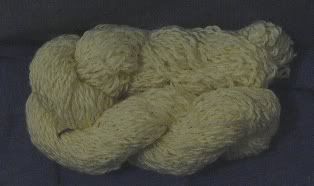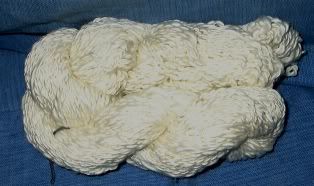 At the class last night, Jenny got me to spin up some samples from raw fleece. She showed me how to flick it before spinning. Here is a swatch I knit up from the Border Leicester that I spun last night. I don't think I will be working with it volutarily ever again. It is coarse and knitting it felt like knitting with barbed wire.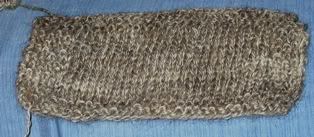 I still have a tendency to overspin my yarn (or under-ply it, I don't know). As you can see from the sample, it has made my knitting skew to the right.
Spinning class was lots of fun! I really enjoyed being able to meet other spinners and learning the proper waysof doing things. last night I discovered that my plying leaves much to be desired. I was taught how to count as I ply. My plying looks better now - not a lot better but I guess it will take time. One of the best things about going for spinning class is that i get to fondle all the stuff in Jenny's shop. Ah, so much fibery goodness, so little money.
Virginia Farm Woolworks
rocks! Jenny also had someone come in with some stuff to sell. i think by this time next week, I will be happily plying with my new jumbo bobbin. Yeah!
I have made some progress on my casual cabled sweater. It now has a front and a back. By this time next week, it should have sleeves, and hopefully a collar too! I have laid it out on towels to block. i don't have a proper blocking board so I do the best I can with towels and approximate measurements.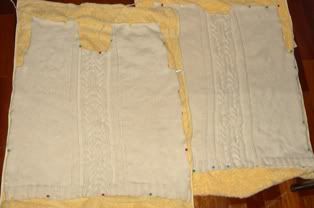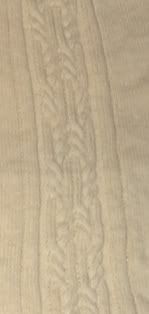 Here is a close up of the cable. Can you see it?
I have also started on Chris' scarf. Zara is amazing to work with. It's a little split-ty but it's soft and smooth and almost like the Optim yarn. I cast on before dinner and I have completed quite a few rows already. The scarf is practically knitting itself.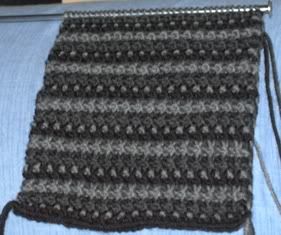 I really like the scarf. If it works out well, I may ty to submit the pattern to an online magazine somewhere. It's really quite simple, and it is amazing how such a simple pattern can product such a lovely effect.
And before I leave you for tonight, here's a picture of what my KR Secret Pal sent me - all the way from Finland!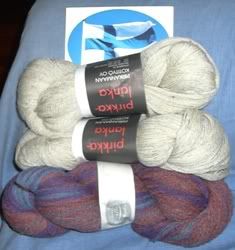 Wednesday, June 01, 2005
Happy Brithday to..
Me,
Happy birthday to me,
Happy birthday to meeeeeee
Happy brithday to me!

It was my birthday today, and Chris' yesterday. It's been a good day, though a busy one. Unfortunately a birthday is not a good enough reason to not work, so I spent all of today at the office. My colleagues celebrated my birthday with a cake. It was a delicious chocolate sacher cake. Yum!

Chris and I have already celebrated ur irthdays to death. It started with the trip to the Southern Highlands and Canberra a couple of weekends ago. We have since followed that with meals and treats that we could justify using our birthdays as an excuse - food,w ine, yarn, we had it all!

I feel like all my birthdays have come at once. A few posts ago, I mentioned going nuts at Koorong. Well, my CDs were delivered yesterday. I have enjoyed listening to them in teh car. Chris reckons Idea of North sounds like "salad bar music", whatever that means. I'll just make sure I play it when he is not in the car.

I also received the battery for my laptop which I ordered through my company's internal purchasing system. I had been waiting for it for a couple of weeks while stressing out that my battery was going to die on me. I was so relieved that I finally received it.

The other thing I received was my present from my KR secret pal. It was a couple of hanks of grey wool and a multicoloured hank of wool from Estonia and Finland - two countries where she visited recetly. I'd put up a picture, but I don't have a camera with me right now. It love the grey wool. I think it will make a lovely shawl. I have not worked out what to do with the multicoloured hank yet. I will post a picture as soon as I can and you will see how pretty the colours are.

And just when I thought that things could not get any better, I received another message from my office's mailroom asking me to pick up a package. It was my Heirloom 8ply Cotton from ozeyarn. Jenn from Figheadh had ordered it for me to use for the next test knit that I will be doing for her. It will be a fern leaf diamond lace sweater, knit from cuff to cuff. it will have bell sleeves. I am very excited about it as it sounds lovely and the yarn she ordered for me most certainly is very lovely to look at.

That's not all. yesterday, on the way to meeting my project group at uni, I took a little (well, not so little) detour to Tapestry Craft. They were meant to close at five o'clock, but the lovely ladies there allowed me to browse while they tidied up. I ended up buying three balls of Filatura di Crosa Zara to make a scarf for Chris. Have you felt that stuff? It's amazing. It's soft and silky and feels like it is going to be a pleasure to work with. I can't wait to start on the scarf. i want to finish it before the end of the month as Tapestry Craft's sale ends then and I want to get more Zara from them if I like it enough n want to make another scarf or if I don't have enough to complete Chris' scarf.

The back of the cabled sweater is nearly done. A few more rows to go and I will be binding off.

I am so glad that Blogger is functioning again. It was seriously driving me nuts before. It's only been fixed today. Another god brithday present - this time from Blogger! Those of you who emailed me telling me that the comments links don't work, well, the do now. Thank you for emailing me as I would never have dreamed of testing the comments. I know now that I should test the links from time to time - just in case. I complained to Blogger and it looks like it was all fixed today.