After two nights of playing with colours, I have this to show.
They are all sock weight yarns (The 6 skeins on the left are slightly thinner than the 6 skeins on the right)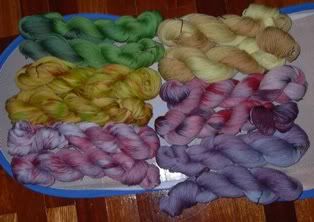 They are all approximately 100g in weight and should be more than enough for an average pair of socks. Of course they don't need to be for socks only. 100% wool and beautifully soft. If I could knit fast enough, I wouldn't sell a single skein! Unfortunately I an buying, dyeing and spinning quicker than I am knitting, so all 6 skeins will go to ebay tomorrow. Once again I am too tired to even try to do it tonight. The two colours on the top and the blue-ish mauve-ish skeins on the bottom right are dyed with the colours blending into each other. The other two colours on the left are randomly dyed and should not pool much (or at all). The middle skein on the right has colours painted at regular intervals on a background of variegated pinks that blend into each other. I have not found the energy in me to name them yet. Maybe I won't name them this time.
Wel, they'll be on EBay tomorrow. So if you're interested in any of them, drop me an email and make me an offer I can't refuse ;) and you'd better be quick, cos otherwise they'll be on EBay.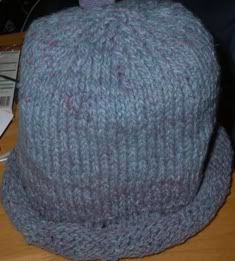 Okay, this is the hat I knitted last night - pre-felted. It didn't felt so well, and I haven't got a picture of it post-felting yet. I am planning to wear it tomorrow night to see how much I like it before trying to felt it again. The fit is ok, but it's not as stiff as I had hoped it would be, nor has it felted to the point where the stitch definition is lost. It's a cute hat thugh. Oh, and it's also notthe same colour now. It's faded!
I wonder how Chris' knitted cat is coming along. I haven't seen it in over a week. Hmm.. if he doesn't hurry up, he's not going to get it done before Joel's birthday.