I wore the casual cabled sweater today, and though it was loose, it was really warm and snuggly. I was so glad I had it with me as I would probably have been very cold otherwise. I was at Chris' parents' today and it gets really hot there on warm days and freezing cold during the colder months. they had two heaters on in the small living room where we were watching tv but it was still cold enough that I wore my sweater.
As you can see from the pictures below, it's HUGE. It looks like I stole someone's sweater or something.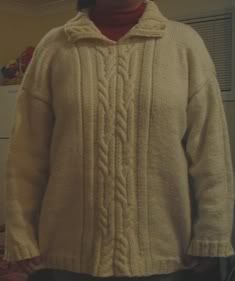 I don't like how the back lifts up a little. That could be made worse because I had my head tilted downwards, however, it does lift a little in the centre. It's not so bad that it's noticeable when I am wearing it and moving around, but enough to annoy me. It can be corrected by short rows, I was told, but I am yet to try it.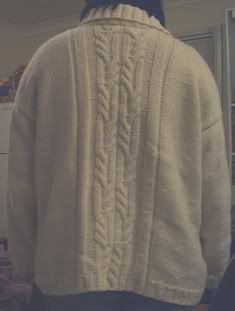 I love the cable on the sleeve, but I hate how the sleeve is so oversized. It eally looks so sloppy. I won't be able to wear it to work, not even on Fridays, unfortunately. In case you are wondering, I say "even on Fridays" because Fridays are casual days at my office.

We tested out my pizza stone at Chris' parents today. I made pizza with some help from Chris, his mum made pasta and his sister made the salad. Dinner was a collaborative effort tonight. It was a simple meal, but good. His mum also made fruit salad with almond jelly. Yum!
Te recipe for the pizza dough was really easy. I made it at home before we left my house and took it there in a covered bowl. I was a little concerned that it was not rising, and so when we got there, I placed teh bowl near the stove where Chris' mum was boiling pasta. That did the trick. The dough rose and we made great pizza!
I started a scarf for my KR secret pal. I wish I could show it here, but I don't know whether she reads this blog, so I guess it's better safe than sorry. I will show a picture of it after the reveal date in December, when she knows who I am. Meanwhile, I'll just have to keep it a secret. I think it's quite pretty although the colours aren't quite me. So that's my no-picture project right now. I am still plugging along with Chris' Manly Scarf. It's about 30% done now. I think I will need more of the Zara, I just don't know when I will have time to go buy it.
I have been spinning more of the Optim. It's a lovely fibre that spins into a nice soft yarn. The resuts of my spinning isn't quite as soft and smooth as the commercially spun stuff but that's ok. It's still nice, I think. It turns out that Jenny did not have much of it to sell, so I bought another 500g before it was all gone, since it's so nice to touch and beautiful to look at. Also, it' good practice as it's so slippery that I think if I can spin this, I can probably spin most other slippery stuff!
My final exam for this semester is on Tueday. I still haven't read my whole text book yet. Maybe I should get back to it, huh.