I am really hoping that Blogger will not devour all these posts once it starts to work again. It's still not publishing and so nobody can read any of these posts, but I'm not going to let that stop me posting, no way!
I have some pictures to share with you. Here are the two rabbits I made today. The white one is going to Brenda for the kids at the hospital, and beige one is going to Anastasia (the little girl who is also getting the hat in one of my previous posts).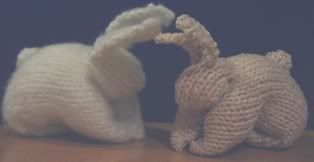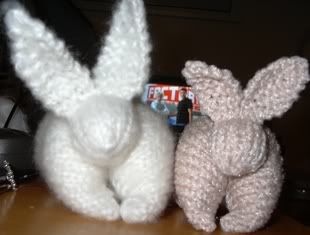 That's my tv you see in the background. As you can see, I wasn't watching anything interesting. I think that was an ad and I was watching Law and Order: Criminal Intent. Yes, I am a L&O addict. I watch it whenever I can, and when it is not on, I watch CSI (either the original or the Miami one). I don't like it hald as much as I do L&O, but what's a girl to do when there's nothing else on tv?
Yesterday I finished spinning up the rest of the blue green merino top that I had dyed myself.I am ready to knit it now, I just need a pattern. So instead of knitting with that, I started knitting Branching Out with my skein of Shimmer. I am only up to Row 9, but I am already questioning my choice of yarn for this pattern. i am not sure I like the way the colour is pooling. I think I will do a couple of pattern repeats before deciding.
Plenty of progress on the casual cabled sweater. I am up to the 80th row now. I love knitting at this gauge. It goes so quickly! If I consistently work on it for the next two weeks, I think I'll be able to finish it by the next SSK, which I intend to attend - honest, I do!