I am finally back from my long weekend away with Chris, and what a lovely 4-day weekend it was too.
We left on Friday and headed towards the Southern Highlands town of Mittagong. We did stop first at Ikea to get me a new shower curtain and some breakfast. For $2.50, you get some eggs, two little sausages, some bacon, and a cup of coffe. Pretty good value, if you ask me.
We spent our first night at
Chorleywood
, a charming little bed and breakfast just outside Bowral. They had two little cocker spaniels, one of whom seemed quite taken by Chris' breakfast the next morning. He sat at Chris feet and looked at him with 'sad little puppy eyes'. For his pains, he received Chris' tomato. Hmm.. I think he was hoping for something a little more, like a piece of ham, perhaps.
Anyway, I digress. Let's backtrack to Friday afternoon. We got to Mittagong and decided that maybe we should hunt down some lunch at one of the nearby smaller towns. We ended up at Berrima, home to the Alpaca centre. Yes, yours truly was cunning and conniving and led us to Berrima. We had a lunch of pie and nachos at a little cafe next door to the Alpaca Centre. It was a large lunch, but nothing special.
I found the Alpaca Centre rather disappointing. I expected to see some Alpaca fleece, some carded top perhaps, and more yarn. The shop sold mostly machine knitted jumpers and other items of clothing. I was very disappointed, to say the least. Walked out empty handed, I did. In the same complex as the Alpaca centre was a couple of shops selling woolen knitted and woven items. One of them looked like an outlet store and sold many of the brands we can get in Sydney, such as Toorallie. I found a couple of jumpers that caught my eye, but decided that I did not have enough room in my closet for more woolen jumpers, especially if I keep knitting them!
That night, we decided to eat at Bowral, and settled on the local African restaurant,
Savannah
. We ordered a couple of entrees which were nice, but not particularly memorable. For our mains, we had the lamb shank tagine and the wild goat potjie. I thought they were both delicious. The spicy cabbage was a great side dish, and the couscous was perfect to soak up the gravy in the two dishes.
The garden at Chorleywood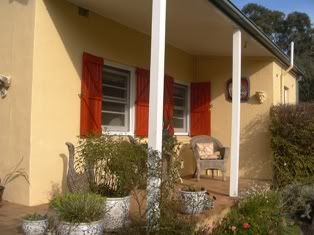 The outside of our room at Chorleywood
After breakfast on Saturday morning, we headed south towards Murumbateman, a town about half an hour's drive away from Canberra. We had decided to stay there because there were about 6 or 7 wineries in that area, and if Chris was going to be tasting wine, it made sense to stay somewhere near the wineries. We were fortunate enough to get a room at
Redbrow Garden
, which was a delightful little B&B. Our hosts, David and Elizabeth Judge maintain a small farm and gardens around their house and the rooms they rent out. Take a look at the pictures below, and you'll see what a lovely place it was. They kept free range chickens and ducks on the farm. They also grew their own apples, among other things, and for breakfast, we had the pleasure of sampling apple juice freshly pressed from the gala apples they grew on their farm. Ok, so I am a city girl, and this may come across as lame, but I have NEVER had such great apple juice. The flavour of apples was intense and so, well, so apple-y!
We tried to visit Poacher's Pantry which was just down the road from Redbrow. We made it tehre, but did not stay long. they only had one tasting counter and it ws busy. Now, unless you have a VERY sturdy car, or you are driving a four wheel drive vehicle, don't try it. Those were seriously the worst roads I have ever been on. Bumpety bump bump bump.. and my rear number plate fell off. The only good thing about our drive there was that I managed to see some merino sheep up close and personal. Some of them even came within a few metres of the car (to say hello perhaps?)
We had lunch at
Schonegg
, where we initially thought we'd stay. They didn't have room for us, and we were glad. There is nothing wrong with the place, but Redbrow just seemed so much lovelier. Chris and I shared a serve of the pasta with kangaroo prosciutto. It was divine. There wasn't an awful lot of prosciutto in it, but it certainly was enough to flavour the pasta without being over-powering. I also ordered the kangaroo pot pie (yes, it was a 'skippy' meal for me), which was pretty good. Some of the meat was beautiful and 'melt in your mouth', but some chunks were hard and tough. I thought they could have done a better job with it. The rhubarb relish on the side added a nice sweetness and tartness to the dish. It was adequate, but not fantastic. Chris' bratwurst and rosti was nice, but once again just adequate, I think.
That night we decided to dine at the Shaw Vineyard Estate Restaurant. The portions were HUGE. Chris and I ordered a serve each of the duck risotto and the paella. Even
we
could not finish all of it. For entrees, we shared a serve of the Spanish Tapas platter for two. It was nice, but as Chris said, "did not transport me to Spain or anything". The meal was reasonably priced and we were glad we tried it out. It turns out that David, our host at Redbrow who recommended that we dine there, had not been there himself! He had just heard good reports about it from the other guests at Redbrow.
The outside of our room at Redbrow garden. The one with the open door was ours.
The view from the terrace outside our room at Redbrow Garden
After we left Redbrow on Sunday morning, we headed straight for the
Kingston Markets
. This was what I was looking forward to and the main reason why this holiday was planned. I found it disappointing. I expected more stalls selling locally produced fibre-y goodnes. Many were selling similar or identical stuff and even included one or two stalls that looked like a commercial yarn store selling Heirloom and Bendigo stuff. Nothing wrong with commercial yarn, but I was hoping for more stuff that I can't get at stores like Lincraft and Tapestry Craft. I did however, get the chance to fondle some beautifully soft yarn called Optim. It was "both smooth and soft"(Chris' definition, not mine). Where can I buy it? I'd love to be able to spin up some Optim yarn, but where can I buy Optim top? Chris won't wear anything that is even mildly scratchy. He says he will wear Optim, so if anyone can point me to a reasonably priced source, I'd be eternally grateful. I read Knitters Review's review of South West Trading Cmpany's "Optimum" yarn which is made from Optim. I can't afford it. Also, it does not sound like this yarn will hold up well to washing.
I bought
1. 500g worth of natural coloured grey merino top. luscious and soft
2. 100g Merino and silk top - lovely sheen and soft. enough for a scarf or if I spin it thinly enough, a shawl.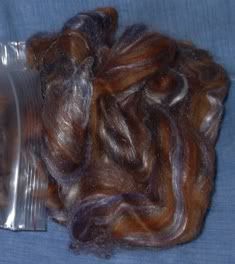 3. 100g Merino and glitz (nylon?) top - gorgeous shades. Chris saw it and pointed it out. How can I resist buying something that my Chris pointed out, since it is so rare that he does notice something fiber-y. He did point out some heirloom mohair yarn later that I
didn't
buy - I didn't think it was that special.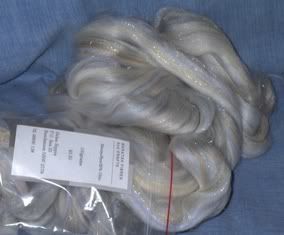 4. 300g of combed Suri Alpaca top - beautiful and soft with nice sheen. Not shiny, just a gentle sheen that makes it look luxurious. Can you tell from the picture?
We spent Sunday night at
Heronswood
. Our hosts, Tina and Brian were lovely hosts. They had prepared for us a beautiful room in an immaculate house. The breakfast was even better, much better than a cafe breakfast. I ordered the Heron's Nest which was a large flat mushroom, cooked whole and topped with a poached egg, with bacon on the side. Chris ordered the Highland Scramble - cheese flavoured scramble eggs on ham on english muffins. Both were scrumptious and we ended up swapping dishes midway through breakfast so that we could both sample each other's breafast. Mmmm yumm... I could have some of that highand scramble right about now.. The usual eggs, bacon, sausages, tomato also available, but decided we can have that any day. No regrets ordering what we did. There was also a breakfast buffet of cereals, juices, toast (with yummy home made spreads) and great coffee.
Our room at Heronswood
The sun room adjoining our bedroom at Heronswood
Dinner on Sunday night was at Briar's Country Inn. We both thought it was a little overpriced but the food was pretty good. I could not resist the 'cook your own steak' option, and ended up with a steak that was too large for me. Chris helped me, kind man that he is. His order of duck thigh confit was nice too, but significantly smaller. There was a salad bar, and the baby spinach salad was really good. I really should start making baby spinach more often. I love it and I don't know why I don't make it for myself.
While we were trying to work out what to eat for dinner, we came across the a menu from one of the local Chinese places. I have never seen so many variations of sweet and sour dishes in one menu before. You be the judge: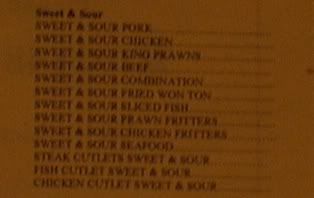 And have you seen so many variations of prawn balls before?
We were killing ourselves laughing at the menu. We actually thought we'd try it out, but we could not find the place, so we ended up at Briar's instead.
Brian offered Chris and me a glass of port or sherry when we returned from dinner. I didn't feel like having any, but it was an offer Chris could not refuse. I tried some, and it was good port too! What a lovely host.
We left Heronswood after breakfast and visited a few more wineries before heading back towards Sydney.
Since the Southern Highland towns are meant to be the "book towns" of Australia, we thought we should visit at least the bookstore that was on the maps, if nothing else. That was Berkelouw's Book Barn. the books weren't anything to shout about. It looked like any other second hand bookstore to me. I was expecting restored first editions and such, but I just saw old books, and not really that old either. I think I have older books that were hand-me-downs from my grandfather and mother! The architecture (and cake) was quite something else, though. There were large wooden beams and wooden "floorboards" on the ceiling. Ok, I know they are not floorboards, but that's what they looked like to me.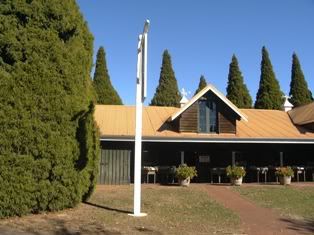 Berkelouw's Book Barn
Ok, here is the final tally (I counted tonight)
Number of bottles = 18
The wineries that remained in my mind were -
Joadja - we sampled and bought a delicious berry wine to mix with fruit or champagne . Well, I think I will be drinking it straight or mixed with some soda water. Yummy!
Mundrakoona - The late harvest sauvignon blanc was fantasic - we bought two bottles of the stuff. They also do wrought ironwork which was interesting to look at.
Dionysius - I bought some really yummy olive tapenade from there. Chris bought some wine (and I don't remember what it was). The tapenade was really yummy, though.
Before I move on to knitting news, I thought I'd share some pictures of the vineyards we visited and of the landscape around them.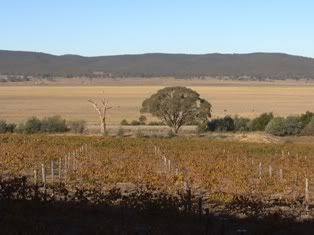 Ok, on the knitting front, I have made a couple more cats. Chris reckons these look diseased. I think they are pretty yucky. I'd be afraid to give them to kids. they may be left traumatised for life. I just thought I'd share with you.
While we were at Murrumbateman, one of Chris' ex-colleagues sent a message to his phone to say that he is now a proud dad of a little girl. Her name is Anastasia, and so this hat is named after her. It's a present for her. Chris will have to go around to his office and deliver it next week - after I have made a matching set of mittens or booties. My apologies about the dark and over-exposed pictures. I just could not seem to get it right. I will have the pattern on
Celia's Basket
soon.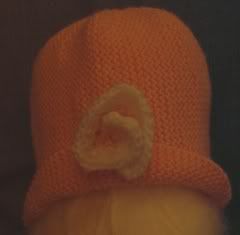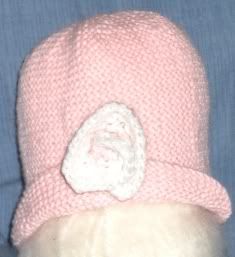 I am making good progress on the cabled sweater. The front is now completed and I have done about 10% of the back. I hope to have it completed in a few weeks, if I don't get too distracted by my new fibre!