I decided to use some Aran yarn I had to knit this jumper: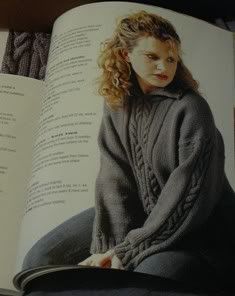 After two false starts, I think I have finally got it right. I had to frog it the first time because I had not centred the cables. Ok, so it was not too smart of me as I had knitted about 20 rows before I discovered that. Rip rip rip..
Second time around, I thought I had it right. So off I went, knit, knit, knit..
I decided to measure my work, you know, just in case I needed a different size. Hmm... about 20 rows into the work, there I was again, ripping it all out.
Finally, third time around, I cast on the correct number of stitches, carefuly made sure the cable was centred, and off I went. As of this afternoon, I had gotten this far: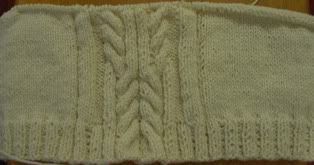 I am now another 20 or so rows further into the front of the jumper. I am pleased with the progress so far, and there is enough interest in the cables to keep me focused. My only problem is that I am finding it quite difficult to knit. It is making my palms ache. Yes, that's right, my palms! I don't know whether that is normal, but it's quite strange as I have not felt my palms ache like this before. I have had to put it down after every few rows to massage my palms. Even so, progress is quick and I hope to complete this jumper soon. It's fairly thick. I am not sure how much wear I will get out of it since it is so heavy, but I do feel the cold a lot, so maybe thickness is not such a bad thing.
On the spinning front, I dyed just over 100g of merino top in shades of greens and blues (did I mention this previously?). I carefully divided the resulting top into four rolls and spun it so that the yarn has long stretches of each colour. I then plied it using the Navajo plying technique so that the lengths of colour ply back onto themelves and so the yarn has very little of the barber pole effect. In the pictures below you can see the dyed top in the back and the spun wool in the front. From half the dyed top, I managed to get about 75-80m of yarn.Most of it is between fingering and sport weight (4-5ply for all you Aussie readers)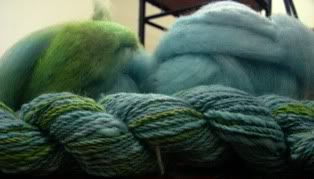 Close up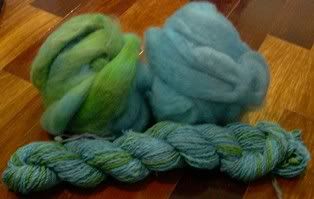 Not-so-close up
I am still trying to work out what to do with it. Since the colour repeats are fairly long, was hoping to knit it into a scarf or shawl (though I don't think I have enough for a shawl unless I mix it with other yarn(s)) that will show off the long stretches of colour blending into each other. pattern suggestions?
Oh, I must tell you about this place that Chris took me to for breakfast last weekend. It was really trendy and I felt really out of place wearing what Chris called my "Grandma gear", and really isn't the sort of place I frequent, but the food was pretty good. We were joking about how if I had brought my knitting, I would have been trendy (despite what I was wearing!), but I didn't, so I was just Grandma Celia that morning. It was the
Dank Street Depot
at Waterloo. I had the creamed eggs and that was pretty good. Chris' omelette with spinach and goat's cheese was pretty good too. For dessert (what?! dessert at breakfast?!) we had stewed strawberries with goats cream. Mmmm yum!
In a week and a half we will be travelling down to the Southern Highlands and Canberra for a long weekend away. I can't wait! Work's been nuts and uni is pretty bad. I can't wait for this semester to be over and done with! My final exam is on June 14th. I can't wait! I tried to enrol in International Marketing Management for next term today, and I have not received a reply from the school yet. I hope they let me in. Otherwise my graduation will definitely be delayed by at least one semester, which is
not
a good thing!
I finally delivered the two bunnies to the church office. Brenda wasn't there, but Judy the community services pastor was, and I am sure Judy will make sure Brenda gets the bunnies. I don't think I will make any more till after Brenda tells me whether she wants any more. I am considering making one for Maisie's little boy, whom I hope to see when I am in Canberra next week. Maybe I will.. we'll see. I was also thinking of making little cats for brenda - like
this one
. So easy and yet so very cute!