It's been over a week sice the last time I posted. It's been a busy busy busy week.
My parents are here, visiting for the week, with 2 friends. They arrved on Friday night, and it's been go, go, go since then. Chris and I met them at the airport n Friday night and drove them to the hotel where they were stayng that night. We went to
Superbowl
in Chinatown for supper. Mmmm.. congee... (to the uninitiated, this is Chinese rice porridge, usually cooked with meat or seafood of some sort)
On Saturday, we met at the seafood markets for lunch and had a mini degustation meal, starting with oysters from the oyster distributer there, followed by mains at
Doyles
, and then went to Haberfield to uy chocolates and have dessert there. Oh man, that was a day of eating!
To top it off, we joined the Cooper-Garrett clan for dinner to celebrate Grandad's 75th birthday at
Pilu at Freshwater
. This is probably one of the loveliest restaurants I have visited in a long time. I must admit that I ordered poorly, but even so, I still did enjoy my meal. It was just way too much and way too rich for me. Take a look at this seafood soup
Chris loved his roast suckling pig. Oh yum! I had some, and it was lovely. I think half the table ordered the suckling pig! The company was lovely too!
On Sunday we headed up towards the Hunter Valley, about 2 hours North of Sydney. This is wine country, and boy, did we get wine! My parents and their friends stayed the nigt at Pokolbin, but Chris and I had to return to Sydney for work.
On Monday, we had dinner at
Cafe Sapori
. Chris and I had not eaten there before and were pleasantly surprised. It was an intimate little restaurant, with beautiful food. My eye fillet steak was perfectly done. Could not have asked for more.
My parents left for Canberra yesterday. My stomach gets a rest, at last! When they return on Friday, we will be dining together at
Emperor's Garden at Chinatown
. We figured that they'd probably be tired of 'white food' by then, and would be wanting some Asian food, so we decided to take them somewhere Chinese. We've eaten tehre once before, and it was ok, so I hope that our dinner on Friday will be just as pleasant. They will be coming back to my home for dessert after dinner. I am making creme caramel for the non-diabetics. For the diabetics, I will be making apple foldovers, I think. i can't think of anything else to make that does not have added sugar. Suggestions, folks?
I received
Ozeyarn's
sample card this week. What beautiful colours! I am considering the silk yarn that they sell. The colours are gorgeous. The Heirloom Cashmino also looks lovely though I am not sure what I would make out of it.
I am strating to plan for my birthday in June. I have a little over a month to work out what I want. I think I will have abut $60 to $80 to spend. The current contenders are
1. A cone of the cashmere or silk or blend from Ozeyarn
2. Some
Peruvian Collection Baby Silk
3. Some
Peruvian Collection Baby Cashmere
4. Some
Peruvian pure Alpaca
5. Bendigo Mills Alpaca
6. Knitpicks'
Andean Silk
7. Kitpicks'
Radiance Wave
8. Knitpicks'
Andean Treasure
9. Knitpicks'
Alpaca Cloud
10. Knitpicks'
Shimmer
so many choices... what do I buy?
On the knitting front.. mm.. I have been busy.
I started a new project. It started as a capelet, but now I thinnk it will be a cardigan. This is my first attempt at knitting with beads. It's coming out ok. I am not sure whether I have attached enough beads, ut I don't really want to weigh the piece down with beads. What do you think?
In the past week, I have also completed the brown/black jumper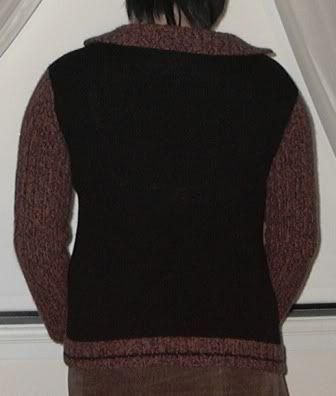 I am not terribly impressed. I don't like how the shoulders fit. I think it looks sloppy. I am thinking of adjusting the shoulders, bringing them in a little. I am not sure that is going to work, but probably worht a try if I have the time.