well... sort of..
We signed the papers over two months ago, but the vendor had requested a delayed settlement, to which we had agreed. Fast forward 66 days (as they requested)... and we still haven't settled! The initial agreed settlement date was August 27th. Last Thursday, however, our solicitor rang me to say that the vendor had asked for settlement to be delayed further as there were some issues with the discharge of THEIR loan! The proposed date was September 3rd, which made me rather please as that would save us a few dollars. The state government is abolishing mortgage stamp duty as of tomorrow, so settling on the 3rd means that we will not have to pay it. About 30 minutes later, our solicitor rang again to say that the vendor now wanted to settle on August 29th. I asked about just leaving it as the 3rd but I was told that if we want to delay it past the 29th, we would have to pay interest to the vendor. I was most unhappy to say the least. What could I do? I agreed to the 29th. The 29th rolled around and on THE MORNING OF the 29th, our solicitor rang again.The vendor now want to delay settlement (indefinitely!!!) but he had negotiated an agreement with them where we are allowed to take possession of the house and move in or paint or do whatever we need to do on that day. So we did!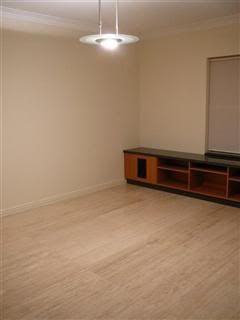 the living room.. without any furniture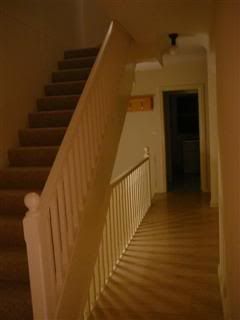 a view from the front door

Oh.. and I heard from the solicitor again today. Apparently the vendor is now ready to settle on September 4th. I am not holding my breath, but you know what? It doesn't really matter that much anymore. The house is ours (sort of..) and I don't have to pay mortgage stamp duty!

So.. anyway.. we're moving slowly. the fridge arrives tomorrow and the carpet cleaners are also coming through tomorrow. I have booked movers for next Saturday and they will take care of moving all the bigger things (such as the bed, the dining table, the entertainment unit, the tv, etc.) We will move everything else ourselves.

You know what? I am really not looking forward to having to face my stash. The thought of that much wool in bags.. scary!

Just cos.. here's a picture of Alex.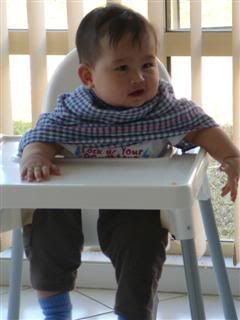 Yes, that IS a tea towel around him.. I forgot to bring a bib with us to my in-laws'. Oh and yes, his shirt does say "lock up your daughters". Brett gave that to us when Alex was born and he's finally grown into it.