I know it's been a while since I last posted. Nothing much has been happening here - lots of work, lots of baby care and not much knitting.
I did manage to finish a hat that I made for a customer:
Aside from that I have just been plodding along on the pair of Pomatomus socks I am knitting.
I am using some hand-dyed yarn and it's coming out quite nicely, I think. Not long to go now...I am knitting.. really, I am!
My sockapalooza4 pal is (obviously) not as slack as I am. Thank you,
Deb
! This is what I received: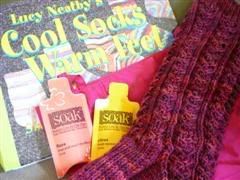 The highlight of the package for me is the pair of gorgeous Hedera socks. It really is gorgeous. I have already worn them.
Labels: pomatomus, sock, Sockapalooza 4