Monday, October 25, 2004
Pictures, pictures, pictures...
I finally got my act together and took photos of stuff I made (or started?) in the past few months.
First of all, here is my corcheted pig potholder. It's got straight eyes and straight nostrils this time, but it lacks character, don't you think? It just look boring.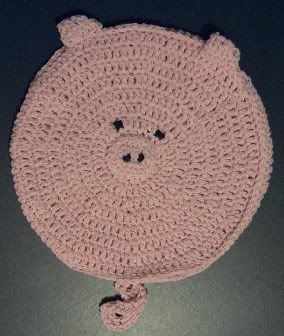 And here are is the bag to which I added a button from the collection of buttons I received from Brit last week. The blue button works well, don't you think? I designed the bag myself and it's knitted from hand dyed wool. The wool was originally cream coloured and I dyed in with some pink, blue, and yellow (the green is just from the mixing of the blue and yellow dyes). I'm usually not a pastel kind of girl, but I must say I do like this bag. i could not decide how the strap should be, so I just knitted two long pieces and tied them in a knot after the bag was fulled. The button loop is just an i-cord loop.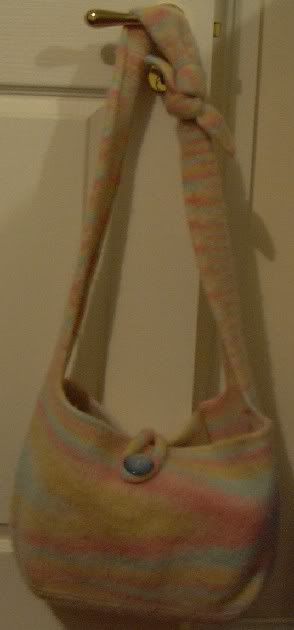 Oh, and that blanket I am piecing together.. here it is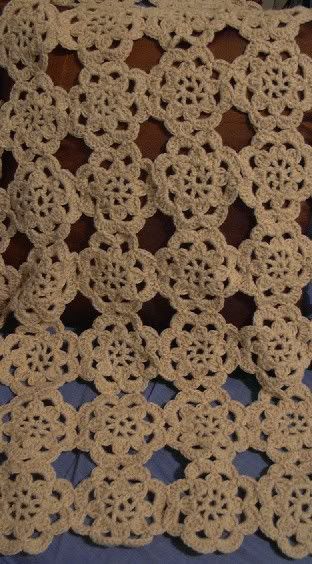 Mmm.. what other pictures have I got? Oh yes, and the gloves I made last week. Here are two views - front and back. Chris calls them Madonna gloves. I think they are just a wee bit too practical to be called that. I named them 'Lazy' - because they are a result of my laziness; I could not be bothered to knit the fingers! I have written the pattern, but have not had time to check what I have written yet. I'll put it up on
Celia's basket
soon.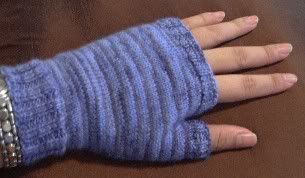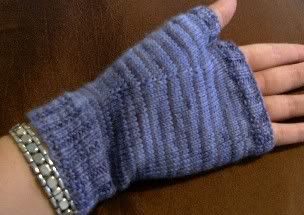 Yes, and I must not forget my new pet. We had a stroke of genius(??) while shopping on the weekend. Chris and I were buying fruits and vegetables when we decided we needed to buys some basil for dinner. So instead of buying a bunch of basil, we bought a pot of basil. Meet, my new pet, Basil
Ah, and before I forget, here's teh wool I am going to use on my first steeked project. Well, it's part of the yarn I plan touse. it's gorgeous and soft. I can't wait to start, but firt I have to knit a swatch and try a few steeks. I am very nervous about cutting my knitting! Oh my, it's going to be an adventure!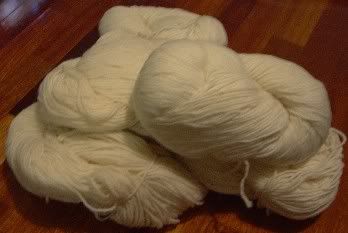 Apart from that I have been plodding along on the Laurel Hill. i hope to complete the front/back/whatever it is I am making real soon.
Sunday, October 24, 2004
A good day
It was wet and miserable for most of the day, but I enjoyed myself.

Chris and I had yumcha for lunch with two of his friends from Melbourne at Marigold. the food was great and the company better.

I don't have much to report knitting-wise. I have just been plodding away at my Laurel Hill jumper. It's coming together... just slowly.

No pictures yet. I didnt get a chance to take them this morning before I left the house.

Saturday, October 23, 2004
My first gloves - unfingered
This week I frogged my "Step Above" socks and used the wool to make gloves. I have never made gloves before but I figured, what the heck, it can't be
that
hard. I got past the thumb and started getting lazy, so I have what I call my "lazy gloves". They have one small opening for the thumb and one larger opening for all the the other fingers. Pictures and pattern to come soon. my camera is out of batteries and right now the batteries are being charged. I hope to be able to take pictures of my new gloves by tomorrow morning.
Speaking of which.. I am going for yumcha tomorrow with Chris and two of his friends from Melbourne. I think we are going to Regal on Sussex Street. I guess I'll know when we get there tomorrow.
I have made some progress on Laurel Hill. I am up to my 5th ball of wool now, and 17 inches into the front of the jumper. I can't believe how slow it is to knit. I think this is my slowest project to date. Don't get me wrong, though, as I
am
enjoying it. It is just that I am getting impatient and want to see the garment take shape a little quicker.
Oh! And I nearly forgot - I received an RAOK on friday. I came home to find that my landlady had left the envelope on my doorstep as it would not fit under the door that separates my flat from her house. It as from
Brit of Baltimore
. Fancy hat, a gift from so far away. Thank you Brit! I love the buttons. it did not take me long to select a big blue one for the bag that has been hanging on the back of my dining chair waiting for a button and some lining. Now that it has a button, I am thinking that maybe I need not bother lining it. I am just too lazy! (Yes, yes, pictures to come soon.. as soon as those silly batteries are charged!)
Chris and I went to Macquarie Shopping Centre today, and I visited Lincraft. I was good today. I did not buy anything. I was there to find out what lengths zips come in so I know how long my zippered cardigan should be. I decided that 60 cm from hem to top of the collar is a good length. A cardigan or jacket that length will skim my hips and be just long enough to wear over both casual and work clothes. I am looking forward to starting this project. It promises to be a quick knit as I intend to use larger than usual needles (4.5mm or 5mm) and aran wool.
Currently sitting here watching Chocolat on Channel 9 while typing this.I can't believe it has taken me this long to get around to watching this movie. It's quite interesting.
I did three huge loads of washing today. I really should get off the computer and iron some of those freshly washed clothes..
Wednesday, October 20, 2004
Long time no post..
I saw this quiz on someone else's blog and I thought it might be interesting. I think I am more a gourmet girl than a girl next door. I certainly don't come from a small town or a large family! Those who know me wil know that few people love their food more than I do.
Ok, so what have I been up to over the past week. Not much, actually. I have knitted up more of the Laurel Hill jumper. I have only done the first 13 or so inches of the back and I am on to my 4th ball of wool. It is SO slow going.
I have also decided to try my first steeked project. Wish me luck! The plan is to knit a jumper in the round and cut up the front to make the opening for the zip, and the cut the sides to make the arm holes. I had decided that I want to make it in cream, have about 4 inches of ease, and have a simple cable pattern running up the sides of the zip. I have not decided yet what the neckline/collar will be like. I was thinking that i'll just knit a few inches of ribbing so that I'll have a high neckline. The knitting doesn't scare me, it's the cutting that scares me! I am yet to think of a name for this project yet. I am still trying to work out which cable stitch to use.
So far I have made 6 squares for Anne to put together to make a baby blanket. Unfortuntely not all the suares are truly square. Uh-oh.. Hopefully they will all stretch to form squares. There is a pink one, a green one, a bluey-aqua one, a yellow one, a purple one and a mustard one. I won't post any pictures so it can be a surprise. I pla to make 10 for her - squares, that is, not blankets.
Have I mentioned the crocheted blanket? I bought a bag of crocheted wool 'squares' from a lady on eBay last year ( I say 'squares' because they are not really square) I have not had the motivation to sew tehm together till recently. I am nowpatiently sewing the squares together and it looks like it will make a nice-ish lap rug. I'll probaby have to line it. That will just have to wait till Dad brings me my sewing machine.
It's been wet and miserable all day. Right now my nose is feeling like the weather.. wet and miserable all the way.. I hope it is just hayfever. My head's been feeling congested all day. yucky! Anyone got a cure for a runny nose and watery eyes?
I hope tomorrow is a little warmer.
Wednesday, October 13, 2004
Nouveau shawl finished.. woohoo!!!!!
Ok.. typing this out for the second time. Stoooopid blogger barfed and I lost my last post!
First things first - a picture of Sally Melville's basic bag which I made in a black ribbon yarn. I completed it last year but did not line it till recently.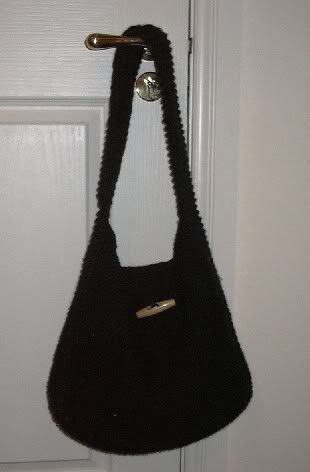 I have used it everyday for the past week. I love it! However, I discovered today that the ibbon yar easily gets caught on shopping trolleys! I'll just have to be careful from nwo on. Wouldn't want it unraveling, would we.
And here is a pciture of the Nouveau shawl. I haven't blocked it yet, but you can see what it looks like, kind of.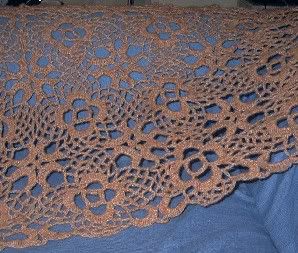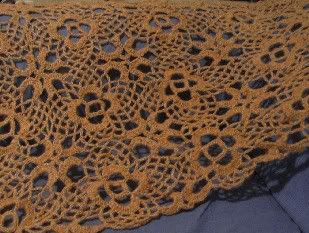 I took two pictures, one with flash and one without. No prizes for guessing which is which. the colour of the shawl is kinda between the colour of the two pictures. I don't think it is as pretty as the picture in the book, but that's probably because I was too stingy to buy mohair. Next time I make this, it will be in mohair! It's also probably warmer in mohair.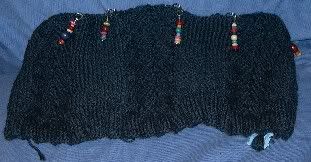 Here is a picture of my Laurel Hill sweater in progress. It is going really slowly, but I guess that is only to be expected of a cabled jumper. Can you see the sticth markers I am using? Those are the ones that Chris and I made together a month ro to ago. Aren't the pretty?
The weekend was hectic. Dad is in town. He didn't manage to bring me my sewing machine. maybe next time.. He did, however, bring me goodies from mum, including some herbs and a scarf and a couple of shawls. They are really pretty. I'll take a picture when the light is a bit better.
I managed to complete my assignment for Buyer Behaviour. Thank God. I thought I wasn't going to make it in time, but I did. Handed it in last night. I tried to use the anti-plagiarism thing, but it didn't work. I should be safe anyway, as I
know
I didn't cheat. Heck, i didn't have time to cheat! I started the assignment on Friday and had it completed by Sunday.
Look like ti is going to be another busy week at work. I am looking forward to the weekend. But then, I ALWAYS look forward tothe weekend. but this weekend is a little special. Sharlyn is coming over for lunch and Ginny is coming for dinner. Yay. I am planning to roast half a lamb leg. We'll also have roasted asparagus with anchovies, roasted carrots and onions, garlic mash potatoes, and grilled tomaoes and mushrooms. Doesn't that sound yummy! Even thinking about it is making me drool. Oh! And for dessert, we'll have bananas baked in orange juice with ice cream. Yum!
Thursday, October 07, 2004
2 posts in one day?! That's a first!
I forgot to mention that managed to line my bag (which I knit last year) this weekend. I have been using it all week and I love it. It's the basic bag from Sally Melville's book The Knit Stitch. I love it so much I think I am going to make another one. I used a ribbon yarn which I bought cheaply from Lincraft last year and I knit it on 6.5mm needles. I have not taken a picture of it yet.

My other bag which I knitted from some wool I dyed myself also needs to be lined and it's missing a buttn. i have not managed to find a large enough button for the bag. I want a HUGE button.. strong solid big button!

Did I mention mys hoping spree at Esprit? I went shopping 'by accident'. I swear! I did! I went in there to 'look' ONLY. I had no intention of buing anything. All that changed when the sales assistant handed me a scratchie thing and I got 50% off everything in sore. I ended up with 2 t-shirts for mu, one for my aunt nd 4 for me. I also bought a mesh bag to keep all my knitting accessories together. How much did I spend? All that for about $81. That's such a bargain I want to go back, but I am trying to resist.

I saw some Jo Sharp yarn being sold on Ebay. they price is great but I can't justify another yarn purchase. I still have 500g each of Camel, Forest and Teracotta. I have come to realise that 500g is not enough for whole jumper for me.. what's a girl to do? No.. no .. no I will not buy more. I'll just have to combine the yarns to make a jumper for me. I think all three of those colours will coordinate qute well.

Did I mention the big bag of wool I received in the mail? chris saw it in the back of my car and asked what it was. I said it is a rug.. a rug-to-be. he wasnt buying that explaation so I had to fess up. It was a big bag (2.3kg) of 12ply wool I bought cheaply on ebay. Can't wait to use it. My plan was to make strips of colour with each ball and sew the strips together to make a blanket. That will take me forever to make, though. Maybe it will be aother fantasy project..

4 more squares to go..
I have made steady progess on the Nouveau shawl. I hope to be done soon. I have made 28 squares and only have 4 more to go. The shaw is a nice size, but I really should have used a mohair yarn. It's not as warm as I had hoped it would be. I am SO looking forward to getting the mohair yarn that Tam has bought on my behalf. I want to make this shawl again, in mohair this time, because it's so pretty.
I have cast on and knited about 3 inches of the
Laurel Hill jumper
, but I don't have time to continue at this point. I'd like to get the shawl completed first.
Laurel Hill (from Jo Sharp's Book 1)
Also have to get my act together and post off those BASIS squares for Laurie. I feel so guilty... I will have to get it done next week. Just don't have time this week. I have an assignment due on Monday and I have only just started to do the required reading. Get this.. the topic is yarn related! I need to write a paper on how culture and reference groups affects a yarn buyer's purchasing behaviour.
Oh, and I have also put up some pictures from B1 and B2's wedding -
here
Over the weekend, Chris designed
my website
. Well, it's probably more his than mine since he did all the work designing it. I think it's fab, dont you? Ok, I must admit, the content person (er.. that's me) was lazy and there's not much there (YET!)
Oh, oh! Chris also fixed up the little progress picture thingies on the side of my blog. i could not get them to work so he fiddled with the javascript bits and got it to work. Yay! Yes, I admit to being lazy, but even if I wasn't lazy, I doubt I could have gotten those pictures to work for me. So I'm really glad that he's around to do stuff like this for me. (and there are other reasons why I'm glad he's around, but I'm not telling cos I want to keep him all to myself!)
Dad is coming this weekend. I have such a busy weekend ahead. We're going to Chiris' parents' for a barbeque lunch as it is Yenni's birthday (she is Chris' brother's gf, soon to be wife). At night we're going over to Sharlyn's for another barbeque. I am making vegetable and chicken skewers for both parties. Also making potato bake for lunch and dessert for dinner. I am looking forward to the barbeque at Sharlyn's. I haven't seen them for so long!
Probably not updating the blog till after the weekend. I'll have to get off my bottom and start writing that paper about yarn buyers' behaviour.