Monday, May 30, 2005
Yay! Blogger is back
I was seriously considering moving to Typepad or something similar when I could not get my posts published. Much happier now that Blogger is working for me again. I still don't know what went wrong, but at least it is all good now.
I have been writing out some of my recipes and Chris will put them up on Celia's Basket soon. I'll post here when they are up. I will also be adding two new hat patterns to Celia's Basket.
On the knitting front, I don't have much to report. I was home with a bad cold and earache today but ended up working for half the day and didn't get as much knitting done as I had hoped. I am up to the 107th row of my sweater back now. the armhole shaping is all done and I'm on the home stretch now. Really, really pleased with the progress. It does look like I will have a new sweater to wear this winter.
Yesterday Yenni asked whether I would make her husband (Chris' brother) a large knitted cat. Well, she first asked whether I could show her how, which I was more than happy to do, but then she asked whether I would do it since "It's easy". Uhm, no, it isn't, not when it's about a foot in length. That would be a heck of a lot of stocking stitch, and I have some test knitting to do for Jen! (Not to mention all my UFOs - just look at my side bar!) Chris is now thinking of making it for his brother. Yay for you, Chris, more power to you! I will help, of course. I will even re-write the pattern, but all that stocking stich just scares me.
Branching Out in Shimmer has not progressed. I am knitting it on US size 6 Boye needles. I thought they would be good because they are nice and short. Unfortunately they are too slippery so I am thinking of changing to my 4mm bamboo needles as they are less slippery and would be about the right size. We'll see.. right now I am focused on finishing my cabled sweater.
Interweave Knits' Preview is
up
. I thought the kids' hats were cute, but nothing special. IK is one of the few mags that consistently has patterns I like. I am thrilled to bits that once again they have sock patterns. Yay! I quite like the cabled shrug because it is so oversized it looks cozy, not like those itty bitty shrugs that are so popular now. The Union Square Market sweater looks good too. It looks like it is knit in fine gauged yarn though - 181m/50g sounds liek it's probably 4ply (fingering) weight?! There is no way I am going to be able to complete a sweater sized for me in 4ply yarn! I thought the textured coat was interesting in an "I won't be caught dead in it" kind of way. The horizontal lines really don't do any favours for anyone. Essential Indulgence looks like something I can knit in some 5ply Bendigo wool. I also like the fur trimmed wrap - minus the fur. I don't do fur, not now, not ever. I know it's not real fur, btu I just think it is silly. I will probably trim it with a different coloured yarn if I make it, but it will NOT be furry.
Sunday, May 29, 2005
Blogger still not working, but I'm still posting
I am really hoping that Blogger will not devour all these posts once it starts to work again. It's still not publishing and so nobody can read any of these posts, but I'm not going to let that stop me posting, no way!
I have some pictures to share with you. Here are the two rabbits I made today. The white one is going to Brenda for the kids at the hospital, and beige one is going to Anastasia (the little girl who is also getting the hat in one of my previous posts).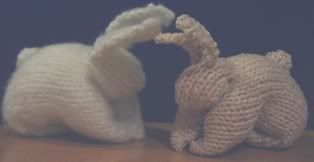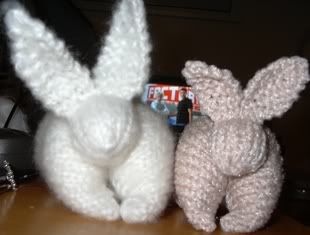 That's my tv you see in the background. As you can see, I wasn't watching anything interesting. I think that was an ad and I was watching Law and Order: Criminal Intent. Yes, I am a L&O addict. I watch it whenever I can, and when it is not on, I watch CSI (either the original or the Miami one). I don't like it hald as much as I do L&O, but what's a girl to do when there's nothing else on tv?
Yesterday I finished spinning up the rest of the blue green merino top that I had dyed myself.I am ready to knit it now, I just need a pattern. So instead of knitting with that, I started knitting Branching Out with my skein of Shimmer. I am only up to Row 9, but I am already questioning my choice of yarn for this pattern. i am not sure I like the way the colour is pooling. I think I will do a couple of pattern repeats before deciding.
Plenty of progress on the casual cabled sweater. I am up to the 80th row now. I love knitting at this gauge. It goes so quickly! If I consistently work on it for the next two weeks, I think I'll be able to finish it by the next SSK, which I intend to attend - honest, I do!
Saturday, May 28, 2005
I lost my car?!
That's what Chris and I thought for about 20 minutes while we wandered around the car park at Macquarie Shopping Centre. It turned out that we were going around the wrong floors looking for my dear little car. The whole time that we were looking for it, I kept thinking "What if it was stolen? My knitting is in there. My two new skeins of Alpaca Cloud, Shimmer, and my half knitted cabled sweater front. Oh no!" Yes, I was having a mild panic attack. Boy, was I ever relieved to find the car, and all its contents intact.

I had taken my knitting with me this morning when we left the house as I was intending to go to Newtown for SSK. Once again, I didn't make it. Maybe next time...

We went into the city today for some Yum Cha at good old Marigold. Well, the 'real reason' we went in was to get Chris some new business trousers. It was a good excuse for yum cha, dn' you think? We did manage to get him some new black pants, and since we were 'in the area' we went to Tapestry Craft while waiting for his trousers to get altered. It was the first time I was there since they moved, and they were having a sale! Wow! I fondled many a soft yarn. I found some beautifully luxurious yarns. There was a soft 100% baby alpaca 14 ply yarn that was simply beautiful. It took all my self-restraint to walk out without getting any. I don't even know how much it cost per skein, since it was not priced. I also fondled some wool/possum blend that felt quite rough in the skein. However, when I fondled the miniature sweater that had been knit in it, WOW! It was soft. Even Chris said he would wear it, but at $17 per skein or whatever itw as, I wasn't sure I wantd to but it unless he would tell me for sure that he would wear it if I knit it into a scarf for him. Anyway, if you are in the area and have nothing better to do (like as if youneed an excuse!) go check out the Tapestry Craft sale. They also had plenty of bags of yarn that were heavily discounted. Lots of good stuff. (You may want to leave the credit card at home)
Friday, May 27, 2005
Blogger is driving me nuts!
Ok, I can save posts, but I can't publish.. so all of a sudden, when I am finally able to publish, this blog will see the addtion of a few posts, all at once. not my fault -
Blogger's fault!
I hav spent the last few nights trying to work out why this is not working. What am I doing wrong?! When I try to republish my blod (index only, mind you) I get stuck. Right now I am stuck at about 40%. It will just sit at 40% for hours and hours. I have tried contacting Blogger - TWICE! I have not heard back, apart from the automated message that they send out asking me to read their help pages. Helloooo... I HAVE read the help pages. If I could find what I needed, I would not be emailing them. Well, duh!
So anyway.. tehse posts are just going to sit here for a while...
I pulled out my wheel today and it took a little while to get back into the swing of it. My wool was uneven at first. It is much better now. I am tryign to spin up the rest of that wool that I had dyed in bblues and greens. I want to knit it up. I was thinking of maybe knitting a feather and fan scarf with it or some other lacey pattern. I don't want it to be too complex. I want it to show off the colour variations. I have about 30% left to spin up and then I have to ply it (the Navajo way) and then I can start knitting.
I haven't started spinning any of that yummy stuff I bought at Canberra yet. I am saving that for after my exams. I have an exam on 14th June and then I am done for this term. Yay!
In the mean time, I am going to be trying to complete my cabled sweater. It's coming along nicely. I am about half way up the back. I hope to complete the back this weekend, and maybe get some studying done. I suppose I should update the progress pictures, but I can't. i would if I could but Blogger won't let me publish!
The Knitpicks yarn is so beautiful and soft. I have wound the shimmer into a centre-pull ball. I think I will bring it with me to
SSK
tomorrow. I don't know what knitting I will be bringing yet. I think I have too much Shimmer for Branching Out. I may knit two scarves out of one skein. Or maybe make it wider. Or maybe knit something else with it. The two gorgeous skeins of Alpaca Cloud are staying as skeins for a while - for petting! I also have two skeins of Koigu KPPPM (was that enough 'P's?)to knit up, which was given to me by my Secret Pal. What shall I make? I was thinking of a stole. Maybe a lacey one. You know, more air, less yarn, makes the skeins go further ;)
So much yarn, so little time!
Oh and on top of that, I will be doig more test knitting for Jen of
Figheadh
. She has ordered the yarn from
Ozeyarn
and I think it will arrive soon. I can't wait! I told Jen that I will start after my exam, but I am so excited I will probably not be able to wait! She has ordered the Heirloom 8ply cotton for me in medium purple (my choice). I liked both the medium purple and the puurple. It was a hard choice, but in the end I worked out that I don't have a jumper in the medium purple yet and I am very likely to wear it, and not to mention that I am going through a pink phase now. The medium purple is close enough to a pink without being pink. I'd still wear it when this pink phase wears off.
Koorong
, my local Christian bookstore was having a 1 day 20% off everything sale on Wednesday, and I went a little nuts. I am now sitting rather impatiently witing for my order of CDs to come in. I bought some old Jars of Clay CDs, their new one, a Rebecca St James one, and a couple of others. I can't wait for them to get here. Hmm.. are we detecting a theme here? Yes, folks, I am impatient, and I hate waiting!
Ok, back to spinning...
Wednesday, May 25, 2005
Surprise!!
I stepped out of my front door this morning and found a that my landlady had left a box at my front door. She picks up my mail, you see. I thought to myself, "I haven't ordered anything. What could it be?" I tore the wrapping open and cut open the box. This is what I found inside: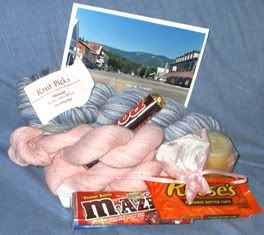 Jen
had sent me ALL this amazing stuff all the way from California. WOW! What have I done to desrve this? Nothing, absolutely nothing! I received
1 skein of Knitpicks Shimmer, 2 skeins of Knitpicks Alpaca cloud, some m&m bars, some Reese's peanut butter cups (yum yum yum!), a candle, some hand cream and a lovely photo card showing where Jen lives. Isn't she amazing?! I would have picked out those very colourways for myself. How did she know? Jen, how DID you know? I have spent all evening petting the yarn. So soft and so beautiful. Thank you so much, Jen. I can't wait to knit it up. I am thinking of
branching out
with the shimmer, but I have 440 yards which is more than enough. Two scarves, perhaps? Or another the Orenberg style scarf from Interweave Knit's staff scarves. The pattern says that I need over 600m though.. hmm.. I may make it shorter. The other possibility is the red scarf from one of the old Knitters magazines that I have. I think it was called "something ruby". time to look at some patterns, I think. Maybe I should design my own. Any other suggestions? As for the Alpaca Cloud, I have about 800m of it. I think I may have enough for a delicate lace shawl or stole. Thank you so much, Jen!
I am making good progress on the cabled sweater. I am now at row 52 of the back. There are about 150 rows in the pattern, so I am about a third of the way through. After this I need to knit the two sleeves and the collar and then I am done! I can't wait. it looks like I may actually get it done in time to wear this winter.
Yesterday, I purchased a copy of the latest(I think) Sandra from one of my local newsagencies. It has plenty of patterns I want to knit and hey are in my size too, for once. I love the lacey jumpers - perfect for autumn, spring. In the magazine, they are all (or mostly) knitted in cotton. I think I will use wool to make them a little warmer. Is it just me or does it bug you too that Sandra patterns don't tell you gauge?! I guess I will just have to guess, since I will be substituting the recommended yarn with some of my own.
Tuesday, May 24, 2005
Back from a weekend away (warning: looooong post)
I am finally back from my long weekend away with Chris, and what a lovely 4-day weekend it was too.
We left on Friday and headed towards the Southern Highlands town of Mittagong. We did stop first at Ikea to get me a new shower curtain and some breakfast. For $2.50, you get some eggs, two little sausages, some bacon, and a cup of coffe. Pretty good value, if you ask me.
We spent our first night at
Chorleywood
, a charming little bed and breakfast just outside Bowral. They had two little cocker spaniels, one of whom seemed quite taken by Chris' breakfast the next morning. He sat at Chris feet and looked at him with 'sad little puppy eyes'. For his pains, he received Chris' tomato. Hmm.. I think he was hoping for something a little more, like a piece of ham, perhaps.
Anyway, I digress. Let's backtrack to Friday afternoon. We got to Mittagong and decided that maybe we should hunt down some lunch at one of the nearby smaller towns. We ended up at Berrima, home to the Alpaca centre. Yes, yours truly was cunning and conniving and led us to Berrima. We had a lunch of pie and nachos at a little cafe next door to the Alpaca Centre. It was a large lunch, but nothing special.
I found the Alpaca Centre rather disappointing. I expected to see some Alpaca fleece, some carded top perhaps, and more yarn. The shop sold mostly machine knitted jumpers and other items of clothing. I was very disappointed, to say the least. Walked out empty handed, I did. In the same complex as the Alpaca centre was a couple of shops selling woolen knitted and woven items. One of them looked like an outlet store and sold many of the brands we can get in Sydney, such as Toorallie. I found a couple of jumpers that caught my eye, but decided that I did not have enough room in my closet for more woolen jumpers, especially if I keep knitting them!
That night, we decided to eat at Bowral, and settled on the local African restaurant,
Savannah
. We ordered a couple of entrees which were nice, but not particularly memorable. For our mains, we had the lamb shank tagine and the wild goat potjie. I thought they were both delicious. The spicy cabbage was a great side dish, and the couscous was perfect to soak up the gravy in the two dishes.
The garden at Chorleywood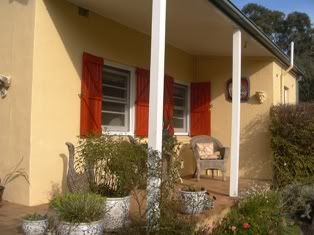 The outside of our room at Chorleywood
After breakfast on Saturday morning, we headed south towards Murumbateman, a town about half an hour's drive away from Canberra. We had decided to stay there because there were about 6 or 7 wineries in that area, and if Chris was going to be tasting wine, it made sense to stay somewhere near the wineries. We were fortunate enough to get a room at
Redbrow Garden
, which was a delightful little B&B. Our hosts, David and Elizabeth Judge maintain a small farm and gardens around their house and the rooms they rent out. Take a look at the pictures below, and you'll see what a lovely place it was. They kept free range chickens and ducks on the farm. They also grew their own apples, among other things, and for breakfast, we had the pleasure of sampling apple juice freshly pressed from the gala apples they grew on their farm. Ok, so I am a city girl, and this may come across as lame, but I have NEVER had such great apple juice. The flavour of apples was intense and so, well, so apple-y!
We tried to visit Poacher's Pantry which was just down the road from Redbrow. We made it tehre, but did not stay long. they only had one tasting counter and it ws busy. Now, unless you have a VERY sturdy car, or you are driving a four wheel drive vehicle, don't try it. Those were seriously the worst roads I have ever been on. Bumpety bump bump bump.. and my rear number plate fell off. The only good thing about our drive there was that I managed to see some merino sheep up close and personal. Some of them even came within a few metres of the car (to say hello perhaps?)
We had lunch at
Schonegg
, where we initially thought we'd stay. They didn't have room for us, and we were glad. There is nothing wrong with the place, but Redbrow just seemed so much lovelier. Chris and I shared a serve of the pasta with kangaroo prosciutto. It was divine. There wasn't an awful lot of prosciutto in it, but it certainly was enough to flavour the pasta without being over-powering. I also ordered the kangaroo pot pie (yes, it was a 'skippy' meal for me), which was pretty good. Some of the meat was beautiful and 'melt in your mouth', but some chunks were hard and tough. I thought they could have done a better job with it. The rhubarb relish on the side added a nice sweetness and tartness to the dish. It was adequate, but not fantastic. Chris' bratwurst and rosti was nice, but once again just adequate, I think.
That night we decided to dine at the Shaw Vineyard Estate Restaurant. The portions were HUGE. Chris and I ordered a serve each of the duck risotto and the paella. Even
we
could not finish all of it. For entrees, we shared a serve of the Spanish Tapas platter for two. It was nice, but as Chris said, "did not transport me to Spain or anything". The meal was reasonably priced and we were glad we tried it out. It turns out that David, our host at Redbrow who recommended that we dine there, had not been there himself! He had just heard good reports about it from the other guests at Redbrow.
The outside of our room at Redbrow garden. The one with the open door was ours.
The view from the terrace outside our room at Redbrow Garden
After we left Redbrow on Sunday morning, we headed straight for the
Kingston Markets
. This was what I was looking forward to and the main reason why this holiday was planned. I found it disappointing. I expected more stalls selling locally produced fibre-y goodnes. Many were selling similar or identical stuff and even included one or two stalls that looked like a commercial yarn store selling Heirloom and Bendigo stuff. Nothing wrong with commercial yarn, but I was hoping for more stuff that I can't get at stores like Lincraft and Tapestry Craft. I did however, get the chance to fondle some beautifully soft yarn called Optim. It was "both smooth and soft"(Chris' definition, not mine). Where can I buy it? I'd love to be able to spin up some Optim yarn, but where can I buy Optim top? Chris won't wear anything that is even mildly scratchy. He says he will wear Optim, so if anyone can point me to a reasonably priced source, I'd be eternally grateful. I read Knitters Review's review of South West Trading Cmpany's "Optimum" yarn which is made from Optim. I can't afford it. Also, it does not sound like this yarn will hold up well to washing.
I bought
1. 500g worth of natural coloured grey merino top. luscious and soft
2. 100g Merino and silk top - lovely sheen and soft. enough for a scarf or if I spin it thinly enough, a shawl.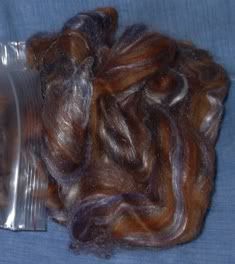 3. 100g Merino and glitz (nylon?) top - gorgeous shades. Chris saw it and pointed it out. How can I resist buying something that my Chris pointed out, since it is so rare that he does notice something fiber-y. He did point out some heirloom mohair yarn later that I
didn't
buy - I didn't think it was that special.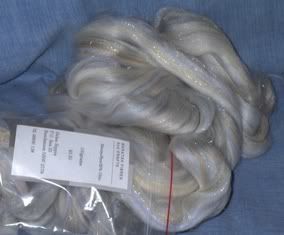 4. 300g of combed Suri Alpaca top - beautiful and soft with nice sheen. Not shiny, just a gentle sheen that makes it look luxurious. Can you tell from the picture?
We spent Sunday night at
Heronswood
. Our hosts, Tina and Brian were lovely hosts. They had prepared for us a beautiful room in an immaculate house. The breakfast was even better, much better than a cafe breakfast. I ordered the Heron's Nest which was a large flat mushroom, cooked whole and topped with a poached egg, with bacon on the side. Chris ordered the Highland Scramble - cheese flavoured scramble eggs on ham on english muffins. Both were scrumptious and we ended up swapping dishes midway through breakfast so that we could both sample each other's breafast. Mmmm yumm... I could have some of that highand scramble right about now.. The usual eggs, bacon, sausages, tomato also available, but decided we can have that any day. No regrets ordering what we did. There was also a breakfast buffet of cereals, juices, toast (with yummy home made spreads) and great coffee.
Our room at Heronswood
The sun room adjoining our bedroom at Heronswood
Dinner on Sunday night was at Briar's Country Inn. We both thought it was a little overpriced but the food was pretty good. I could not resist the 'cook your own steak' option, and ended up with a steak that was too large for me. Chris helped me, kind man that he is. His order of duck thigh confit was nice too, but significantly smaller. There was a salad bar, and the baby spinach salad was really good. I really should start making baby spinach more often. I love it and I don't know why I don't make it for myself.
While we were trying to work out what to eat for dinner, we came across the a menu from one of the local Chinese places. I have never seen so many variations of sweet and sour dishes in one menu before. You be the judge: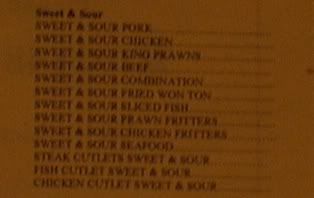 And have you seen so many variations of prawn balls before?
We were killing ourselves laughing at the menu. We actually thought we'd try it out, but we could not find the place, so we ended up at Briar's instead.
Brian offered Chris and me a glass of port or sherry when we returned from dinner. I didn't feel like having any, but it was an offer Chris could not refuse. I tried some, and it was good port too! What a lovely host.
We left Heronswood after breakfast and visited a few more wineries before heading back towards Sydney.
Since the Southern Highland towns are meant to be the "book towns" of Australia, we thought we should visit at least the bookstore that was on the maps, if nothing else. That was Berkelouw's Book Barn. the books weren't anything to shout about. It looked like any other second hand bookstore to me. I was expecting restored first editions and such, but I just saw old books, and not really that old either. I think I have older books that were hand-me-downs from my grandfather and mother! The architecture (and cake) was quite something else, though. There were large wooden beams and wooden "floorboards" on the ceiling. Ok, I know they are not floorboards, but that's what they looked like to me.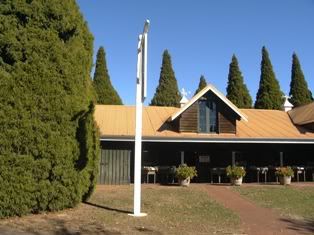 Berkelouw's Book Barn
Ok, here is the final tally (I counted tonight)
Number of bottles = 18
The wineries that remained in my mind were -
Joadja - we sampled and bought a delicious berry wine to mix with fruit or champagne . Well, I think I will be drinking it straight or mixed with some soda water. Yummy!
Mundrakoona - The late harvest sauvignon blanc was fantasic - we bought two bottles of the stuff. They also do wrought ironwork which was interesting to look at.
Dionysius - I bought some really yummy olive tapenade from there. Chris bought some wine (and I don't remember what it was). The tapenade was really yummy, though.
Before I move on to knitting news, I thought I'd share some pictures of the vineyards we visited and of the landscape around them.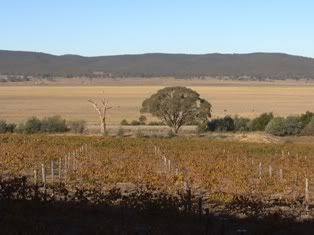 Ok, on the knitting front, I have made a couple more cats. Chris reckons these look diseased. I think they are pretty yucky. I'd be afraid to give them to kids. they may be left traumatised for life. I just thought I'd share with you.
While we were at Murrumbateman, one of Chris' ex-colleagues sent a message to his phone to say that he is now a proud dad of a little girl. Her name is Anastasia, and so this hat is named after her. It's a present for her. Chris will have to go around to his office and deliver it next week - after I have made a matching set of mittens or booties. My apologies about the dark and over-exposed pictures. I just could not seem to get it right. I will have the pattern on
Celia's Basket
soon.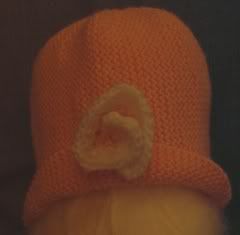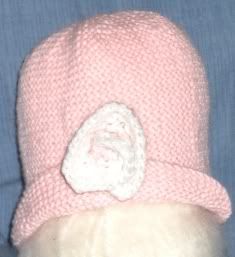 I am making good progress on the cabled sweater. The front is now completed and I have done about 10% of the back. I hope to have it completed in a few weeks, if I don't get too distracted by my new fibre!
Tuesday, May 17, 2005
Just a short one
To introduce you to the latest cat.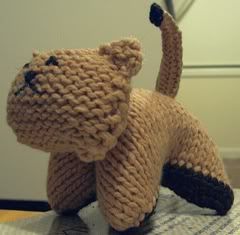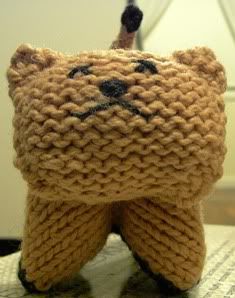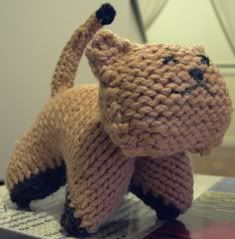 This one is going to Chris' brother and sister-in-law. Joel saw Chris' tiger and wanted one to match the cat they are planning to buy. The request was for it to have a "cafe-au-lait" body, head and tail with brown on the belly and a brown tip on the tail. Well, I tried my best. I think I am fairly colour challenged in that I know what red, blue, yellow, green and other basic colors are, and all other colours are just variations of these. Fancy colour names are quite beyond me, so I hope this cat qualifies as being close enough to 'cafe-au-lait'. Uhm, looks more like a latte to me. Oh well. The underside and tail are actually brown, though it looks black in the picture.
I modified the pattern a bit so that the cat has a stocking stitch body, reverse stocking stitch head and garter stitch tail. I think it turned out ok.
My next cat will probably be bright pink - so that I can use up some of that bright pink feather wool that I have (what was I thinking when I said 'yes' when I was offered it?!)
Way past bed time. Good night!
Saturday, May 14, 2005
And a Tiger is born
When I saw
this knitted kitty
, I immediately thought that I must make one for Chris, in black and orange stripes. He was born in the year of the tiger, you see, so a knitted tiger would have been an appropriate gift. (Just put aside for a minute the fact that he is male and older than 5 yrs old)
Today, Tiger as born, uhm, completed. It was a quick knit - only took me a couple of hours.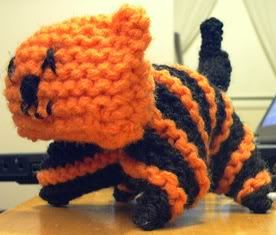 Aw.. isn't he cute...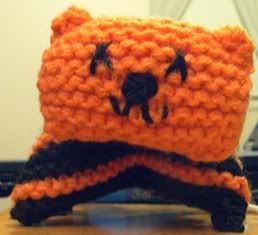 Now I have to knit another for Brenda at church and see whether she thinks it's suitable for the kids at the hospital.
I made some progres on the front of my casual cabled sweater. I m up to the 90th row and there are about 150 or so rows for the front. I'm getting there, slowly and steadily. I growing quite fond of the moving cables. At least it is not too boring. Well, check back with me in a month or so, and I'll tell you wehther I find it boring then!
Friday, May 13, 2005
Third time's a charm
I decided to use some Aran yarn I had to knit this jumper: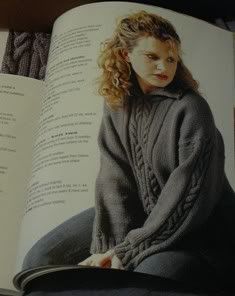 After two false starts, I think I have finally got it right. I had to frog it the first time because I had not centred the cables. Ok, so it was not too smart of me as I had knitted about 20 rows before I discovered that. Rip rip rip..
Second time around, I thought I had it right. So off I went, knit, knit, knit..
I decided to measure my work, you know, just in case I needed a different size. Hmm... about 20 rows into the work, there I was again, ripping it all out.
Finally, third time around, I cast on the correct number of stitches, carefuly made sure the cable was centred, and off I went. As of this afternoon, I had gotten this far: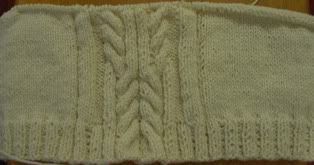 I am now another 20 or so rows further into the front of the jumper. I am pleased with the progress so far, and there is enough interest in the cables to keep me focused. My only problem is that I am finding it quite difficult to knit. It is making my palms ache. Yes, that's right, my palms! I don't know whether that is normal, but it's quite strange as I have not felt my palms ache like this before. I have had to put it down after every few rows to massage my palms. Even so, progress is quick and I hope to complete this jumper soon. It's fairly thick. I am not sure how much wear I will get out of it since it is so heavy, but I do feel the cold a lot, so maybe thickness is not such a bad thing.
On the spinning front, I dyed just over 100g of merino top in shades of greens and blues (did I mention this previously?). I carefully divided the resulting top into four rolls and spun it so that the yarn has long stretches of each colour. I then plied it using the Navajo plying technique so that the lengths of colour ply back onto themelves and so the yarn has very little of the barber pole effect. In the pictures below you can see the dyed top in the back and the spun wool in the front. From half the dyed top, I managed to get about 75-80m of yarn.Most of it is between fingering and sport weight (4-5ply for all you Aussie readers)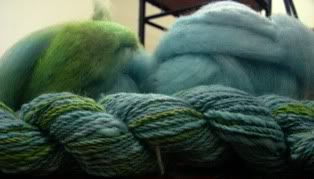 Close up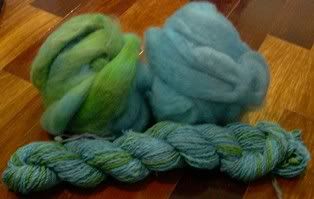 Not-so-close up
I am still trying to work out what to do with it. Since the colour repeats are fairly long, was hoping to knit it into a scarf or shawl (though I don't think I have enough for a shawl unless I mix it with other yarn(s)) that will show off the long stretches of colour blending into each other. pattern suggestions?
Oh, I must tell you about this place that Chris took me to for breakfast last weekend. It was really trendy and I felt really out of place wearing what Chris called my "Grandma gear", and really isn't the sort of place I frequent, but the food was pretty good. We were joking about how if I had brought my knitting, I would have been trendy (despite what I was wearing!), but I didn't, so I was just Grandma Celia that morning. It was the
Dank Street Depot
at Waterloo. I had the creamed eggs and that was pretty good. Chris' omelette with spinach and goat's cheese was pretty good too. For dessert (what?! dessert at breakfast?!) we had stewed strawberries with goats cream. Mmmm yum!
In a week and a half we will be travelling down to the Southern Highlands and Canberra for a long weekend away. I can't wait! Work's been nuts and uni is pretty bad. I can't wait for this semester to be over and done with! My final exam is on June 14th. I can't wait! I tried to enrol in International Marketing Management for next term today, and I have not received a reply from the school yet. I hope they let me in. Otherwise my graduation will definitely be delayed by at least one semester, which is
not
a good thing!
I finally delivered the two bunnies to the church office. Brenda wasn't there, but Judy the community services pastor was, and I am sure Judy will make sure Brenda gets the bunnies. I don't think I will make any more till after Brenda tells me whether she wants any more. I am considering making one for Maisie's little boy, whom I hope to see when I am in Canberra next week. Maybe I will.. we'll see. I was also thinking of making little cats for brenda - like
this one
. So easy and yet so very cute!
Friday, May 06, 2005
When life gets in the way of knitting
I have not managed to get much knitting done since my last post, and most certainly no spinning has been done. Work has been hectic and I am busy preparing for a case study group report and presentation. After that I have my individual presentation and finally a presentation for our
Markstrat
project. Well, not finally, since we have an exam after that. Hmm.. I think it is time to start reading my textbook. What do you think?
I have knitted up most of the leg of the second sock but it's not going as quickly as I'd like. I want to get to the heel to check my numbers!
I have also dyed just over 100g of merino top in blues and greens. I want to spin it into a stripe-y yarn with long stretches of each colour. I can't wait, but uni and work come first, unfortunately. Meanwhile, all I can do is dream about what I am going to knit with my 150 or so metres of sport weight merino yarn. Any ideas?
Wednesday, May 04, 2005
I am SO pleased!
I spun up the rest of my hand dyed merino top and here it is: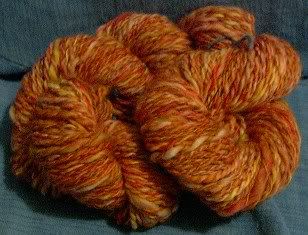 That was the skein that I plied using two ends. I had misjudged the amount of wool I had spun on each bobbin and one bobbin had more than the other. So I was left with a small amount of wool on one bobbin only. I thought to myself, "What better time to learn Navajo plying!", and so I did. This is the result: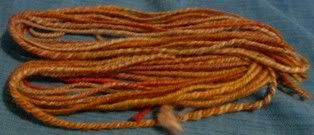 I didn't think it came out too badly. I had too much twist in it when I was plying, so I soaked it and let it dry to set the twist. It set ok, and I quite like it. I certainly need more practice with Navajo plying. I think I like it. It significantly reduces the 'barber-pole' effect, but it's harder to control I think. It is a lot less mindless to do.
I was thinking of turning the larger skein into
this
. I think the variegated colours will look good on this scarf, a little less boring, you know. However, I only have about 75 metres. I am not sure thatw ill be enough. I may end up with half a scarf!
On the weekend, I also plied the rest of the wool I had spun earlier and put it through a Kool-aid bath. The colour came out blotchy, but that's ok, as I did not want it to be even anyway. I mas thinking of turning this lot of yarn into a bucket hat. Maybe a felted one.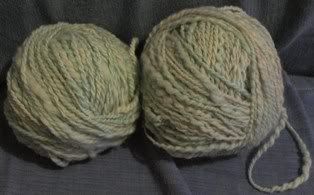 Not sure that I have enough, though. Maybe a small scarf.
On the sock front, I am testing my pattern using the second sock. I have found errors already - sorry testers! I hope that it will be ready soon. It knits up quite quickly - more holes than yarn I think! The next time I do it, I will probably knit it in a plain colour or a variegated yarn that's not so 'busy'.
Tuesday, May 03, 2005
One sock down, and one to go...
Thank you for all your nice comments about my blog's facelift. Chris is wonderful, isn't he, doing all that work for little old me. I am very pleased with the results too. And now he is plannign to give Celia's Basket a facelift as well. You know, he'll also work for a fee. Yes that was a shameless plug for dear Chris and his work, but you know what, I think he's pretty good at it and I am very proud of him. (And no, he's not bribing me to say this :)) So, if you have a web design job for him, email me!
And now for some fiber-y goodness. I saw
this post
at the Yarnharlot's blog about dyeing roving. So I thought I'd try it. I changed her method a little, though.
Here is a picture of my 'sausage' before I soaked it in warm soapy water.
After about thirty minutes, I dyed it with a mixture of colours which I mixed using food dyes and vinegar. When I was satisfied with the results, I zapped it in the microwave twice, 90secnd each time. Oh, and I forgot to mention that I wrapped it in glad wrap before I zapped it. It then looked like a bruised sausage... like this: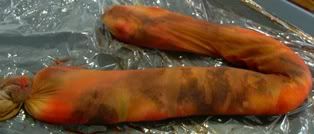 I allowed it to cool for abotu an hour. When it was cool enough to handle, I placed it in the kitchen sink and ran warm running water onto it to wash out any excess dye. There was hardly any. I then took it downstairs to the laundry and spun it in the washing machine for about a minute. It came out semi-dry and looked like this: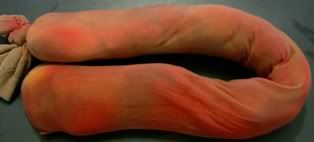 I was so worried that the colour would all turn out evenly and the browns that I added and the white bits that I so carefully left behind would all be gone. Imagine my relief when I extracted the top from the nylon stocking and saw this:
I dried it in front of the fan for most of the evening and about an hour and a half ago, it was dry. I started spinning it. This is what it looks like on the bobbin: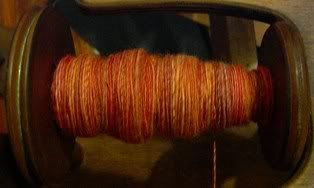 I am rather pleased with how it turned out. I am trying to workout whether I want to ply it normally or whether I want to take this opportunity to learn Navajo plying. What do you think?
On the knitting front, I have been knitting a sock. I used the leaf lace pattern to create a knitted sock. I used some Patonyle yarn that I had bought cheaply at Spotlight at the beginning of this year, or was it last year?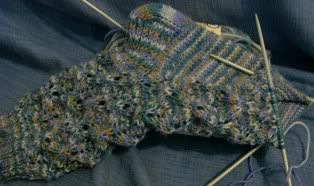 It's not much to look at when you can't see the lace pattern clearly, I suppose.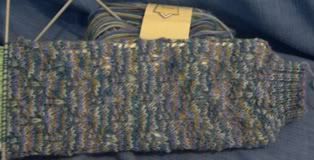 I tried to give you a closer look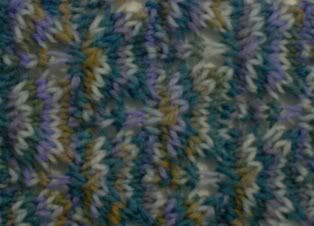 And here it is, in it's completed glory: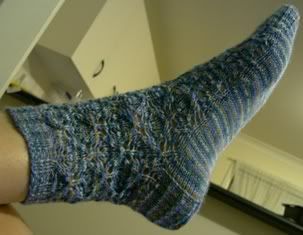 and again...
I have written out the pattern. I am going to put it up on Celia's Basket, in the free patterns section. Before I do that, I'd like someone to test it first. Although the atterns are free, I always feel bad when people write back telling me there is an error in my pattern. I know I hate finding errors in others' patterns, so I'd rater not put up a pattern with errors if I can help it. Let me know if you are interested in kitting this sock in the next week or two.
Monday, May 02, 2005
My blog has had a face lift
Thank you Chris!

Chris has been working hard to re-design my blog. Here it is - my blog has a new face, a much pretter face too, if you ask me! The darling man also made changes to my project progress pictures (look at the sidebar) and now I can set the colours for the projects. I am no longer stuck with fluro green and purple! Isn't he brilliant? I certainly think so! yes, the entire design is his, and he did it all himself. Thank you Chris!

On the knitting front, I have been working on a pair of socks using the leaf lace diamonds pattern. It's coming out quite well. I am trying to write out the pattern as I go alon. It is knitted using Patons Patonyle yarn. I find the colours a little distracting, but the yarn is nice to work with. I am nearly done writing out the pattern so if you are interested in testing the pattern for me before I put it in Celia's Basket (link above), leave me a message in the comments or send me an email. I will send you the pattern by email.

I am contemplating turning the beaded cardigan into a poncho. I know, ponchos are on the way out, but I have never been ne to follow current fashion. I am always a few seasons behind (or ahead, though rarely so) and it doesn't bother me that shrugs are becoming more popular. I CANNOT wear a shrug! Well, I can, but it's not a pretty sight. There's usually a lot of uhm, 'spillage'.