I stepped out of my front door this morning and found a that my landlady had left a box at my front door. She picks up my mail, you see. I thought to myself, "I haven't ordered anything. What could it be?" I tore the wrapping open and cut open the box. This is what I found inside: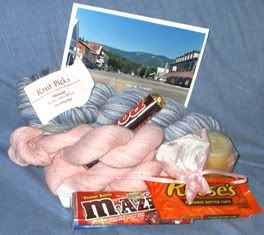 Jen
had sent me ALL this amazing stuff all the way from California. WOW! What have I done to desrve this? Nothing, absolutely nothing! I received
1 skein of Knitpicks Shimmer, 2 skeins of Knitpicks Alpaca cloud, some m&m bars, some Reese's peanut butter cups (yum yum yum!), a candle, some hand cream and a lovely photo card showing where Jen lives. Isn't she amazing?! I would have picked out those very colourways for myself. How did she know? Jen, how DID you know? I have spent all evening petting the yarn. So soft and so beautiful. Thank you so much, Jen. I can't wait to knit it up. I am thinking of
branching out
with the shimmer, but I have 440 yards which is more than enough. Two scarves, perhaps? Or another the Orenberg style scarf from Interweave Knit's staff scarves. The pattern says that I need over 600m though.. hmm.. I may make it shorter. The other possibility is the red scarf from one of the old Knitters magazines that I have. I think it was called "something ruby". time to look at some patterns, I think. Maybe I should design my own. Any other suggestions? As for the Alpaca Cloud, I have about 800m of it. I think I may have enough for a delicate lace shawl or stole. Thank you so much, Jen!
I am making good progress on the cabled sweater. I am now at row 52 of the back. There are about 150 rows in the pattern, so I am about a third of the way through. After this I need to knit the two sleeves and the collar and then I am done! I can't wait. it looks like I may actually get it done in time to wear this winter.
Yesterday, I purchased a copy of the latest(I think) Sandra from one of my local newsagencies. It has plenty of patterns I want to knit and hey are in my size too, for once. I love the lacey jumpers - perfect for autumn, spring. In the magazine, they are all (or mostly) knitted in cotton. I think I will use wool to make them a little warmer. Is it just me or does it bug you too that Sandra patterns don't tell you gauge?! I guess I will just have to guess, since I will be substituting the recommended yarn with some of my own.