Friday, September 29, 2006
Pink Silk is DONE!
Do you remember thsi lot of pink and brown silk caps that I prepeared nearly a year ago?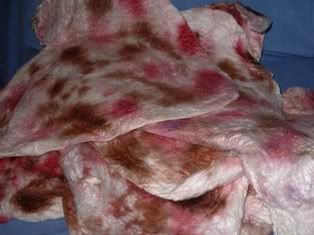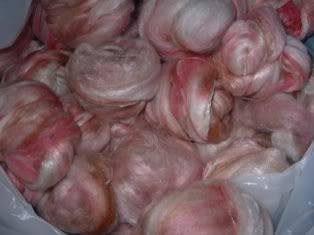 Well... it's finally all spun and plied. I even wound it into a centre-pull ball, and it's a BIG ball. The camera case is in the picture for comparison.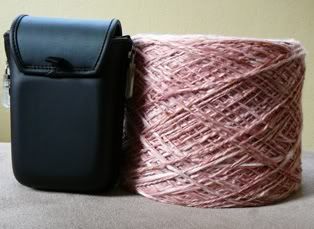 It's prettier than I expected, but I am so so so sick of it. I don't think I can bear to knit it now. It will just have to sit in the stash for a little while. I geuss it's a good thing that I am pregnant and can't knit anything for myself right now anyway since I don't know what my post-delivery size will be.
The plan is to knit it into one of
these
. I think the gauge will be just right and the pink/white/brown variations in the silk will be nice in the simple mostly stocking stitch pattern.
Here's a close up of the silk:
As you can see, it's not perfectly even, but that was deliberate. No, really, it was. I wanted a slightly slubby yarn, which is why I used silk caps.Otherwise I would have used silk top and that would have produced a far more even yarn.
What else do I have on the needles?
Oh yes, take a look at this: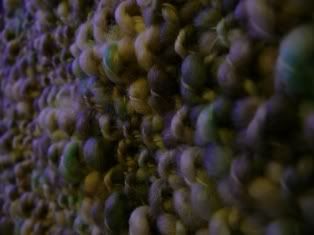 Doesn't it look like a weird alien landscape? It's actually a scarf I have started this evening. Remember how I said the merino slubby yarn I have dyed is too soft and irresistable? Yeah, well, it was definitely irresistable. I decided to knit a scarf out of one of the skeins.It's a beautiful feeling. It's so soft and springy. I haven't decided whether I will keep it for myself yet. It's not exactly scarf-wearing weather here anymore. The days are getting warmer and it will be a while before I get to wear scarves again.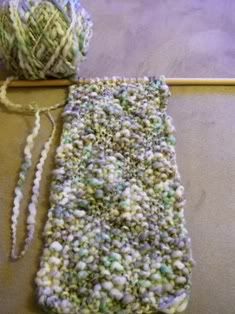 The picture does not show an accurate depiction of the colours of the yarn. It's a mixture of greens, browns and white and knitted in seed stitch. Just 15 stitches across - knit 1, purl 1, knit 1, purl 1, etc etc. You get the idea. It's easy!
The baby blanket isn't really happening. I am up to 28 inches in diameter and as the rounds get bigger and bigger, and the yarn gets stinkier and stinkier, I get more sick of it. I just can;t wait to finish the blanket now. I want to finish it before I cometoa complete standstill.
It's a long weekend this weekend. I have Monday off as it's Labour Day here. I am looking forward to a slow leisurely weekend, starting with a yum cha* brunch tomorrow. I am all smiles!
* yum cha is what we call dim sum here in Sydney
Wednesday, September 27, 2006
Some dyeing in the house
There has been some dyeing happening here. I've put some up for sale at my Etsy store -
Celia's Basket
. Go take a peak. There's more to come. I have another few skeins of merino slubby yarn than I have not listed yet. The slubby yarns are beautifully soft. I am actually tempted to keep a few skeins for myself so I can turn them into scarves. Each skein would be enough for a scarf. Two will make a long scarf .
Not much knitting has been happening here, just some crochet. The baby blanket is growing - slooooooooowly. I am up to 20 inches in diameter and I am so tired of it. No, you don't understand. I mean I am REALLY tired of it - like it is going to be a permanent UFO kind of tired.. I'll push on, though. I only need to get up to about 40 inches (only??). The blanket also stinks. I suspect it is the oil on the yarn. It's in a cone, so it was probably oiled. It smells chemical-y and icky, and that's not only to my very pregnant nose. Even Chris agrees. It stinks. I do hope that the smell will wash out, but I can't wash the blanket till I am done, so I will just have to keep working on it and hope for the best.
Have you had a look at the
Scarf Exchange blog
lately? There are so many pretty scarves being made. Every time I see a new pretty scarf, I wonder whether that's mine. It's a secret exchange, you see.. and I don't know who is knitting my scarf.
Tonight I will go for my first pre-natal aqua class. I am not sure how much excercise it's going to be - all that bobbing up and down in a pool. I'll go anyway, just to get out of the house. I'm not expecting much, so I guess it will be hard to be disappointed. Excercise and my name should never be mentioned in the same sentence!
Monday, September 25, 2006
More baby things
Okay, before we go on to the baby things, I am going to show you one last picture of Liesel. I am just so frustrated that I cannot seem to get a good picture of it. So here we go: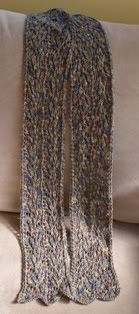 Okay, maybe two pictures ..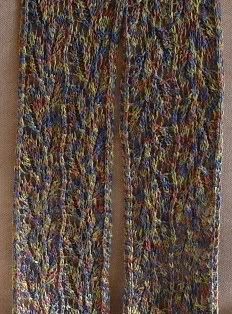 The second picture shows a clearer representation of the colours and the leaf pattern, though still not entirely clear. I am rather disappointed taht even after blocking and steaming, the lace did not open up as much as I would have liked. The drape is lovely, nonetheless.
Okay.. I promise, no more pictures of that scarf.
I found this ball of blue yarn lurking around in my stash and thought it was a perfect 'boy' colour.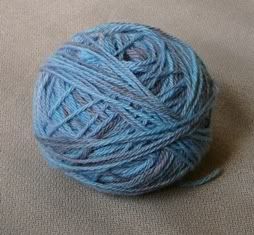 It was turned into one of these: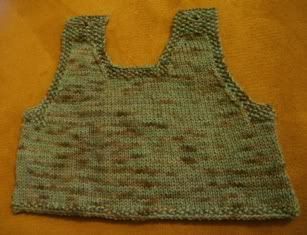 And
then
(and
only then
) did I realise that I don't quite have enough yarn to finish the back in the same yarn. Oops..
So I looked around in my stash cupboard to see if I could find a matching blue yarn. I found a cone of blue yarn, and thought "BINGO!". I started knitting the back. Knit, knit, knit, knit , knit... and the next morning, when I looked at the two pieces held together, they didn't match! They didn't match then, and they still don't! I ended up knitting the whole vest in this blue yarn. I have plenty of it anyway. I still have to find buttons for the shoulders, but here's a preview: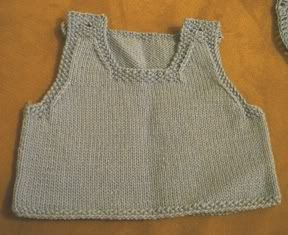 As for the other piece, I will have to find some brown yarn or grey yarn to knit the back. Until then, it will stay as half a vest.
It's pretty cute, don't you think? It's my own pattern too. It was quick and easy to knit. The entire vest was knitted in two days. It could have been done in one day if I was a little more focused.
As for the rest of the cone of yarn.. it's getting turned into a
baby blanket
. I started with the pattern from Panda yarns but ended up changing it slightly. It's my first attempt at a crochet project in a while, and it's riddled with mistakes. See, like this: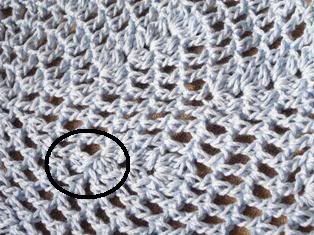 The rest of the shawl looks more like this: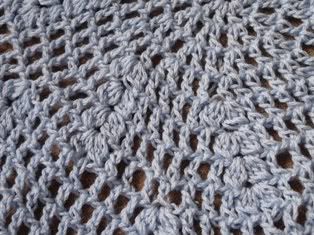 I have completed about 13 rounds, and the blanket is about 12 inches in diameter now. I am bored already!
Oh, and have yous een pictures of
Cynthia's
visit to
Webs
? I want to go too! I can't imagine a yarn store that huge. Imagine that - large enough to
need
shopping trolleys! Amazing!
Thursday, September 21, 2006
Liesel is done!
She's been washed and lightly blocked. This is the result: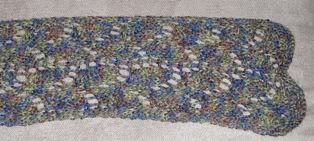 I am thinking that I may need to block it again, a bit more severely this time. Perhaps I should steam it lightly with a warm iron to help the lace open up a little. What do you think?
Right now she measures about 66 inches, which is a good length for my pal. I am so relieved as I only had one skein of that yarn and was afraid it would not be long enough. However, we all know now, one skein of SWTC Bamboo yarn can be knitted into 66 inches of Liesel.
Want to see how much yarn I have left?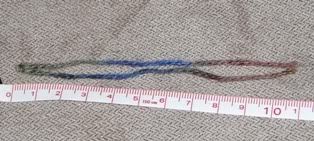 Yup, that's all that's leftover!
Talk about cutting it close. I nearly thought I wouldn't make it, but I did. Only just. Phew...
Saturday, September 16, 2006
A better picture
I realised that the picture taken of the scarf in progress last night did not do it justice and so decided to try again this morning. This is what it looks like in the bright morning sunlight.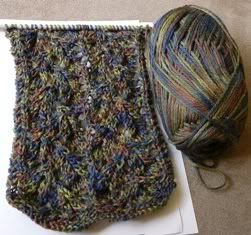 As you can see, it has grown. I have now knitted 5 1/2 repeats. The pattern is becoming easier as I progress, but I doubt I will ever be able to memorise all 10 rows of it.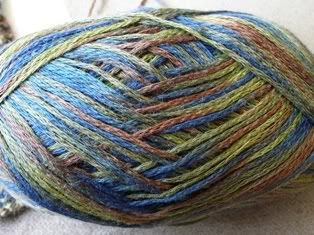 This is what the yarn looks like in bright light. It really isn't quite as bright as the picture shows, but it shows the colour variation in the skein. I hope it's what my pal likes. Chris said of the scarf, "It's nice, not sure of the colour, though". Hmm... I guess it's a good thing he's not expected to wear it!
Friday, September 15, 2006
One finished object and two new projects
I gues sthe finished object deserves to be shown first.
This is the baby sweater I knitted out of blue/grey/white Regia Brasil yarn and some white Patonyle . I finally got around to sewing on the press studs and the weaving in the ends,so here it is: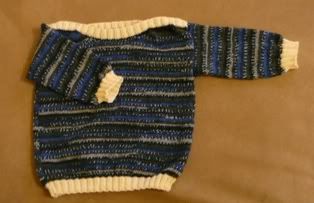 It's a really easy design, which is almost like two rectabgles with minimal shaping for the body and the sleeves are tapered towards the wrist. The shoulders are sewn for about the first 1 1/2 cm on each side and then closed using two press studs on each side. If Bubba takes after me or Chris (and well he should seeing as we are his parents) he will have a big head. I don't just mean big like slightly larger than usual, I mean HUGE. I remember having trouble fitting my head through the neck of many tee-shirts when I was a child. I hope the press stud closures on the shoulders will be the solution for that problem, should it arise.
Since Bobbi Bear is so large, I thought I'd make Bubba a smaller bear.
Bubby bear
has a head, ears, body and one arm, so far. Chris has suggested that I give him eight legs and he can be like an octopus-bear hybrid.. ermm.. maybe not?? I can imagine how confused the poor baby will be, growing up thinking bears have eight legs!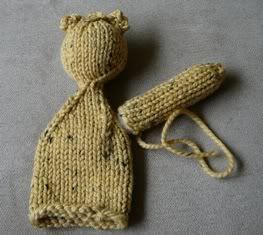 Bubby
is slowly growing another arm. He will be completed in due time - before Bubba arrives.
Right now I am preoccupied with this: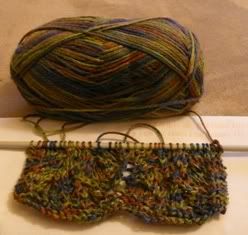 It's my
ISE3
scarf. My pal lives somewhere in the northern hemisphere and has "not so cold" winters. It rarely drops below freezing where she is. Uhm.. that's still kinda cold forme, but I am a cold-wuss. I decided to go with the SWTC Bamboo yarn because it has all the right colours, I hope. Well, it has all the right colours according to MY interpretation of what she said she likes. Let's just hope it's an accurate interpretation. Since the area where she lives is not very cold, I was also hoping a scarf from a lighter weight yarn will see more use than a super warm scarf.
The pattern is Liesel. I thought it was a nice simple pattern. Oh how wrong I was! There are pattern stitches on BOTH sides of the scarf. That's right - BOTH sides. I thought I could just blindly purl all the wrong side rows.. but nope, think again. I am plodding along slowly. I have completed about 1 1/2 repeats of the pattern so far and I have a loooooong way to go. I do like working with the bamboo yarn, though. It's not as hard to work with as cotton, in my opinion. Much like cotton, it has no 'boing factor' in it. It has absolutely no give at all. It's not too hard on the hands though, and judging by how it feels now, I think it will have a lovely hand once it's been washed and blocked.
Tuesday, September 05, 2006
Spinning Roving Swap Questionaire
1) How long have you been spinning?
About 2 yrs, but I have not spun in the last 6 months or so.

2) Are you a beginner, novice, or experienced spinner?
Probably novice...

3) Do you spin on a drop spindle or wheel, or both?
Wheel! I love my Suzie.

4) What types and weights of drop spindles (or what type of spinning wheel(s) ) do you currently own?
I have an Ashford Traditional, which I'd like to sell and a Majacraft Suzie from which I never want to be parted.

5) What type of fibers have you spun with before?
Wool, nylon, mohair, alpaca, cotton, tencel, angora, silk

6) What fibers do you prefer to spin with?
I like animal fibres more than plant fibres. I also like blends.

7) What fibers do you dislike?
Not a big fan of cotton and tencel

8) Do you prefer natural colored fibers, or handpainted/dyed fiber?
I like both

9) Would you prefer all one type of roving or smaller amounts of different types to sample?
Surprise me!

10) What are you favorite colors?
I like most colours

11) What colors do you dislike?
No pastels, fluro/day-glo colours please. Also don't like yellow and orange unless mixed in with something else, and not very prominent

12) What would you like to do with your handspun yarn, or what do you plan to do with it? (pattern clarification here)
Not sure. I guess it depends on what the finished yarn says to me..

13) What spinning projects are you currently working on?
Nothing. Waiting for soemthing to inspire me!

14) Do you have a wishlist?
Hahah.. man, do I have a wish list.. Of course I do! I'd like to try cashmere, qivuit (did I spell that correctly?), buffalo, camel and a whole lot of other exotic fibres..

15) What are your other favorite hobbies?
Knitting and reading

16) Do you have any allergies (pet, smoke, food, fiber,etc...)?
I dislike smoke in anything aside from my food. I also dislike liquorice, but I guess that doesn't really matter if we're talking about spinning stuff, unless the roving is liquorice-scented, in which case - eeeeeeuw!

17) What is your preferred shipping method (USPS, UPS, FedEx)?
Whatever..
Monday, September 04, 2006
Project Colourswap Questionaire - Red/Pink
Are you crafty?
I am guessing 'crafty' as in 'enjoys crafts' and not crafty as in ' Skilled in or marked by underhandedness, deviousness, or deception". If it is the former, my answer is "yes", and if it is the latter, my answer is "I should hope not!"
Would you enjoy things like: Buttons, ribbons and embellishments?
I think so. I like natural shell and wood buttons. I also use plastic buttons for baby and children's clothes which I am now making like I have never done before!
Do you dye your own wool?
YES! Check out my store at Etsy.
Do you like to scrapbook or make homemade cards?
No. I used to, when I was in school. The only time in the last few years whenI have made my own cards were when dear Chris decided it would be a 'fun project' to make the invitation cards for our wedding. It didn't end in tears, in fact I am rather proud of what we made but gosh, it was a lot of work!
What are your favorite scents?
Fresh smells that actually smell like something (think lemons or fresh grass or.. you know what I mean). I dislike heavy spicy smells. Also dislike sweet smells.
Do you like stationary and cards?
I like receiving them in the form of snail mail, but I am not very good at sending them out!
Do you like to sew or embroider items?
I haven't done much sewing in the past few years. I used to do lot of cross-stitch butI grew tired of it. I'd like to start sewing again and improve mys kills. I am thinking of making some cushion covers for throw cushions for our living room - that was 5 months ago, and I am still thinking about it!
Do you like beads?
Love beads. Have more than I can poke a stick at, and don't know what to do with them.
What kind of candy do you like?
I'm kinda on a diet, but I'm a sucker for dark chocolate. I love any sort of dark chocolate. Well, I lie.. almost any sort. I hate liquorice, and my distaste for it is stronger than my love for dark chocolate so anything that has liquorice in it will not be touched! Chris will eat it, though.
Do you like hand lotions or soaps?
I love hand lotions, but not a big fan of fancy soaps. I have some and I use them to keep my stash and clothes closet smelling nice! I like fresh citrus-y smells.
Do you like to wear costume jewelry? Necklace,
earrings, bracelets etc.
Yes I do! I don't like big earrings but big necklaces and chunky bracletes/bangles are good.
Do you like to make/or use stitch markers?
I make and use stitch markers. I like the ones with the loops that don't open.
Do you collect anything?
Uhm, yarn? Needles? Oh, you mean,like deliberately collect stuff like stamps and such? no.. I have no room!
Do you have any allergies?: Smoke, food, fiber, pets, etc.
Pollen and cat dander. I don't like the smell of smoke, unless it is in my food.
Do you have any hobbies?
Knitting and spinning and knitting.. and spinning!
Do you like scented or unscented candles?
Not a big fan of candles. Again they are only used to keep my stash smelling pleasant.
Are you a fiber snob?
One could call me that.
Do you like to play cards or board games?
I would, if I could find someone with whom to play. These days we only play boardgames when my friends from uni come over, or when we go to one of their houses.
Do you like neon colors, pastel, light or medium ranges in the color of the month?
I don't like pinks and reds that are too bright. I also don't like pastels. I love rich colours, like burgundy, maroon, dark blood red, etc etc.
Do you like kitchen magnets or key rings?
I do indeed!
Do you like picture frames?
I don't have space for picture frames at the moment. I do like them, I think, but I don't know whether they will ever be displayed.
Saturday, September 02, 2006
He's home!
Chris arrived this morning, and I have never before been sopleased to meet someone at the airport. It sounds like he had a great time in Paris. I almost wish I went now.. almost!
Look what he brought home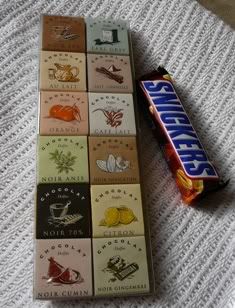 He was under strict instructions not to go nuts with the shopping. I love the chocolates! Oh, how could Inot love chocolates, especially now that I am not allowed coffee.
The Snickers bar came from the plane. It was rather amusingto see a foreign snickers bar. It doesn't quite look the same as what we get here. Look...


But it certainly tasted the same!
His brother and sister-in-law also sent him home with some presents. This is for Bubba...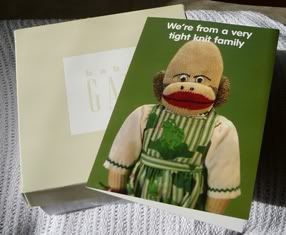 Don't you just love the card? I think it's really funny. The box contained some Baby Gap rompers and socks.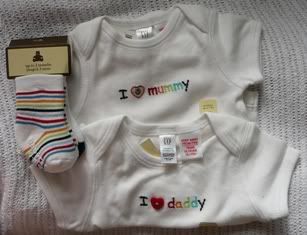 I love how the "I love Mummy" romper is a smaller size than the "I love Daddy" one. I think that means that Bubba gets to love ME first.
Baby Sweater in Progress
Remember how I was contemplating a baby sweater in sock yarn? Well, I decided to give it a try.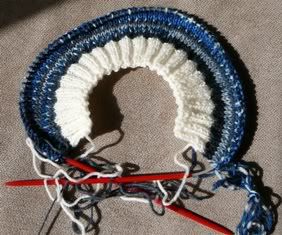 It is going quicker than I thought it would. I have completed the front. Here, look!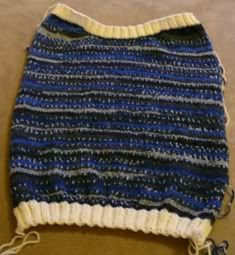 I decided not to shape the two sides separately by cutting and re-joining the yarn. Instead, I used short rows and hope that it turns out ok. It looks ok now, but I don't knot whether it will work until Bubba is wearing it. I am now about half way up the back and hope to finish that by the end of the weekend.
My plan is to just use press studs on the shoulders to close them. That way it should make dressing Bubba easier.. I hope.