Okay, before we go on to the baby things, I am going to show you one last picture of Liesel. I am just so frustrated that I cannot seem to get a good picture of it. So here we go: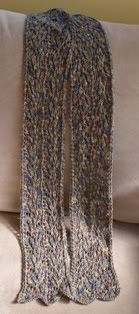 Okay, maybe two pictures ..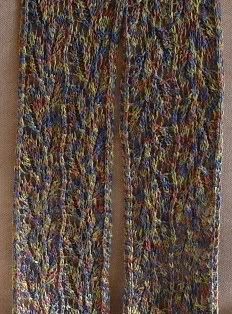 The second picture shows a clearer representation of the colours and the leaf pattern, though still not entirely clear. I am rather disappointed taht even after blocking and steaming, the lace did not open up as much as I would have liked. The drape is lovely, nonetheless.
Okay.. I promise, no more pictures of that scarf.
I found this ball of blue yarn lurking around in my stash and thought it was a perfect 'boy' colour.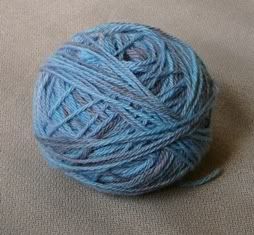 It was turned into one of these: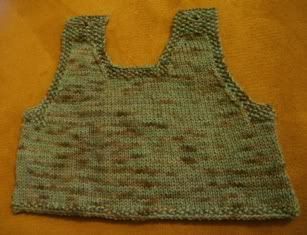 And
then
(and
only then
) did I realise that I don't quite have enough yarn to finish the back in the same yarn. Oops..
So I looked around in my stash cupboard to see if I could find a matching blue yarn. I found a cone of blue yarn, and thought "BINGO!". I started knitting the back. Knit, knit, knit, knit , knit... and the next morning, when I looked at the two pieces held together, they didn't match! They didn't match then, and they still don't! I ended up knitting the whole vest in this blue yarn. I have plenty of it anyway. I still have to find buttons for the shoulders, but here's a preview: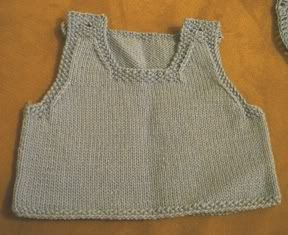 As for the other piece, I will have to find some brown yarn or grey yarn to knit the back. Until then, it will stay as half a vest.
It's pretty cute, don't you think? It's my own pattern too. It was quick and easy to knit. The entire vest was knitted in two days. It could have been done in one day if I was a little more focused.
As for the rest of the cone of yarn.. it's getting turned into a
baby blanket
. I started with the pattern from Panda yarns but ended up changing it slightly. It's my first attempt at a crochet project in a while, and it's riddled with mistakes. See, like this: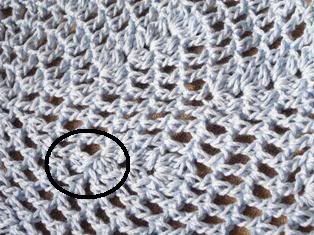 The rest of the shawl looks more like this: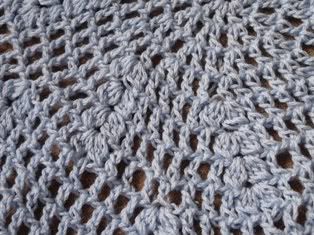 I have completed about 13 rounds, and the blanket is about 12 inches in diameter now. I am bored already!
Oh, and have yous een pictures of
Cynthia's
visit to
Webs
? I want to go too! I can't imagine a yarn store that huge. Imagine that - large enough to
need
shopping trolleys! Amazing!