Bobbi Bear
This is what Bobbi Bear looked like when I came home from knitting with the girls at Rubi and Lana:
He didn't have a face but he had all his other bits. I finally got around to sewing his face this evening with a small amount of brown yarn I had lying around and now he looks like this:
I am not sure I like how his arms stick up in the air. No amount of massaging would bring them down, so I suppose that's the way they will have to stay. He is rather cute, I think, despite the factt hat his arms stick up liek that.
I used the original Bobbi Bear pattern but didn't feel that I could afford the cost of buying the recommended yarn - 4 skeins of Blue Sky Alpaca + shipping!!! I substituted with some Cascade 109 Bulky which was on special at
Yarns Online
. I ended up buying too many skeins- oops. I only used slightly more than 1 skein (so two would have been more than sufficient). I bought four skeins. Oh well. Since it was so easy to knit Bobbi Bear - all done in two days - I think I will make another but with smaller needles. I used 7mm needles for this bear and the fabricis just a little loose for my liking. I'd prefer a firmer fabric and the next time I make it, I'm going down to 6mm needles.
I was amazed when I read that the original Bobbi Bear will turn out to be 2 feet tall. Ugh, that is bigger than what Bubba is going to be when he is born. My version of Bobbi Bear measures 13 inches, which is a good size, I think. When I go down a needle size, He will probably measure a little less - closer to 10 inches perhaps?
Look what followed me home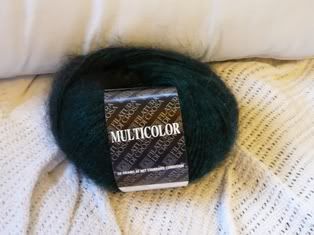 It's not clear in the picture, but it's beautiful. The colours change depending on the light and there are gentle colour gradations. It is destined to be a lace scarf. I have not decided which pattern yet, probably nothing too complicated. I am ashamed to say that I am yet to make the third exchange gift for my One Skein Exchange pal. How slack is that?! This is going to be that third exchange gift. Can someone help me find a pattern, please? Pretty please? If I can't think of anything else, it will be a simple feather and fan scarf.
Family found
Chris has arrived in Paris and is now with his family. I am so thankful he managed to find them. It's not like he didn't have a phone or that they don't have one, but you know.. Chris doesn't call me a worry wart for nothing. We have been sending text messages back and forth and it sounds like he is enjoying himself. I am SO jealous.. but I guess I did have the chance to go and I turned it down.
Oh well, I guess I should go back to working on that silly assignment. Anyone want to help? It's a paper about the "moments of turth" in customer service.