Still getting my life back in order
We arrived home on Sunday afternoon and started work on Monday morning. At the moment, we have managed to unpack most of our clothes and ironed most of what we need to, but I am still getting things in order.
I'll blog more about the holiday later. Boy, do I have tales to tell! Meanwhile, I just have some exciting news to share
Baby's first pictures
We had our first ultrasound today and our second obgyn visit yesterday. Surprisingly, although I ate like a pig and laze around like one too all of the past 4 weeks, I only gained one kilogram. I must have worms or something..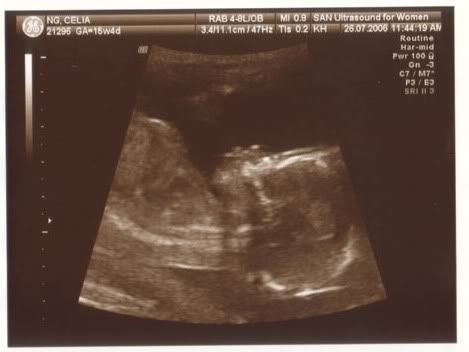 Hmm.. looks like I have a giant worm living in my belly! No, really, it's just Bubba. So there you go, Bubba's first picture.
Even the sonographer commented that Bubba is really active. The whole time that she was trying to capture images of it, it didn't stop moving. It's also camera shy. I have a feeling it knows that Dad is a little trigger happy and is just practicing for when it meets Dad. Bubba liked curling up, doing little headstands and doing pretty much everything aside from what we wanted it to do. It sat on its feet and turned its face away. [sigh] Maybe when we go in for the 19th week scan, Bubba will be a little more cooperative.
Thank you to all my secret pals
I received my blue month package in KL. It's been taken apart already. It included some Zara yarn, couple of books (including a
super cute
Japanese pattern book for kids), some candles, fragrance, and a few other things. I'll take pictures when I can. Right now, the presents are living in our luggage, yet to be unpacked! Thank you, Chooi Wah! Also, I came home and found that I had forgotten to post off part of your blue gift. Oops. I will send that off as soon as I can.
Thank you to my secret oneskein pal. I have already used one of the skeins you sent me( yes, already!). It's lovely and became a really cute baby hat, even if I do say so myself. Pictures when I get round to it. :) No, really, I haven't taken any pics yet. Thank you also for the skein of Artyarns silk. It's gorgeous. I love the colours. I haven't decided what I will do with it yet, so it's joining my stash for now.
Mary my KR secret pal, you know who you are,
thank you
. That was the most amazing gift ever. Seriously, folks, I'll have to take a picture of everything I have been sent. It was seriously amazing. The package included a whole lot of KP's Andean Silk in Chocolate.. hmm.. enough for a nice winter cardigan, I think. I also receiveda Nicky Epstein's book, amongst other things. It was a fantastic gift. I will make sure I take a picture of it, and you'll see what a lucky girl I am!
Finally, and certainly not the least important, thank you to me KR secret pal (from the previous round). I'd love to know who you are. I
love
all my gifts in this package and previous ones, and you've been a fantastic pal.. and late is not bad.. It was a great surprise to come home to so many packages!