Guess what I came home to yesterday...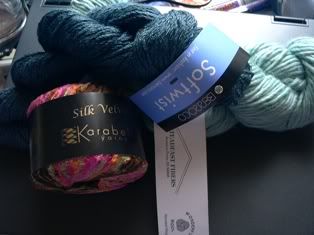 It did say "one skein", right? Wow! Thanks to my secret one skein sender.. who sent three skeins! I got alovely card with it and it appears she could not decide what to send and ended ups ending what she thought I'd like. Wow!
That's one skein of 100% silk Karabella yarn.. so soft to touch! I think that's going to be matched with something else for a scarf. One skein of Berocco Soft Twist, which matches some Berocco Glace that I have, I think. That will be a hat, I think, or perhaps a little neck scarf. Next up is a skein of gorgeous wool/mohair blend. There is definitely enough there for a hat or a baby bolero!
Thank you, my one skein sender. You shouldn't have, but you did and I love it love it love it!
You know what's even better? It arrived yesterday, the day after my birthday. I guess it's still Wednesday in the US (where she is from) so it arrived on my birthday! Woohoo! What a birthday present!
I promised you apicture of Melinda. Well, here she is.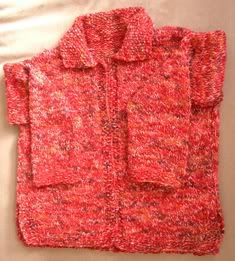 The wonkiness is due to camera angle and lighting. It really isn't
that
wonky. I'd have shown a pciture of myself wearing it, but it doesn't fit me! Thank goodness it wasn't for me!