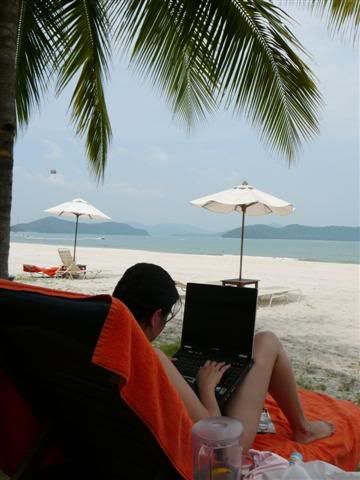 I am away on my honeymoon.
Chris and I spent last week in Kuala Lumpur eating, sleeping and shopping after a hectic first two days filled with yet more eating and preparation for Wedding Part II.
We had a ball. It was only a small wedding, with only about 45 guests. My aunt from Penang cooked up a storm of Peranakan dishes and even baked a few cakes including a very very yummy coffee cheesecake. I certainly got my fill of dishes I'd never cook for myself such as acar fish, buah keluak curry and perut ikan. I guess I really should learn how to cook these dishes, but I will probably never be able to get even half the ingredients in Sydney. All that food, my friends, were only a prelude to the feasting that followed.
The wedding banquet was held at Lai Ching Yuen Restaurant at the Regent Hotel in KL city. What amazing food and what fabulous service. Each course was served in individual portions, unlike what we're so used to at most other Chinese restaurants where food is served in a large central platter and the guests help themselves from the middle.
This was the first course at dinner.. the expected "Four Seasons" but presented so much more prettily than usual. The food was not just pretty, it was delicious too. It's one of the few banquet dinners where I have enjoyed every course, and have absolutely no complaints. The wait staff were wonderfully attentive and kept water and wine flowing through the night. It was a happy joyous event, made even happier by the presence of loved ones.
Oh, but I am skipping bits.. Before the banquet, We had the tea ceremony, an ancient Chinese marriage ritual. Mum bought a peranakan style teapot and cups specially for this purpose.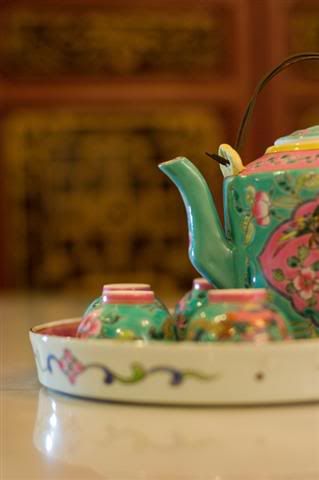 In the tea ceremony, the bride and groom (Chris and I, in this instance) serve tea to their elders (pretty much most of my family). Drinking of that tea signifies the acceptance of the new son-in-law or daughter-in-law into the family. As Chris' family is not Chinese, we did not have a tea ceremony in Sydney, and it seemed appropriate, though, that it should be held in KL, with my family.
So.. here we are, now at Langkawi..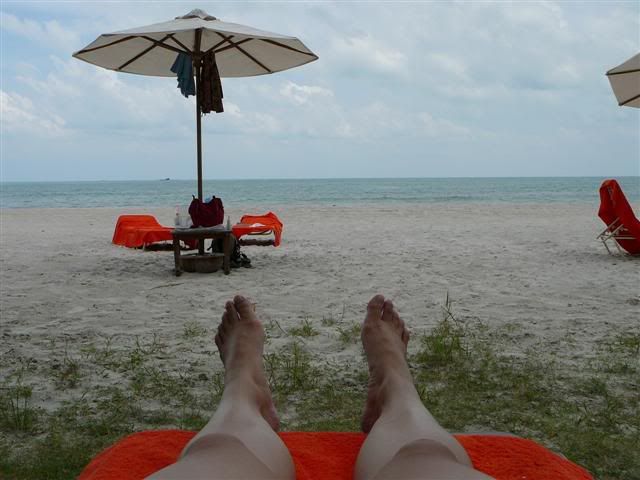 and this is the view from where I am sitting. Isn't it glorious?
We chose a small boutique hotel, and we're so glad we did so. The service is great, the rooms are amazing, and food is good too. The staff is so warm and friendly, and as there are only about 40 or so gusts at the moment, they know everyone by name and which room we are in. While we sit at the beach, they come round with jugs of ice water, cool mint scented towels, sliced watermelon and refreshing facial sprays. Ah, bliss!
** Oh and I nearly forgot to mention, there's wireless broadband access on the beach too..