I think the colours came out really well. It doesn't show well in the photos though, so I'll apologise for the poor quality of the photos.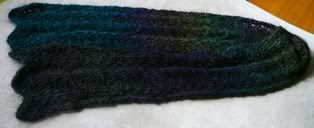 I was very worried that it will be a very short scarf, as I am only using one skein of this yarn. It turns out that the scarf is longer than I expected, and shorter than I had hoped- typical, isn't it?! The scarf measures about 55 inches from end to end and I tried it on myself. It wraps around my neck once and dangles nicely. Good enough, I say!
I tried to get a closeup of the colours, but I don't think that came out too well either, but you get the idea.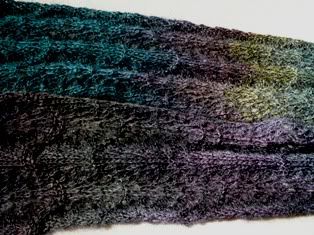 Two more sleeps till Chris gets home. Whoopeee! It sounds like he's been having a good time in Paris, and I am glad. It would have been a pity fro him to have travelled all that way and not enjoy his time there. They had dinner at a restaurant at the Eiffel Tower last night for his mum's birthday. Sounds nice. He did say thatthe view was very nice. I can imagine that it would be.
I am still fighting off this awful cold and cough. I went to see the doctor on Tuesday and he gave me a script for some 'safe' antibiotics, but I am waiting to see whether it gets any worse before getting it filled. It feels like it's getting better. I have been working at home all week. I didn't think my colleagues would want me to be sharing my germs around. I see the obstetrician again next week, so I'll probably run it by him before I start on any course of antibiotics, if I do decide to do so.
I think it's time to start another baby outfit. I just don't know what to make. I was considering a baby cardigan in self striping Regia yarn, but I am not sure that i want to be knitting at such fine gauge. We'll see, I guess. Next time I post, I would probably have finished half a cardigan!