I decided to swatch for the jumper I am test-knitting for Figheadh. Jen had sent me the yarn last week - a gorgeous cotton from Heirloom.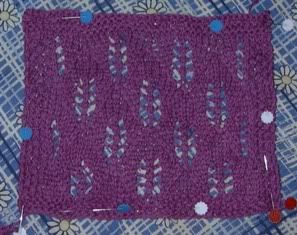 I made a small change to the pattern and I wonder whether Jen would like it.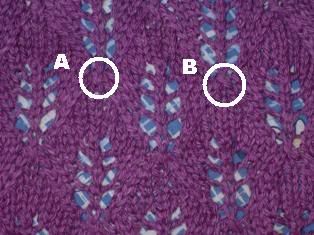 Look at A. That's what I changed. At the double decrease, I did "sl2, k1, psso". The original pattern was "sl1, k2tog, psso". This makes the right stitch the top most stitch. I didn't like it and decided to try knittng it with the centre stitch as the top most stitch. Jen, what do you think?
I also did not manage to get the gauge specified.
I will need to try again with larger needles. Jen needed 5st/inch and 7rows/inch. I got 6.2st/inch (which is nearly a whole stitch off
every inch) and about 6.25 rows/inch on the recommended 3.75mm needles. The problem with using larger needles would be that my row gauge will be even further off than it is now. Suggestions?

I have washed the swatch and blocked it. I will measure it again once it is dry. Back to swatching, I guess, if this doesn't work out.

There is some progress on the Manly scarf. I have now done 13 repeats. I will need to do 30 repeats, I think, before the pattern changes. I hope to have that done soon-ish, so that Chris can wear it before winter ends.

The casual cabled sweater is nearly done. The sleeves are about 25% done. I can't wait!

Unfortunately there will be no spinning class for me this week. I have a late meeting on Thursday night. From 8 to 10pm, would you believe it?! I was so excited bout my jumbo bobbins too. Next week, I guess. There will be lots of guilt-free spinning and knitting time after the exam (ot that I am not knitting right now..)