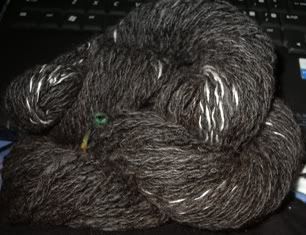 I'm still patting myself on the back for getting this done. I bought a pair of hand carders from
Jenny
on Thurday night at spinning class and carded the washed fleece and spun it all up. Out of 120g of fleece I got just under 100m of yarn, so it must be thicker than I thought it was. I had some extra alpaca on one bobbin when i was plying, so I plied the last bit with some leftover Optim (that's the white bits in the picture). I thought it would make a nice contrasting edge to the hat I am planning to knit out of this. The alpaca is not as soft as I had expected, but it is still softer than most wools I have felt.I have washed 200g of fawn alpaca and carded half of it. I can't believe how much it puffs up once it's carded! One small bag of fleece is now two grocery bags full.
At spinning class on Thursday night, I had the opportunity to play with two wheels. I think I am in love. Her name is
Suzie
. At $780, I don't think it's a luxury I can afford right now. I think I will wait for a good second hand one to come along. I love the higher orfice. It's much easier on my back. It's also easy to fold away for moving and you don't have to move the tension or anything so nothing changes the next time you sit down to spin. I also tried the
Little Gem
. I didn't like it as much. The orifice is lower and that's not good for me. It IS lighter and easy to carry around, though. I also did not like that the two treadles were not connected and treadlingw as more difficult for unco-ordinated old me. I was told the Ashford Joy has an EVEN LOWER orifice. Ouch. That is most certainly not the wheel for me. I'll have to start saving for a Suzie I think.
Here is a picture from an earlier spinning effort. I spun up just over 100g of Optim and dyed it before washing. The colour did come out more intensely than the first lot, which, but the way is now becoming a hat.
Here's a picture of the hat in progress, just for comparison
Adelina, a uni friend who now lives in Canberra shaved her head to raise money for the Leukemia Foundation. Her hair, unfortunately, is not growing back quickly enough to keep her warm this winter. if I am cold here in Sydney, it must be freezing there in Canberra! So this hat is for her. A group of friends, and Chris and I are planning to visit her in July. I am confident I'll have it finihsed befor ethen, uhm, if I don't get too distracted b the alpacas. Otherwise I could always kit it in the car I suppose.
Here is another spinning effort from last week:
It's a slubby cotton single plied with an even wool single that was dyed in variegated blues greens and purples. Here, see...

i have also been working on the test knitting that I am doing for
Figheadh
. It's a cuff to cuff lace sweater in cotton. I am using Heirloom's 8ply cotton which is knitting up nicely. I am nearly done with the first sleeve, as you can kind of see... I seamed up the sleeve at the lower edge so that I could try it on my arm. It's working up to a good length. Here's a progress picture:
Today Chris requested for another pair of socks. How could I refuse? (Not that i want to refuse... I started a pair for him. SInce it's only for wearing around the hosue, I decided to use some "what-was-I-thinking-when-I-bought-this-colour" yarn. I am using the Brittany needles given to me by my KRSP. I love them. I am not sure I'd be able to go back to metal DPNs now! They are 3.25mm, which is a little too thick for sock weight yarn, but it's ok for these socks as I am using 8ply (DK) yarn.
Chris' manly scarf has also been 'revised'. Remember how I didn't have enough black? Well, I started with the three new balls of Zara and I think I have enough for a full scarf. Since Chris appears to prefer the new colours, I am going to attempt to complete the scarf using these new colours. Quite attractive, even if I do say so myself, don't you think?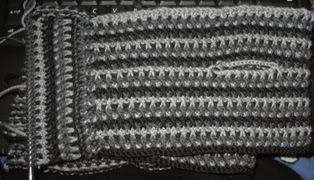 I received my AKSP pal on the weekend, and have been contacted by my secret pal. This is going to be a fun exchange, I think.
Two SP programmes and I am still giddily excited about my little international exchange with
Cynthia
. Hmm.. what else can I get her that is uniquely Aussie? I have bought her skein of white Corriedale yarn spun at a small mill just outside Canberra.I am trying to work out what else I can get for her... Suggestions are welcome.
Thoe of you who have not seen my recent dyeing efforts, go to the post below. Yes, this is a shameless plug for the yarn I would like tos ell seeing that I will never get around to knitting all of it up into socks. My steadily growing stash must not be allowed to grow any further. Prices start at AU$14 per skein, so go take a peek!