For once, I am actually using the word 'felted' correctly. My alpaca fleece which I washed on the weekend FELTED! No, in case you're wondering, it is NOT deliberate. I have allowed it to dry, and ripped it apart with my hands in an attempt to rescue it. Most f it came apart in my hands so I think by carding it I can rescu maybe three quarters of it. It's still fairly dirty, but I won't wash it again till after I have spun it! Oh dear...
Tam completed her Irish Diamonds Shawl from the Folk Shawls book. Ok, I MUST get that book now. I keep thinking how lovely it would be in the grey yarn that my KRSP gave me. Just look at it - go to
http://www.knittersreview.com/forum/topic.asp?TOPIC_ID=37538
and click on her photos link in her signature. It's gorgeous isn't it?
I dug up some old hats that I had made and never worn. Adelina had also asked for a red hat. Guess what I found! I think I'll be able to keep her semi-bald head pretty warm this winter!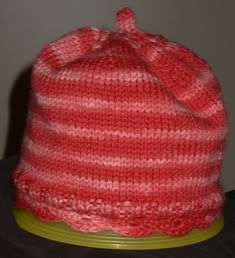 That was one of my earliest dyeing efforts. I made it a self striping sort of pattern and it's great! I love it, but I can't wear hats this winter. My hair is too short and they look strange on.
I also found this: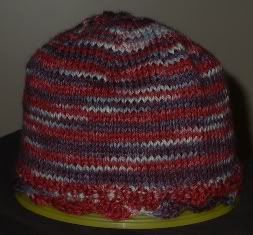 which I am keeping to wear whe my hair groes to a presentable length.
My
Ebay auctions
are going ok. They end on Sunday (Aussie time). I am already thinking of rolling over whatever money I get from the auctions into more yarn to dye so I can play with colours. I love colours right now. I wonder what it is about being homesick and the need to look at pretty colours. Greys and browns are just 'ick' right now.
I have been homesick for a while now. Poor Chris bears the brunt of it of course, as I get moody and horrible to be with when I am homesick. It's strange as I have spent more time at home this year than I did last year. I was looking forward to a trip home in August but that won't be happening now. The project that was the reason for me to go to Singapore (making a side trip to Malaysia really cheap and affordable) is now delayed. So I am not likely to be going home in August. On the bright side, Chris and I are planning a trip home this Christmas. Something I can really look forward to, I think.