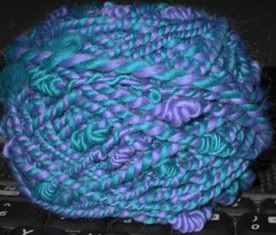 That's right, that's my ball of knopp-y yarn. It's overplied and won't hang straight, but I am still proud of it.
Hmm, all those knopps, what do you think it looks like when it is knitted up? Now, let's se...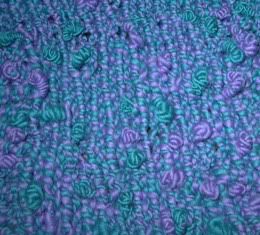 When I don't look too closely, it looks like little flowers on the swatch. When you look too closely, it looks like worms.. eeugh!
That said, I think I quite like it. I think it
can
look quite nice as a scarf or a scarf trim. maybe not as a hat - imagine that, wormies on your head! I wonder what my experiment will be next week..
Parting with a (not-so) old friend
I have decided to sell my Ashford Traditional. She's been a good friend for the past year or so. However, now that I have Suzie and can buy a jumbo flyer and bobbin fairly cheaply, I really don't think I need two wheels. Selling my Ashford wheel and the jumbo kit that goes with it means that I can buy the jumbo kit for my Suzie and have some money left in the pocket, AND more space in the living room. Yay for me!
Decision!
I have made up my mind. I am getting the Inky Dinky Spider Stole from Fiddlesticks. Thank you SP6!
Rules of the game
We're still signing people up for the scarf exchange. Interested? Go read the rules first, and then if you're still interested, you can sign up by sending an email to us from the link on
that
blog.
Okay, so you've been there, read the rules and think some of them a bit strange? Well, this is what Cynthia and I have learnt from the first scarf exchange. So, you can thank some of the participants for some of the more obscure sounding rules.
1. Minimum spend - why? We have not received any complaints about the inequality of value between the scarves sent and the scarves made. Judging by how many are returning for the second round, most of you must have been happy or at least satisfied. Anyway, we had a look around and thought that maybe we should set a minimum spend to make sure that people aren't too stingy with their purchases. It is okay to use stash yarn. We don't mean that you have to go out and buy yarn. The yarn that you use should be about $20 worth, whether it's newly bought or from your stash.
2. We need you to post on the scarf exchange blog - why? Because I am not so good at keeping up with your progress on your blogs. I really had trouble doing it in the first round. i don't think I can do it again, especially since we have more participants this time around. SO! This is how it is going to work. I am going to have a list of all the scarf set people and Cyn will have a list of the scarf only people. we'll be marking you off as we see you post each month. That way everyone can see what everyone else is doing. The other reason, and this is actually the more important reason, is that if you don't post we will follow up with you. Please don't wait till we email you. You know you want to share yur progress, or lack tehreof ;) We want to find out bright and early those of you who are not able to keep your scarf promises. I really can't make a whole lot of angel scarves at the end of January. No way! So, as we find the slackers, or the ones who can't fulfill their end of the bargain for whatever reason, we will be lining up angels to take their places. The ones who dropped ot of this exchange after signing up will be put on a list of people banned from future exchanges. There are few exceptions.
3. Angels - this was not mentioned in the rules, but I thought I'd bring it up. If you'd like to be an angel, email me. What this means is that some time between now and February, you may be contacted to knit a scarf for someone whose pal has backed out. If we can, we will arrange for you to receive the scarf from the person who was meant to send to the person who backed out. However, it may be too late and we may not be able to organise that. We will try our best. Since that scarf was not really meant for you, it may not be in your colours. We will try our best to consider colour choices and allergies when considering which angel to contact.
Anything else for which you'd like an explanation? Just contact me, and I'll do my best. We will have the questionaire published soon. Hang in there...
Have fun!