I need to bake.. like NOW!
I was desperately craving somecheddar cheese cookies last night and looked everywhere for a recipe. There were none to be found - none suitable anyway.I ended up trying a recipe I found on a recipe website, but it was a disaster - a disaster so bad we ended up throwing out the whole lot this morning.
I woke up this morning still wanting some cookies. I decided to make do with some chocolate chip onesand by about 10am this morning, this was cooling on my kitchen counter: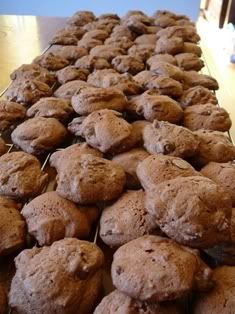 I ended up modifying a recipe I found on one of the online recipe sites. This what I used:
250g butter
1 cup white sugar
1/2 cup brown sugar
1/2 cup cocoa powder
1 cup plain flour
1 cup self-raising flour
2 teaspoon vanilla essence
2 cups chocolate chips
2 eggs
1/2 teaspoon instant coffee dissolved in 2 tablespoons hot water
1/2 teaspoon salt
Preheat oven to 175 degrees Celcius. Cream butter. Add sugars and mix thoroughly. Mix in vanilla essence, dissolved coffee and eggs. Mix in flours, cocoa and salt. Stir in chocolate chips. Spoon mixture onto an ungreased baking sheet using a teaspoon. Bake for about 12 minutes or until cooked and browned slightly.
Beware! The recipe makes about 50 cookies! We ended up taking some over to teh in-laws' today. I don't think we can eat them all on our own.
Slubby scarf
Is finished!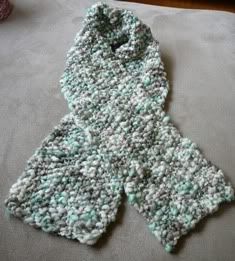 It was really quick. I finished it last night, whilst watching tv. I haven't washed it yet, but I have measured it. It'sabout 40 inches (or about 1m) in length. It's the perfect length for a neck scarf for me - thick and soft around my neck and not so long that it's lumpy under my coat. Chris thinks it is 'cute'.. good enough for me!
Red wool/alpaca/silk
Remember this, a gift from
Donni
who was my secret pal in SP6 (or was it 7?)?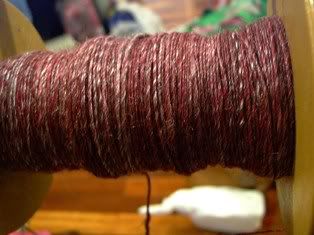 I did more spinning again yesterday and today. Another bobbin is cleared - woohoo!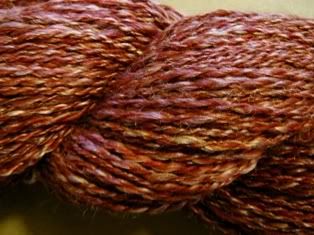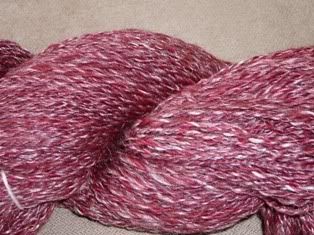 About 280m (or 305 yards) of red luscious beauty. Now, if only I could decide what to do with it. There's enough here fora scarf, I think, but do I really need another scarf? I do have one coming my way courtesy of my
Scarf Exchange
pal. Any suggestions as to what I can do with 280m of dk weight (8ply-ish) yarn?