I started another baby project - just could not resist.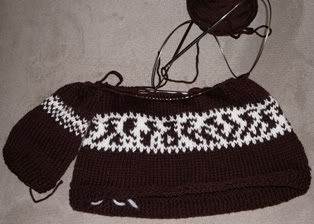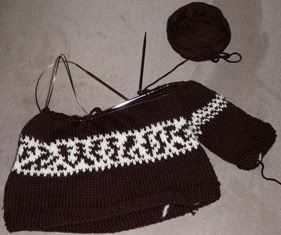 It's the
child's placket neck sweater
from Last Minute Knitted Gifts. I wanted something a little different, so I added a fair isle-ish bit to the body of the sweater and also to one sleeve. Chris calls it 'wonky' now because it only has the pattern on one sleeve! But I like it. Things DON'T have to be symmetrical!
I am a lot further along on the sweater than the pictures show. I took the pictures last night, but I have been working on it since then. I'll probably finish it by tonight and I'll post another picture then.
Baby present
Adelina, a friend from uni came by yesterday and gave us this: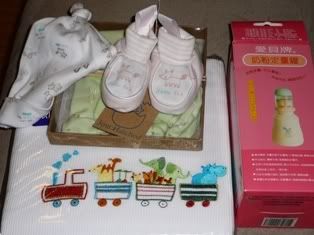 I think it's absolutely darling. We haven't got many newborn sized things. Babies just grow so fast, you know. Ithink we have all of about 2 or 3 rompers in that teeny tiny size and I'll be buying a few Bonds singlets. I think that's all we are going to need. The hats and booties will be useful to keep the little head and feet warm. I also love the blanket with the embroidered train-load of animals. It's our first cot blanket, and I love it!
The pink box contains a formula/powdered milk container. It has a a little measuring device on one end for measuring out exact quantities of formula, which means I won't need to carry around a spoon. I hope to not have to use it in the first siz months as I plan to breastfeed, but I guess I can plan, but who knwos how it will all pan out. Thanks for everything, Adelina!