Uni is finally over. Thank goodness. I am SOrelieved. i can have my life back now, whatever is left of it anyway, before baby comes along in January. I have been told I should say goodbye to my life as I know it when the baby arrives.
I haven't done much knitting over the past week. This is all I have to show for my efforts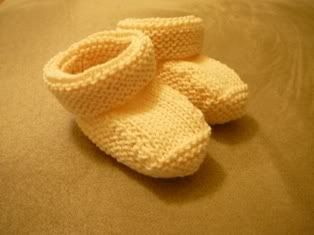 I call them my "plain vanilla booties". The pattern is a modified version of one of the patterns from a Patons booklet I bought on Ebay many moons ago for about $2. It's possibly the best $2 I have ever spent. I have made numerous pairs of booties from that book. The instructions are simple and easy to follow. The sole and the cuff are knitted in garter stitch, witha stocking stitch instep. Simple and effective.I just need to work out what colour ribbons to use for the ties, and whether to keep them for myself or to give them to one of my colleagues who is expecting a baby soon.