Well, almost..
Just because you asked.. and because you did send me most of the yarn for making this blanket, here's a picture of the seamed Lizard Ridge blankie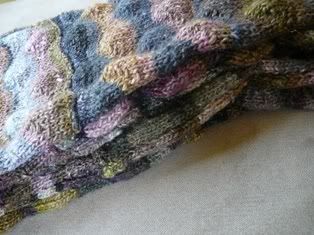 Oh, not good enough? You want to see it UNfolded? Oh, alright...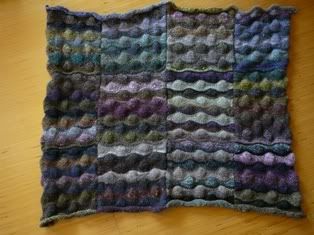 As you can see, it is curling badly. It needs the edging to be completed to stabilise it, but I just can't get round to knitting it. I haven't decided yet what yarn I should use for the edging. I was thinking that maybe I should use a solid coloured yarn, but what colour? I still have almost an entire skein of Silk Garden in the olive-ish, pinkish, purplish colourway (3 other skeins of this colourway were used in the blanket). I guess I can use that too, but I am not sure how Silk Garden will hold up to crochet.
When I was knitting the blanket I found that Silk Garden wasn't well spun, and there are spots where the yarn was so loosely spun it just drifted apart - eek! I am not sure I'll use silk Garden again for any othe rproject, especially not one that needs to survive regular use. It, like the Kureyon I have used in the past, is simply not strong enough. Sure, the colours are nice, but it's has nothing else going for it, in my opinion. There was a fair bit of vegetable matter in the yarn, including some rather twiggy bits.
So, what do you think? Should I get a sturdier, solid yarn for the edging, or use the remaining skein of Silk Garden?
Also for Cynthia
I have never made mittens before.
Okay, that's not entirely true. I have made felted oven mitts before, but I don't think they count. They didn't need to fit.
So.. why the sudden talk about mittens, you ask?
Cynthia
and I are doing a pre-Christmas exchange. She went to Rhinebeck and shopped till she dropped - well, almost. You can see her haul
here
- and that does NOT include what she bought for me! So, anyway, among the things I will be sending her are mittens. I don't wear mittens, but she does.
I saw the thrummed mittens pattern that will be in the
upcoming winter issue of IK
, and asked whether she'd wear them. That was the start of this whole mittens madness. I thought that maybe I should make some regular mittens before trying to make thrummed ones. There is also a pair of flip top mittens in the same issue. No way was I going to make my first pair ofmittens in pure cashmere, so I thought I'd compromise and make it in something soft and in a colour that I know Cynthia will like. Off I went to Rubi and Lana and picked up 4 balls of this:
I am all excited about knitting mittens and can't wait to start. In fact, I have decided not to wait for my winter IK. Considering my Fall issue has not arrived yet (don't get me started.. I have had a very similar experience to
Donni's
), I am not holding my breath for my winter issue. Besides, if I wait, I may not make it for my (self-imposed) deadline of Nov 30th. Why Nov 30th? Well, I want to make it in time for Cynthia's birthday in December, and also for Christmas, and I know the postal system is going to be NUTS in December.
Don't worry, Cynthia, I will be sending you more than a pair of mittens and some Tim Tams :) but I can't spoil the surprise and tell you what you are getting, can I?
Oh, and did I mention that I plan on making up a pattern for Cynthia's mittens? Yeah.. a little ambitious?
Some lovely things to knit
but I can't start till baby has arrived and I have lost my pregnancy weight. Go look at the
preview for the winter issue of IK
.
I really like the Wine and Roses Mitts. Whether I will get round to making them is another matter entirely. I am terrified of felting something so delicate. I can imagine myself crying big tears if I do felt these by accident.
Of course the thrummed mittens are on my to-do list if the magazine comes in time for me to make them for Cynthia. She's the only person I know who lives in a place cold enough to wear such mittens.
The Refined Raglan looks quick and easy to make and I think I can probably make it in time to wear next winter. The little cable makes it a little more special than your regular raglan. I think I even have the ideal yarn for it in my stash!
Love the Pewter Coat too.. but it has cables. I don't know whether I'll ever get round to casting on such an ambitious project.