Okay, first things first..
Gray is a clear winner, but I am now considering whether I want a to use the gray I photographed or a slightly lighter one. As you can tell, I still haven't gotten off my behind to start crocheting the edging for Lizard Ridge blankie.
My ISE3 pal is the greatest
Look what she sent me!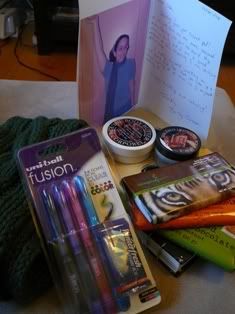 The chocolates will soon be gone, I am sure. Thank you,
Emily G
!
The scarf is a warm and cushy cabled pattern. It's absolutely gorgeous!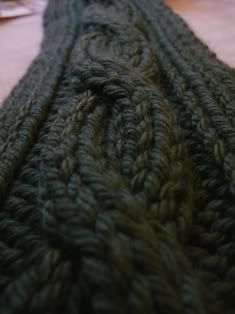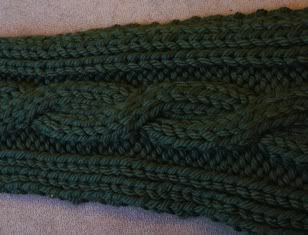 I have been wearing it all afternoon, though it isn't exactly a cold day here. It came at the right time. I think I am coming down with a bug of some sort as I have been tired and feeling flu-ey all day. The scarf is perfect!
I also received some funky pens which write in clear inks that turn into coloured inks, a nice notebook, some Body Shop cocoa butter cream and some body scrub.
Thank you Emily G! I could not have asked for a better scarf pal!
Oh.. did I also mention that my
scarf package has been received by my ISE recipient
- who also happes to be an Emily? What's teh chance, eh?
I met my KRSP!
My pal from the last round of KRSP came to Australia, and I met her!
Mary was an amazing pal. If you have been follwing this blog, you would have seen all the lovely gists she sent me -all the way from Sioux Falls.
We had dinner together at a little Italian place -
Giovanna
. We tried going to Danks Street, but it was closed. Anyway, I got a little greedy and ordered the lobster mornay which was way too rich for my mama belly. Hey, what can I say? I saw it, and Bubs wanted it. Chris' duck was lovely as usual. Not sure what Mary's chicken dish was like. If nothing else, the food came in generous portions.
We exchanged presents and once again I was astonished by Mary's generosity. She had brought with her (and carried them all around Fiji, New Zealand and Australia) 3 magazines and the Knitters Yarn Guide for me. Yes, for me! Pictures to come soon.. camera is still charging.
Uni is nearly over and done with
for this semester
I spent much of yesterday (Sunday) waiting for a portion of a group assignment that was meant to have come in by Saturday night. There's always one in every group I think - a slacker, that is. After a couple of reminders on Saturday night and Sunday morning, I received a text message from her at about 10am saying it will be in within the hour. Yeah, right... When that work eventually came in at about 1pm yesterday, it had spelling errors, grammatical errors, typos and was not properly referenced. Grr...
I didn't think that she would get it back to me in a timely manner so I amde the corrections myself before sending it out to teh group for proofreading. She sent me a text message on my phone saying she'll get back to me within five minutes, which eventually turned out to be 3 hours. Grr...
After a few more messages back and forth,I am relieved to say that the work is finally mostly done. Thank God!
I am also relieved that this is my last semester of classes. no more group projects for me!