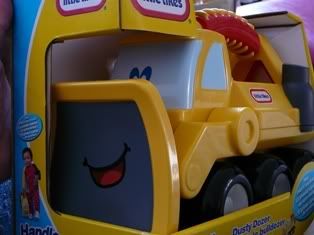 This is the little bulldozer we bought for our
Starlight Foundation child
. I think it's so cute.. and I am still tempted to go out and buy one for Bubba. Maybe next year...I should not get ahead of myself.
I should haveposted about these mittens a long time ago, but they were meant to be a surprise for
Cynthia
. Now that she has received them, and they fit, I can post pictures!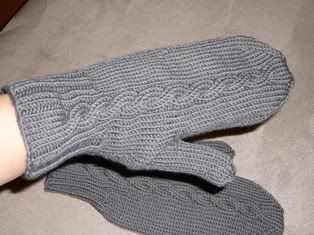 I am very proud of them as they are my first pair of knitted mittens. Sure, I have knitted fingerless ones before and baby sixed ones without thumbs, but this is my first pair of adult sized mittens.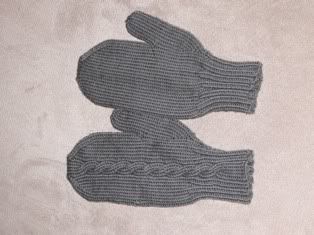 Right front and left palm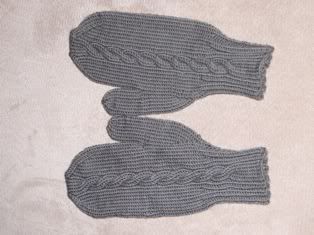 Front of both mittens
In fact, I am so pleased with that pair that I have knitted another pair! This pair is going on a journey to the UK. A friend moved tehre earlier this month and she's not accustomed to the cold yet. I am hoping that these will keep her warm. They are knitted from this yarn which is one strand of merino and one strand of alpaca.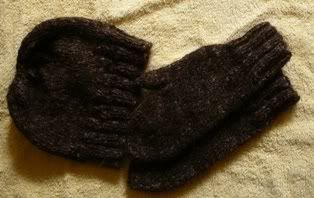 Oh and I finally got the edging on Lizard Ridge done. I washed it and lay it out to dry. I didn't bother pinning it down as I was hoping tokeep some of those alien landscape-looking bumps. I was only partially successful, though. Most of the bumps are gone. The yarn softened in the washing and now the bumps flattened out. It's still not what I'd call 'soft' but it certainly is soft enough to be a nice lap blanket. I don't think Bubba is going to be allowed to drag it through the house. The blanket will not survive that sort of treatment!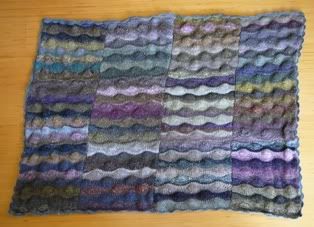 That's all for this mid-week post... May be able to post more on teh weekend, but it's getting late here.