The good thing about Alex being unwell is that he's so tired it's really easy to put him to bed in the evenings. The bad thing.. well, there are lots of bad bits - the constant waking up at night, the frequent small meals, general fussiness, worrying about him.. etc., etc.
I think he is better today as he is more cheerful and actually drank out of a bottle. For the past week he has been refusing the bottle, but today, he actually drank nearly 200ml out of a bottle over two feeds. If he is starting to want food, he must be feeling better. Takes after his parents, he does!
I managed to finish the pair of knitted pants I was knitting.
Okay.. this first picture isn't great but it does show the pants in its entirety.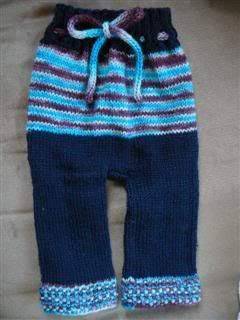 They can be worn with the cuffs up: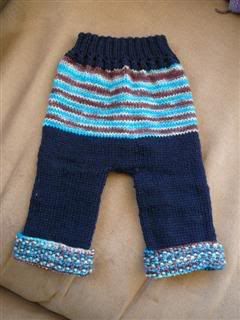 or down.
I even added some extra space at the back for diapered bottoms!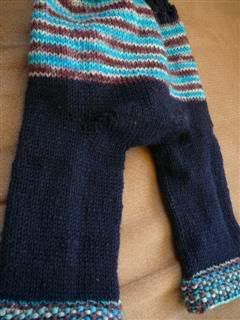 I have decided not to keep these for Alex. He has enough pants for now. I am going to try to sell them. Chris is still designing the banner for my shop on Ozebaby. He'll be done soon, but I can't start working on the shop till I am done with uni. Current plans are for my shop to open its virtual doors in mid-June. Not long now..
Labels: Alex, knit from your stash 07, knitted pants, Ozebaby