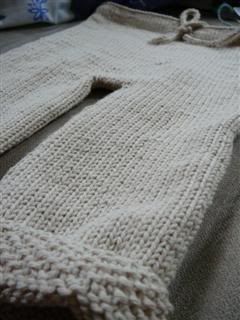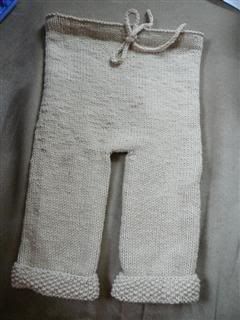 And here they are, modeled by the little man.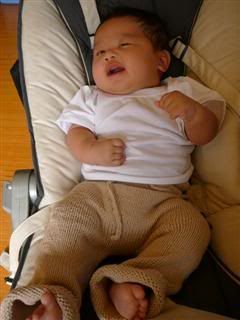 As you can see they are still too large for him. That's deliberate. I didn't want him to grow out of them too quickly and seeing how quickly he is growing, I thought I should make the next size up - just in case, you know. I used a 63% cotton 37% acrylic yarn. As it will not shrink I didn't knit in extra length as indicated in the pattern. Oh, and the pattern is from Last Minute Knitted Gifts.
On Wednesday, Alex and I visited one of his little friends, Bernice.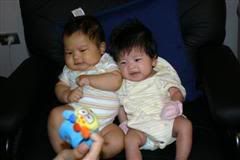 From the picture, you'd never guess that the two were meant to have been born on the same day. Alex was 11 days early and Bernice was 10 days late and as a result, the two are now about 3 weeks apart. I guess a 3 week age gap is quite significant when we are still referring to their ages in terms of weeks. In a year or two it will be negligible, but something tells me Alex will always be a big boy and Bernice will always be a delicate little girl. At 6.5kg, Alex looks like a giant next to his petite 4.5kg little friend.
When Bernice's mum, Danielle, was taking the photo, I was afraid that Alex will elbow Bernice or worse still, lose his balance and flatten Bernice! I was trying to distract him with a rattle - that's my hand you can see in the picture.
Earlier in the week, while Alex was at daycare, I went shopping. I went a little nuts at Spotlight, and ended up with these cotton fabrics.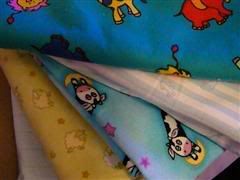 The blue muslin at the bottom has already been turned into extra-large wraps for Alex. I love the green sheepy fabric. I have used 1.5m for an autumn wrap for Alex and the remainder is destined to be trousers for Alex. The cow and animal print fabrics will also be turned into trousers for Alex. As the weather becomes cooler, I think he will need more trousers for daycare and I think the home-made ones are so cute. I am not much of a seamstress but I think the pants will hold up for at least one season.
Chris' brother and sister-in-law will be arriving from Jersey on Sunday. I can't wait. The last time I saw Chris' brother was at our wedding last year. He's always good fun, and I do miss him. I think they have already got some fun and games planned for the time, including a poker challenge and a pictionary one.
Labels: Alex, knitted pants, knitting, life, sewing