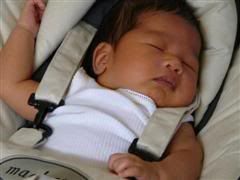 And he takes up almost all my waking hours and some of my sleeping ones too. Little Alex is now nearly 3 weeks old and he's feeding every 2-3 hours. On a good day, he's pretty good - sleeping between feeds and when he's awake, he's not whine-y. On a bad day... well.. they're just baaaaad days. I think the hot weather is really taking it's toll on him, and on me. He's more unsettled on hot days, eventhough we have the air-conditioning turned on most of the day.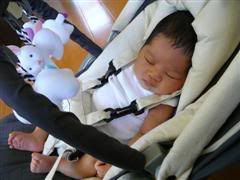 Can you see the zits on Alex's face? My poor little guy has neo-natal acne. Every time a zit goes away, another one pops up. Geez... I wonder when it's going to go away. He's not even a teenager yet and he's already got pimples! thank goodness they don't scar.
On the knitting front, I haven't done much. I completed the pink cotton top I was knitting, but I am not thrilled by the finished product. I'll take a picture soon - when I can fit into it without looking like a barrel (after I have lost a few more pounds). Maybe it will look better then. The Devon vest has been frogged. It looked like this before I frogged it: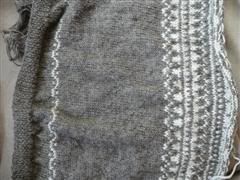 I figured I am never going to love it so I decided to frog it and start again. I am now knitting a plain vest in the same yarn. It's knitted in the round and should be done in no time - or so I hope anyway.