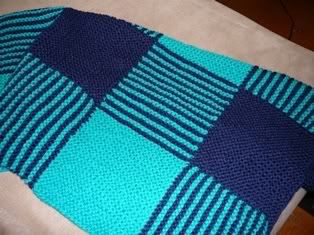 Do you remember
this blanket
? I finally dug it out of the UFO pile and started working on it again. It's slowly growing. Currently it measures about 26in x 35in. I am plannign to add another panel to make it as close to a square as mossible, and then maybe add on a crochet edging. Crochet is quicker than knitting, and after knitting THAT much garter stitch, I think I would have had enough.
A surprise package?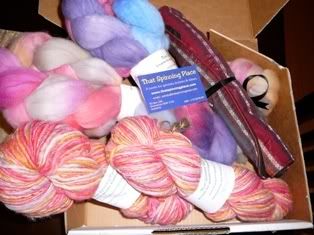 Look what arrived at my doorstep last Friday? I know, I should have posted about it sooner, but it took me a few days to take the pictures and work out who had sent it. It's from
Morgan
. I don't know what I have done to deserve this (random?) act of kindness.
That Spinning Place
is a local online shop selling handspun yarn, handpainted rovings and other lovely things. Go take a peek. Morgan sent me some handpainted roving, two gorgeous skeins of handspun wool/silk in a beautiful girly colourway, a needle wrap and some stitch markers. Thank you Morgan!
Cynthia's package
In my
previous post
, I mentioned getting a swap package from
Cynthia
. What I didn't mention was what it contained. She have been to Rhinebeck and bought me a whole lot of fibre.. mm.. luscious. She even sent me a thermos mug from Rhinebeck. That mug is going striaght into my hospital bag so that Chris can use it to have hot drinks while I am in labour. I love the fibre she sent me, especially the cashmere/silk blend. Oh so beautiful. I don't want to spin it. I just want to pet it, like a little animal! Cynthia also sent me some CVM (California Variegated Mutant) roving. I have never felt it before as it is not a breed that is local to us. Now I have, and I do want to spin that up to see what it's like. I also got some silk/wool blend and a skein of Socks That Rock in a gorgeous green. Oh and also a sticker and some stitchmarkers. I am a lucky lucky girl. I only just managed to send off Cynthia's package this week. I hope it gets to Boston before Christmas.
Last Hurrah?
Chris decided that maybe we should take a mini holiday before baby arrives. I can't believe it's only another 4 1/2 weeks till my estimated due date. The baby can really arrive any time from about next week and be considered full-term.
We checked into the Hilton in the city and had a nice relaxing weekend. The room was lovely and the only disappointment was that we didn't get the pillows we asked for. They have a "pillow menu". Yes, folks, that's right, a "pillow menu". We could ask for any pillow on the menu, and it would be delivered to us. Before we left for dinner, I rang and ordered a few pillows for ourselves as the standard pillows they provided were too soft. The pillows didn't arrive before we left and we thought they'd just leave them in the room. By the time we got back from dinner, the pillows were still not there, so I rang again. By that time they had run out of the pillows that we wanted and we just had to settle for our second choices - which weren't bad, just not exactly what we had wanted.
Dinner was at
Post
and we weren't disappointed. We both had a lovely meal - probably the last such meal we will have in a while since we're not planning to take the baby to dinner at such restaurants. Yes, I know people do, and it really annoys me when that happens and the kid(s) just won't sit still. It really spoils the ambience for everyone else. I refuse to be one of THOSE parents. So, folks, if I am ever guilty of that, remind me - I will NOT be one of those parents!
The portions were not huge, but we had three courses each, and a side of mushrooms and some bread to start with. We certainly didn't leave hungry. My salmon was nicely done, though a little on the rich side. Chris had the kingfish, and loved it. It had a lovely Chinese flavour to it and the fish was cooked to perfection. His oysters with Thai dressing wereperfect. He said that they really say "Thailand"" to him. I think we'll be back again when we can.
Endpaper Mitts
Have you seen
these
?
Cynthia
is knitting them and I am so inspired. She's right. They DO look like stained glass windows. I want to start my own, but I can't decide what colours to use. I can't cast on just yet anyway. Ineed to finish that blanket. Yes, really. I need to make sure I finish my projects.. one at a time. I will eventually get around to those other UFOs, I am sure, but right now, I just need to tackle this blanket. I think it will be a great blanket for throwing on the floor when baby has tummy time. It's bright, it's textured, it's cushy, and most of all, it's machine washable!