Just had to post.. more details later
1. Hyacinth socks completed
This is the second sock, and colours in this picture is probably the 'truest' of all the pictures so far.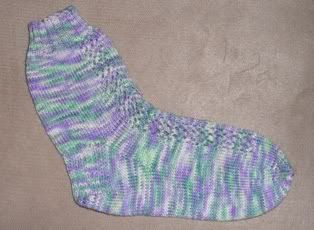 I have started a baby hat with the remaining yarn. I think i will have mroe than enough for the hat - maybe some booties? Or just a pompom?
2. Look what arrived for me yesterday!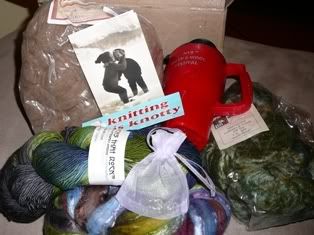 This is from
Cynthia
. We agreed to do a Christmas swap and since she went to Rhinebeck, she bought me a whole lot of goodies. Details later...
I am amazed that it arrived so quickly. It left Boston on Saturday (which really is Sunday in Australia) and arrived yesterday which was Wednesday here - 3 days to fly across the globe.. WOW!)
3. More yarns up at my Etsy shop
- go take a peek.
There is some semi-solid worsted weight yarn, some sport weight (great for heavier, sturdier socks) and some new colourways in Sock, Socklite and Alpaca.