This year has really flown by for me. At about this time last year, I was unmarried, and didn't even think that I would be preparing for the arrival of a baby in a year. I was preparing for our trip to Malaysia when Chris would ask my parents for my hand in marriage. But here I am now.. married and living in a flat full of baby things, eagerly awaiting the arrival of a little one who promises many sleepless nights and much laughter and heartache in the years to come.
Strangely enough, although Bubba is now considered a "full-term" baby (as of today), I am not nesting (yet??). The flat is still a mess and my affairs are still not in order. I have plastic boxes of yarn yet unsorted since the time we moved in and yet more plastic boxes filled with pre-pregnancy clothes. Bubba's clothes for the first month or two are washed, but only if he is really a 'he'. If he turns out to be a 'she', well then.. she will have to wear 'boy' clothes for a few months (if she is lucky) or a couple of years (if she isn't). We have lots of boy clothes, and I am not sure I'd be bothered to go out and buy new girl clothes if I do have a little girl. I think we have all of two girl outfits - one bought 'just in case' and the other was given to us.
It feels surreal. I am not sure that I am ready to be a mum, but ready or not, Bubba's not going to waiting for me to give him permission to join us. He'll be out when he's good and ready. I have told him that he must NOT come out before Christmas as I am not ready for him, but seeing as Christmas is only 2 more sleeps away, I am fairly certain he will stay put for at least a few more days. After that, if he wants to come out, he's most welcome to. I will have his cot made up by then, I hope.
It is hard to believe that the baby is now *35 weeks old, and I have spent the last 35 weeks feeding him and carrying him around. He has been everywhere that I have and eaten everything that I have. He has been a part of me, though it wasn't really noticeable for the first 25 weeks or so. It's only in the past two months that I have grown significantly bigger (think "a ship in full sail") and significantly more uncomfortable (think "roll off the bed rather than get off the bed"). I really should take another belly photo to show you what I mean. It's as if my belly is making up for lost time and has now swelled to gigantic proportions.
My cousin asked me yesterday, "Are you excited or scared?". The two are not mutually exclusive. It's scary to think that soon I will be responsible for the life of another human being, especially one as helpless as Bubba is going to be when he is born. It is also very exciting. I look forward to caring for him and nurturing him as best I can, knowing that we created him. It's probably only natural to be both scared and excited. I'd like to think so anyway - i.e. I'd like to think that I am not strange.
We have most of what we need for Bubba's arrival, and some of what we don't need. Everyone's been very generous to us and it's been fantastic. My in-laws have gone a little nuts buying things and we have lots of baby clothes, cot sheets and towels now. We have so many things that when the folks at work wanted to give me a "send off/maternity leave" present, I didn't know what to ask for. They ended up giving us a voucher for a local baby shop, which I am sure will prove useful as Bubba grows and we need more things for him. We also have a 'surprise' baby shower that's been planned for us on Christmas day - it's a surprise in that we were not expecting it, but we were told it's happening. I have decided to stop buying things as we don't know what's coming. The only things I need now are the little things like bottle and teat brushes, baby hair brush, QV bath oil and other little things which I can get from the chemist if we don't get them at the baby shower.
On the knitting front, I haven't done much. That blue/aqua blanket is now finished - YAY! I didn't die of boredom, but it was a close call. I decided crocheting is quicker than knitting and so it has a dark blue crocheted border. I plan on washing it soon, but I have to gather enough clothes to go into a dark wash together with it as I suspect the blue yarn may run. I'll take pictures when it's all washed and dried. The weather is a bit icky today, so it's unlikely that it will get washed today, but definitely some time over the Christmas holiday.
Do you remember
those squares
that were plagueing me some time ago?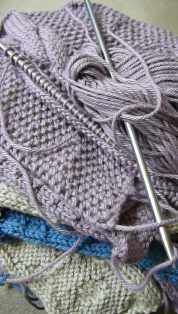 I am up to 15 now, though I could have sworn that I have knitted more than 15. It sure feels like I have. Anyway, I need 25 for a baby blanket. this too will have a crocheted edge, I think. I don't want to die of boredom! I am aiming to finish the blanket before Bubba arrives. In fact, I'd be really happy if I can finish the blanket before the new year arrives (that is, of course, assuming that Bubba arrives AFTER the new year).
I participated in a stitch marker swap hosted by
Robyn
earlier this month. I have sent out both my sets and received one. The other is on its way. The one I received was from
Patty
(who does not have a blog or if she does, I don't know the URL)
. They remind me of hard candy, like the sort that is made in rolls and cut into shapes with funky designs and colours on the inside.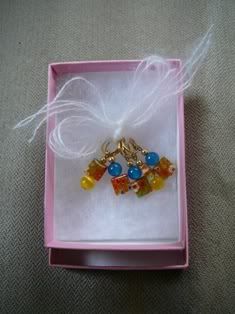 Aside from that, not much else has been happening. I have done a little dyeing, and some new yarn will be up in my
Etsy store
shortly. I just have to edit the photos and list them. I will dye more merino roving when I have the space to dry it. Right now all my indoor hanging space is taken up by clothes, sheets and other silly things!

* At forty weeks of gestation, the baby is only 38 weeks old as they (meaning the doctors and nurses) always start counting from 2 weeks BEFORE the date of conception. Weird, I know.. So, while the baby is 35 weeks old now, I am 37 weeks pregnant