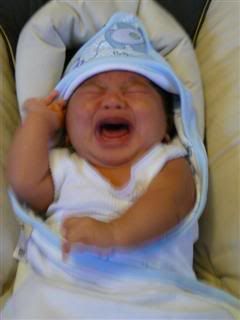 ... I want to cry too. Thankfully, he's not like that all the time. In fact, he spends a lot of time like this: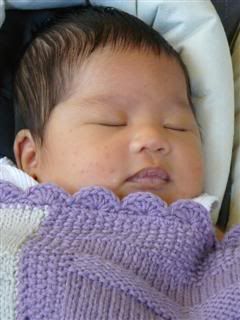 Lately he's been doing this a lot: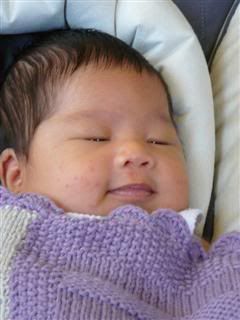 Some may say it's just wind making the corners of his mouth turn, but I'd like to think it's a smile. Let's take another look...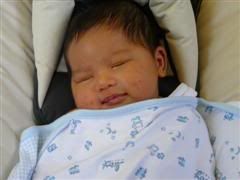 If you have been paying attention to my sidebar, you'll see that I have been knitting. I have made progress on my vest. It's about the only thing I can knit as it requires very little concentration, which is a good thing as I have very little to spare.
We have been trying to settle Alex into some sort of a routine this week in the hope that it will get us more sleep and save our sanity. It worked for two nights and then last night was dreadful. he just would not settle and Chris and I took turns patting his back and carrying him while he cried. I think it may just be wind causing him discomfort. He's let a lot of it out this morning, and now he's sleeping like a little beauty, which is why I am able to steal a few minutes to post.
I am so relieved he's finally fallen asleep as a parcel arrived for me this morning. It is my gift from my
Spinning Roving Swap
pal, Gina. Thank you Gina!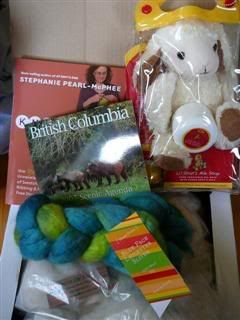 I can't wait to get started on the Blue-faced Leicester roving. It is a breed of sheep I have not seen locally and I have heard (or should I say, "read") so much about in the knitting and spinning forums. When I get back into spinning, which will be soon, I hope, I will be spinning that and the CVM roving that
Cynthia
sent me before Christmas.