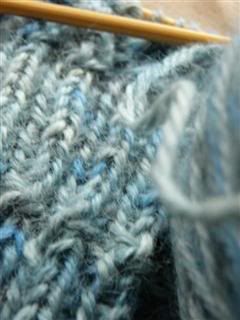 I suddenly remembered that it's
B1's
birthday on Wednesday and we were invited to her birthday party on Saturday - that's today. Now, if there's anyone who would wear hand-knit socks, hats and mittens, it's B1. She has started knitting recently and is knitting a garter stitch scarf for herself. I thought she'd like some fingerless mitts for the coming winter as she often has cold hands and feet.
I chose a skein of 100% alpaca DK (8ply) yarn from
my shop in the 'moody blues' colourway
as B1 likes blue. It's quite an easy pattern with twisted stitch 'faux cables' going around and a ribbed thumb gusset for a comfortable fit. If you are interested in the pattern, send me an email or leave me a comment with your email address as I am looking for a couple of test knitters. It didn't take me long to knit each mitt. I cast on last weekend and the pair was done by midweek.
I also cast on a hat in the leftover yarn but by 10am this morning I gave up all hope of getting it done before the lunch party. I did manage to complete it this afternoon but by then it was too late. I'll just have to keep it somewhere *safe and give it to B1 the next time I see her.
This project was so quick that it didn't even make it onto my sidebar as it was completed between posts.
The Regia Banner socks, on the other hand, are still on the needles. It's coming along slowly - like reaaaaally reaaally slowly. I have turned the heel and am working on the foot of the second sock now, so they are closed to being completed.
Alex was pronounced healthy by both the early childhood health nurse and the paediatrician this week. That's such a relief to hear, not that we really doubted that he is a healthy little boy.
He also got his 2-month vaccinations on Friday. I approached it with some worry as the paperwork I had received from the hospital indicated that there's a fair chance that he'll have some sort of mild reaction to the vaccinations. Well, that and also that I thought I would have to deal with a crying fussy baby for the rest fo the day and I was not sure that I felt up to dealing with that. It was almost as if Alex knew that we weren't just 'going for a walk' in the stroller. He cried almost as soon as we left home. He cried all the way to the doctor's surgery, and while in the waiting room and while in the doctor's room waiting for the doctor to prepare his needles. The doctor got me to hold him while the needles went in - one on each thigh. Almost immediately after the needles were out, he stopped crying! So what was all that fuss about? What a little silly billy...
Oh, and I should add that aside from a slightly red patch on his thigh (where the needle went in), Alex is unscathed from the experience. He's well enough today to attend B1's birthday lunch!
*The last hat I made for her got lost under the mess that is my study table and was not given to her till nearly a year after it was completed!
Labels: Alex, fingerless mitts, knitting, life