I saw this on
Knit Nut's blog
and it made me cry. Sure, my grandfather never carved chopsticks and our family reunion dinners aren't quite like that, but it still made me cry.
It's Chinese New Year this weekend and we won't be doing anything special to celebrate as my family isn't here and there doesn't seem to be much of a point. What's the point of a reunion dinner amongst three people who see each other every day anyway? In Malaysia, my parents will be having a small dinner on new year's eve with my grandmothers and at least one aunt. Next year, maybe we can take Alex to Malaysia with us to celebrate Chinese New Year. He will probably still be too young to understand what it's all about but I am sure he'll love taking in all the sights and sounds. My grandparents will also love to see him, I am sure. He is their first (and only, for now) great grandchild.
Alex is growing at a rapid rate. I can't believe how fast he is piling on the weight. He was born at 3.305kg and 50cm. When he left the hospital, he was 3.025kg. As of yesterday, he was 5.1kg and 57cm! He is only 6 weeks old and has more fat rolls than any other baby I know. He also has lots of hair. I'm not sure whether his head is growing quicker than the rate at which the hair follicles on his head are increasing, but his hair seems to have thinned out somewhat. My mother thinks that he is losing hair, and that's what babies do, but I haven't found any hairs of his cot or on his rocker.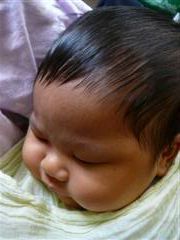 My boy's zits are clearing up! Finally! I thought the day would never come. every time a zit went away, another would pop up, bigger and redder than the one before.
Now that I have said that, another pimple will probably pop up.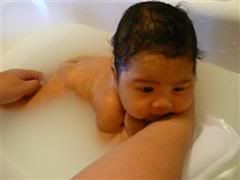 I just thought I'd add that picture because I think it's so cute. My in-laws think that Alex in that picture looks exactly like Chris did at that age. I don't know about "at that age", but he definitely looks a lot more like Chris now than he does me.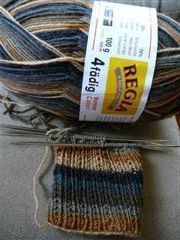 Yes, I have managed to get some knitting time. The vest is nearly done. I still need to sew in ends and give it a good wash. I felt pretty good after having finished two projects this year (the pink summer top from a Sandra pattern and the vest), so I thought I'd cast on a brand new project.
As I have promised myself, and everyone in blogland, that I will
knit from my stash
, I looked through my stash and decided on a self-striping Regia yarn and a simple
"railroad rib"
pattern from Fiber Trends. It's looking good so far. The rib pattern makes it very stretchy. As I didn't think the recommended 2.25mm needles and 64 stitches around will fit my legs, I decided to use my new 2.5mm Knit Picks needles. I love them! They are as smooth as my Addis but pointier. The only thing I don't like about them is the length. They are not short enough and yet too long, if that makes any sense. They tend to poke me in the palm a little, but it's no biggie. I have adjusted the position of my hands to cope with these needles.
Labels: Alex, knit from your stash 07, knitting, life, sock