Dyeing
Ok first up, here are some pictures of some wool top I have dyed
This one is blue and grey with splashes of pink. I am not sure what it will look like spun up. It will probably be best to spin it and then ply it with a solid coloured strand. What do you think? There is about 100g of this.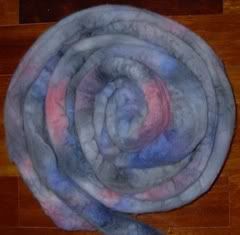 This one was dyed with some pink and brown. It really is much prettier than the picture. I am going through a pink phase, I think. I deliberately left in bits of white so that the final yarn spun from in will be in soft pinks and browns, which will, I hope, blend rather nicely.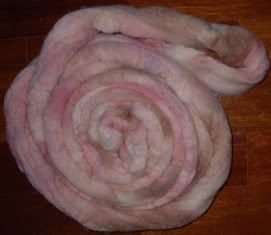 I saw this one and immediately thought "Stormy weather"! There are splashes of blues, greys and black. It really looks like stormy clouds. This, like the two other lts above, weigh in at about 100g.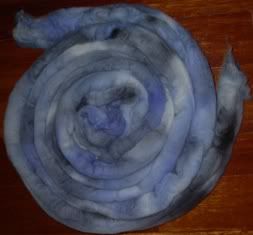 I dyed this lot of Optim. there is about 100g of the roll on the left and about 150g of the roll on the right. The ne on the right, when laid out, looks like cat. I fact it looks like Chris' family cat, Kitty. The one on the right is similar apart from pink splashes. As Chris pointed out, and rightfully so too, cats are usually not pink.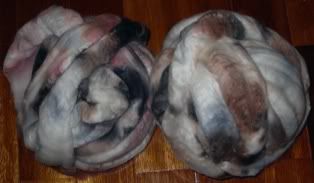 I thnk I have dyed more than I can spin up. Hmm.. I feel a sale coming on. Anyone interested? I'm looking at uhm.. say AU$10 per 100g??
Hmmm.. what else have I be up to?
Spinning
I spun up some pink/brown silk caps a couple of weeks ago: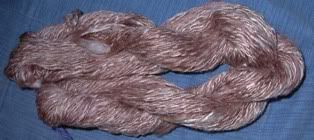 It's actually dyed I the same colours as the pink/brown wool top above. I love the sheen in it. I spun that from about 4 silk caps. The skein is about 50m in total length. I am aiming to dye and spin enugh of this to make a top for myself. Maybe the
Picovoli
?
Knitting
I wish I had more time to knit. It really sucks when life in general gets in the way of knitting. I managed to knit this froms ome hand sun. I forgot to take a picture of the yarn in the skein, oops. Anyway, I was inspired by Emy's assymetrical scarf and decided to design my own. Here it is - my "Vee Scarf":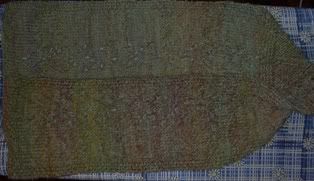 Can you see the 'vee's? No? Okay, here they are again: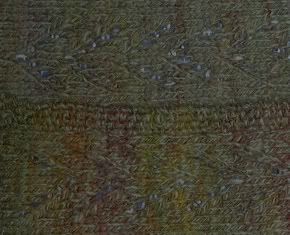 I also completed my multidirectional scarf by Iris Schreier. I joined the yahoo group for this scarf and got the pattern for free. I decided to knit it in some handpainted yarn hat I had spun and then dyed at the dyeing workshop @ Virginia Farm Woolworks about a month ago. It didn't turn out as nicely as I had hoped it would, but oh well, lessons learnt I guess. I am plannign to knit another one. I thnk it's a great way to use up my odds and ends. I can knit a triangle in each yarn!
Okay, those of you who are here to read about the fibre-y stuff only can stop reading now. Cynthia, if you don't want to read about food, go away ;)
Dinner @ Daniel's
Who would have thought that a dinner could be so fraught with errors?
My dad was keen on going there for diner, so go we did. Chris, my parents and I got there at about 830pm on a Friday night and the place was quiet as church funeral.
Chris was in charge of ordering the wine, and he decided on a bottle of Peter Lehmann's 8 Songs Shiraz. when it arrived, we watched in horror as the cork crumbled around the corkscrew. Uh oh. The lady (whom we thought may have been the manager) attempted to rescue it. To her credit, she did come back to tell Chris that she thought it may have been tainted, and she poured a little for him to taste. He confirmed it and she came back with a second bottle. The wine was really nice and I am glad that it was worth the trouble.
Mum and dad decided to share their entree of garlic prawns. Chris and I ordered the same. It was a much larger serve than I expected it to be. There were 8 large-ish prawns in each serve. Mm.. I could do with some of that right about now...
By the time we ad eaten our entrees we were looking forward to our mains. As it turns out the waitress who had taken our orders had gotten almost every order wrong. How hard could it be? there were only four of us. Mum got potatoes with her meal, though she had said that she did not want potatoes and would rather have more greens. That wasn't too bad, since Chris did not get any otatoes with his meal, though he was meant to. So he took mum's potatoes. He had ordered soft shell cras with his meal which he did not get, but he got 3 or 4 crab claws instead. I ordered the rib-eye on the bone, but they had gotten it wrong and trid to serve me a sirloin instead. So that went back to the kitchen. Dad's porterhouse which was meant to be medium rare came closer to being medium well. So that went back to the kitchen too. by that time we were making jokes about the kitchen spitting in our meals since we were sending stuff back. No, no, they were just jokes. I am sure restaurants don't do that. Please, let me rest in my delusions! When the correct meals finally arrived, they were quite good. I think I will go back again to give them a chance to redeem temselves in my books. Maybe we just got a bad waitress on that night. After all, the waitress who took our orders seemed to be the only grumpy one, and she did get all the orders wrong.
We ordered desserts, which were quick. the tiramisu was quite good - drenched in alcohol, just the way I like it. I found the sticky date pudding a little too sweet.
When we got the bill at the end of the night, Chris realised that they had not added the desserts to the bill. He drew their attention to it. The lady who we thought was the manager came and said that dessert was on the house, since we had gone through all that trouble with our meal. I thought that was nice of them. Another reason to go back.
A week of planned meals
It is normal, when my parents are in town, for us to have planned almost every meal in advance. This visit was no different.
We had brunch at Beaches @ Balmoral beach on the weekend. I ordered the poached egg served on a blini with smoked salmon piled above it. I must try making it at home as it was a beautiful meal, and I am convinced it is healthy too!
Have you ever been to the Victoria Room at Darlinghurst? We went there after brunch and had high tea. It's the first time I have experienced high tea like this. To put this into perspective, let me explain the Malaysian concept of high tea. In Malaysia, and to my knowledge, Singapore as well, high tea is a meal between lunch and dinner. It's a full meal, not half a meal, but a FULL MEAL . At hotels it is usually a buffet style meal. The spread almost always includes savouries and sweets of both the local and international variety. What we had at the Victoria room was quite different. The food came in three tiered plates and consisted of delicate little sandwiches, little sweet cakes and biscuits and scones. It was an interesting experience. The ambience in the Victoria Room was unusual. It is so dark it took my eyes a little while to get used to their surroundings. The candles were placed in red glass containers giving the ambient light a red glow. If you have never been, I would recommed that you try it at least once. It is diferent, if nothing else.
We had dinner at Nanna and Granddad's last Thursday. They had put on a lovely seafood feast. At first sight it didn't look like a lot of food for so many people (there were ten of us), but my oh my, was I wrong! Not only was there enough food, there was more than enough. Nanna, after that evening, has very kindly printed and bound a copy of the Cooper cookbook for me. It's a compilation of family recipes. One recipe I'd love to try from the cookbook is the one for boiled dressing. I love it on potato salad.