Those of you not in Sydney wouldn't know this, but it's suddenly turned cold over the last week or so. For me, it has been, anyway, and I'm not sure whether it's this nasty cold that I am fighting off, or whether it's truly been cold. In any case, cold is cold.. and I need a cardigan or jacket of some sort.
Trawling through the free pattern websites, I found this: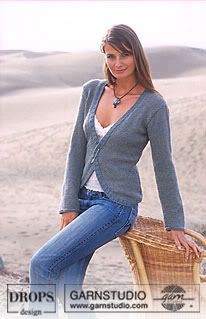 You can click on the picture, and a new window will pop up with the pattern.
I am absolutely in love with this thing. In love, I tell you! I HAVE to have it.
I started swatching last night. As usual, I don't have the specified yarn, and being on a yarn diet, I can't go out and buy more. I just have to make do with the cupboard full that I have. Poor me .. (yeah, right!)
Swatch 1: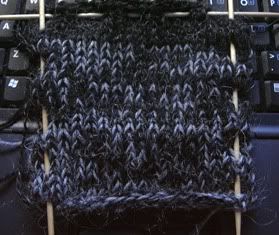 Top to bottom - 2 strands black mohair/acrylic blend, 2 strands black mohair/acrylic blend 1 strand grey wool/nylon blend, 1 strand black mohair/acrylic blend 1 strand grey wool/nylon blend
I like the thickness of the plain black bit (top section) but I don't like the colour. I want that tweedy sort fo look you get by combining two or more strands. The combination of one of each strand was too floppy.. and I didn't get the right gauge. Middle section seemed okay, so I cast on.
Oh so exciting!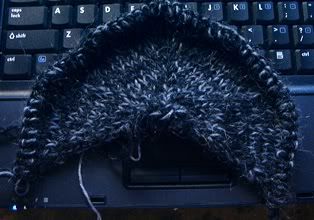 Hmm... maybe not so exciting, eh? The gauge tightened significantly - don't ask me why! I ended up ripping it out.
Okay, so let's try again.. different yarns this time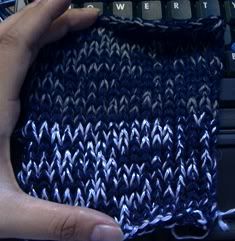 Top to bottom - 2 strands navy blue 5ply wool 1 strand grey wool/nylon blend, 2 strands navy blue 5 ply wool 1 strand light blue cotton/viscose blend
I decided the cotton viscose was a little too shiny for me. I like the navy and grey together. Do you think it's a little drab? I am in two minds about it. The gauge is nearly there - 15.5 st to 4inches instead of teh recommended 15. I think I will go try it on 6.5mm needles instead of the recommended 6mm, and it should all be fine. The fabric is about the right weight.
That's a job for tonight, I think, since I have to get to work soon.
I leave you with a picture of the flower pin I made to go with mum's shrug.