My computer was fixed today. It's not wheezing anymore, and it is working just fine now.
Lots have happened since the last time I blogged.
I received (hristinac's present. Here it is
I thought I'd wait to open it, but I couldn't wiat. yes, I don't have enough will power. Isn't that lovely of her? I reeived 3 sandra magazines, 2 UK Knitting magazines and a pattern book for Rowan Calmer. Chris had to put up with me last night, flipping through the books saying, "Oh I want to make that, and this.. and OH! This one this one!"
I also received my gift from Diana. She sent me some yarn (the picture didn't turn out). I was very excited to find a variety of yarn, some of which I have never used before.
Have I mentioned I am going to Canberra this weekend? I believe I have. Anyway, I am! I am going to visit a few new friends from
KR
. I am visiting Maisie (that's Littlemaze to all you KR folks) who has just given birth to a beautiful baby boy (I know he is beautiful because I have seen the pictures!). I made her a baby hat which I hope the baby will grow into next winter. Here it is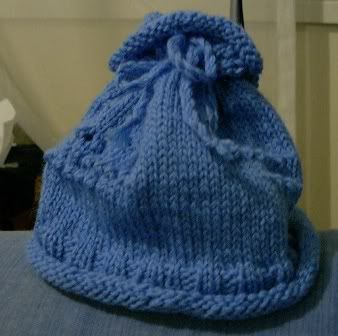 You can't tell from the picture that I have random yarn over holes on the hat. It ooks like a little like a 'ripped' hat. I have made it adjustable so that Maisie can lengthen the hat if she needs to as the baby grows.
I have also been practising on the spinning wheel.
Here is what the wool looked like when I first started spinning.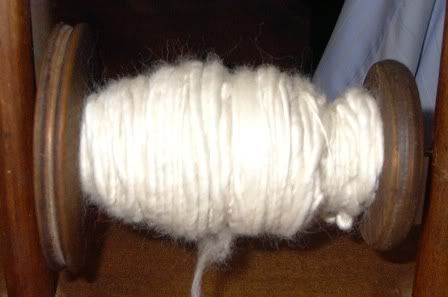 The flash bounced off it badly, but it really IS as uneven as it looks. I think you can see that. I went ahead and plied that with my brown yarn spun from sliver.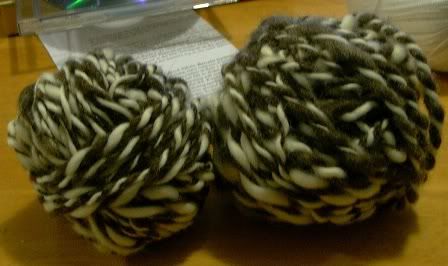 It doesn't look half bad, even if I do say so myself. I am planning to knit a hat from it, using large needles.
Ok, my wheel beckons...