It has been 21 days since the start of my self imposed yarn buying restictions and even longer since my last yarn purchase. I came back to Sydney, only to find out that Lincraft is having big sales and that they are closing down. Oh no!
AND that's not all!
Ozyarn
is also closng down and have cut 50% off the prices of everything in-store.
Cheap yarn all around me and I can't buy a scrap of it!
On the bright side of things, I have some pictures of things I have knited.
Here are my opal socks.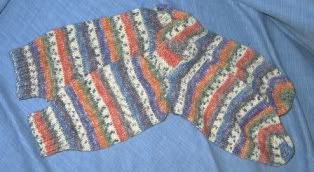 I completed them whilst in Malaysia. I have not washed them yet. I can't wait for the weather to turn cold so that I can wear them!
Since coming returning to Sydney, I have been trying to complete the projects I have started - such as Laurel Hill. It really is slow going. I don't think I will be making another cabled jumper again in a while after I complete this one. I really want to finish it so that I can wear it, but it's so slow to knit that I don't really want to work on it.
Tempting is coming along slowly too. I have knitted about 11 inches of it. I have trouble working out whether I have made progress. So, to encourage myself, I pinned a stitch hlder onto the row below the needles whenever I pick it up so that I can see how many rows I have completed. It makes it feel so much more rewarding. I kow, it is silly, but I really need to see the progress, otherwise I have so much trouble motivating myself.
i am not sure I have enough maroon wool. Do you think the pink will work? I was hoping to add a pink trim along the top edge (at the neck/shoulder opening) and along the bottom edge of the sleeves. What do you think?