This is the first weekend in 4 weeks that I am not coughing up my insides. It feels good to be healthy again!
Chris and I went out yesterday. I needed new shoes to wear to work, so we went for yumcha at Kam Fook in Chatswood and then shopped for my shoes at Westfield Chatswood. Yumcha was ok, if a little expensive for what it was. Maybe we should have gone to Ting Ha. I managed to get a pair of open toed sandals within the first hour of shopping. That's quite an achievement, considering how undecisive I normally am.
Chris came with me to Lincraft to pet wool. Well, I petted wool while he hung around, but it was nice of him to patiently wait while I went around petting the wool. I showed him the Geisha I was interested in, but he thought a whole jumper in it may be a bit "much" - his words, not mine. I did end up buying some slip rings to make stitch markers.
I didn't get around to making the stitch markers till tonight. I strung the beads together while he twisted the wire neatly to form the loops to connect to the slip rings. Here's a picture of my stitchmarkers - all 14 of them. I used small wooden beads. Aren't they pretty?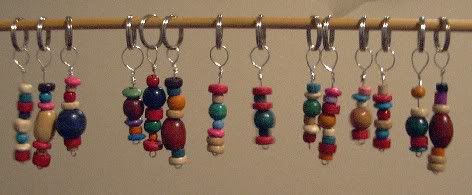 I had a seafood voucher for Claudio's Seafood at the Sydney Seafood Markets, and so Chris and I went there early this morning to buy some seafood. We bought 8 blue swimmer crabs for his mum (and the rest of the family) and 2 dozen oysters. We also bought some baby octopus, prawns and marinara mix which I used to cook a curry tonight (thank you Brahim's Asam Pedas curry in a packet!) It was delicious!
A few weeks ago, I made a tissue holder. This was when I was sniffling and coughing and needed tissues all the time. I used some hand-dyed wool, and it came out in a lovely stripey pattern. Here's a picture.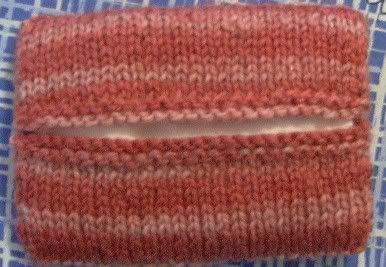 On Friday night I completed my second square for the BASIS square exchange. I'll need to post it on Monday. I also received my second square from Thelma.
I have completed both sleeves for my Huntington castle now, and I have tried it on,but I'm not hapy about fit. it's a little wide, but from the picture in the magazine, it looks like it was designed to have a fair bit of ease anyway. The shouders look funny. I hope blocking will help.
Pictures soon.. as soon as I have fixed this silly shoulder prodblem.
I started a poncho today. I will be designing it as I go along. It's one of those knit from the neck down.