Carols at Balmoral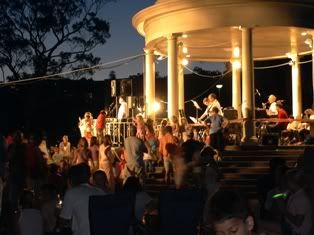 We attended Carols at Balmoral beach last ight, and it was quite enjoyable. We were there more for the food and company than the singing. We had packed a delicious picnic of excellent wines, cheeses, spreads, crackers, prawns and sandwich ingredients. We also had a spread of fresh summer fruits, most of which didn't get eaten as there was very little room left in our bellies by the end of the night. The King Island Blue Brie and Maggie Beer pate were so rich and decadent I just could not keep away!
Introducing Dad's puppies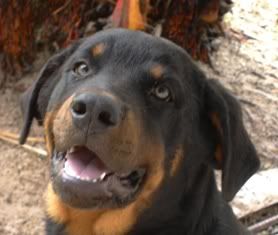 Here's Tom. He's the show-off pup. As soon as he saw the camera, he got all excited, almost as if he was saying "Here, look at me!". I met him for the first time when I was in KL for the weekend last week. He's so cute it's almost impossible to resist his puppy charms.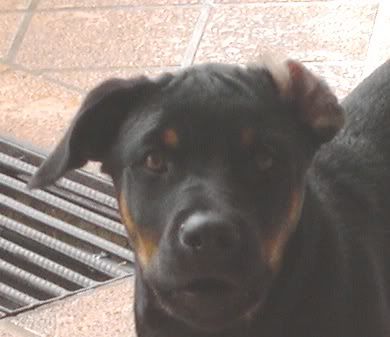 Kit, on the other hand is a grumpy little b*tch. She's my kind of girl. Apparently she bullies Tom and she's the dominant sibling. You go, girl! She didn't like the camera at all. Can you see her frown?
The 2-night Scarf
I started this scarf on Friday night and finished it on Saturday night. I had to, you see, as we had to drop it off to be sent to a far away place, hopefully in time for Christmas. I am not sure what the chances are of it reaching by Christmas day.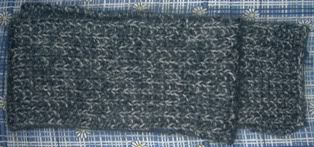 I used three strands of yarn - one strand of 8ply (DK) light grey pure wool yarn, one strand of 5ply (sport weight) dark grey yarn, and one strand of blue-ish grey mohair (which is meant to knit up as worsted weight). On 6.5mm needles I knit the three together to form a thick firm fabric. The aim I had in mind was to create a warm scarf for cold winter ahead. The pattern I used was:
Cast on 21 stitches
Row 1: Knit across
Row 2: *Knit 1, purl 1, repeat from * to last stitch, knit 1
Repeat last 2 rows till I ran out of mohair, ending with Row 2. Cast off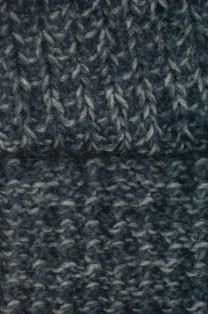 Even this close up isn't very descriptive, but it does create a nice, slightly stretchy fabric. Overall, I am very pleased with the results. It's an attractive manly looking scarf - just what I had hoped for. I was a little concerned that I'd run out of yarn too early, leaving me with a short scarf. I was relieved to find that the scarf measured about 160cm in length when I cast off. [phew]
Scarves on the go
Blizzard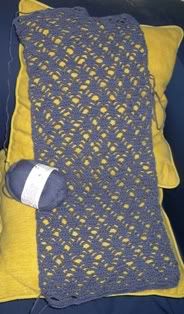 I cast on for Blizzard because I could not knit on the plane going to and returning from Singapore. I made good progress, I think. I am not sure that I will have enough yarn for a long scarf, but I think I shuld be find with a sligtly short scarf, as long as it is enough to wear tied around my neck. It will be completed soon, and I have not decided whether it will find a place in my wardrobe, or given away.
Ene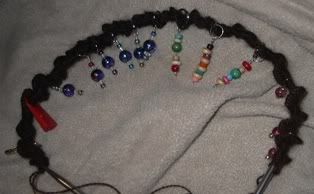 Remember how I mentioned that I am knitting Ene's scarf from Scarf Style? Well, this is what the cast on row looked like - note the number of markers I used! I have made progress (no piccies yet). I am up to the 12th row now I think. I haven't had time to knit it for a few days now. I will start working on it again this week.
Devon vest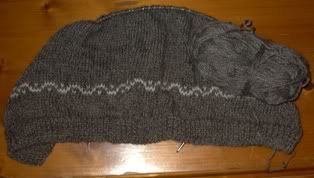 This is the project I am leaving at Chris' so that I have something to do when I am visiting. This is the progress so far.. not much, huh.
Secret pal goodness
I will take pictures soon. I came back to work to find that I had received
1. My gift from my KRSP3 (more details and piccie in my next post) - thank you KRSP!
2. My final gift from my SP6, who is
Donny
(piccie in my next post)
3. First Yarn magazine - Donny had bought me a subsciription as part of my SP6 gifts - Thank you Donny!
4. Winter IK
Pictures in the next post - really!