I have been buying fruit and vegetable boxes from Flemington Direct. The quality has been great and compared with what I pay locally, the prices aren't too bad either. One of the things I like about it is that I have limited control over what variety of fruit and veg I get and it challenges me to find new and interesting waysto cook what I receive. However, that is also part of the problem. For example, we received an abundance of pears and I only eat them unripe (soft pears? eeeeuw!) and they don't stay unripe for very long at all. Chris only eats them when I cut them and serve them with cheese. Alex has never been much of a fan of pears. So.. what do I do with all these pears I have received?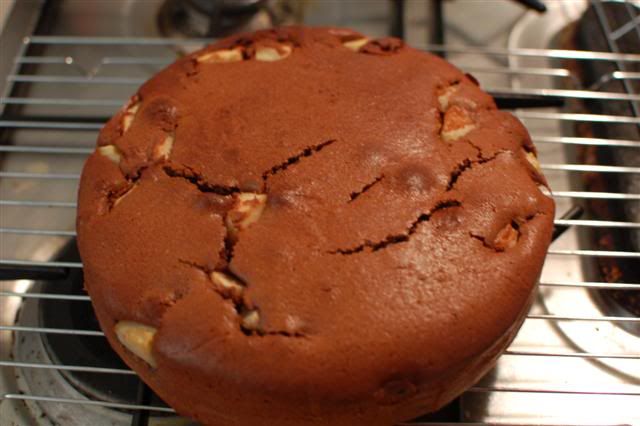 My own recipe.
Ingredients
250g butter
1 cup sugar
3 tablespoons cocoa
2 cups SR flour
3 eggs
3 tablespoons plain yoghurt
3 tablespoons milk
2-3 pears diced
Method


Preheat oven to about 165 degrees C

Cream butter in a medium bowl

Add sugar and beat till light and fluffy

Add eggs one at a time a beat rapidly

Add milk and yoghurt and beat till combined

Fold in flour and cocoa

Line a baking tin

Pour about 2/3 of the batter into the rpepared tin

Add pears - do not stir

Add remaining batter. It does not matter if not all the pears are covered

Bake for about 50 minutes or till a clean dry skewer comes out clean. Turn oven off.

Rest in oven for ten minutes

Tip out the cake, remove the paper lining and leave to cool on a wire rack

Serve plain or with a dollop of heavy cream. Delicious!

Okay, so that's the pears.. and what about the bamboo?
I got some undyed bamboo blend yarn yesterday and decided to try dyeing it to see how it will turn out. The heathering wasn't as bad as I expected and the yarn took colour well.
A closer look...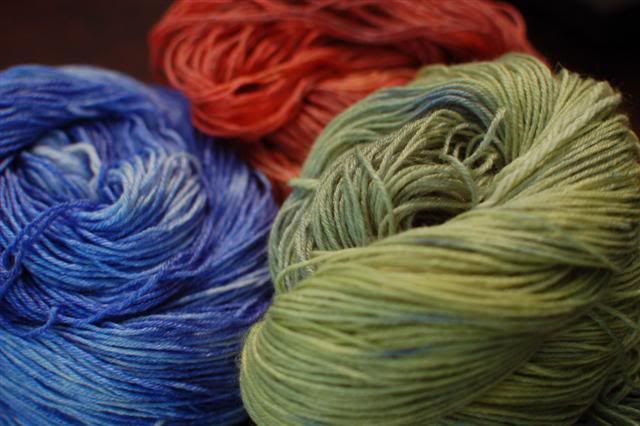 Perhaps this is something I should stock in the store. next thing to do - knit it up into socks and seehow they feel!
Labels: bamboo dyeing, pear cake