We pre-booked our Melbourne accommodation online. I receive newsletters from the Shortstay apartments people and in a recent newsletter they announced the opening of their new apartments on A'Beckett Street. having never step foot in Melbourne City before I just had to rely on their website and Google maps (yes, i do love Google maps) to tell me where the apartments were and whether they looked ok. We arrived and they were very ok indeed. City Tempo looked almost brand new and was at a very convenient location. We were, as we soon found out, only 10 minutes' walk away from Queen Victoria Markets, within stone's throw of La Trobe street where the city circle tram passed (a free tram service, I might add!) and not far at all from the busy hub of the city centre. At $149 for a 1 bedroom apartment, it was good value too.
Now what is it with us and apartments? Well, we realised earlier on that there is no way we can sleep with Alex in the same room. He wakes us up and we wake him up - not deliberately, mind you. So, we need him to be in a separate room for all our sanity, and a studio or hotel room just won't cut it. Ah, the joys of travelling with your offspring!
On that first evening in Melbourne we met up with an old friend of mine from school days in Malaysia. We had dinner at Tiamo2 on Lygon Street - Melbourne's little Italy, where the food was good and plenty, and then moved on to
Brunetti
for dessert. Have you ever been to Brunetti? The display of cakes and desserts is simply overwhelming. It's quite amazing, really and I don't think I have ever seen anything quite like it before. After getting over the initial "wow!", we settled for a rather large macaron and tiramisu. I wish I had taken a photo. Unfortunately when there is food before me, I often forget to whip out the camera. You'll just have to take my word for it that it was pretty good, and I'll be going back again if ever I were to visit Melbourne again.
After an indulgence like that, we decided that we should walk home and attempt to work off some of the sugar and fat. I'm not sure that the walk was long enough to put much of a dent in our sudden weight gain, but it was certainly nice to see some of the city at night. We did not pass through the centre of the city but many of the places we passed were still busy, especially the eateries.
One of the little discoveries we made during our walk to Lygon street that day was that there are more Malaysian eateries in that little part of Melbourne than you can poke a stick at. Yes, really! I'm not sure whether any of them are any good but we did stop at one for a snack of kaya (coconut jam) on toast. I think it was called Little Coconut House.
Very disappointing. It was made with thin wholemeal bread. Who makes kaya toast with thin wholemeal bread?? The bread should be thick, but light and white. The kaya should be sweet and rich with pandanous and slight caramel flavours coming through. Aside from being sweet, our serve of kaya toast exhibited none of those qualities. Fail!
The next day, we explored Queen Victoria Markets, had breakfast there and then took the Melbourne City tourist bus from tehre to Chinatown. It was a pleasant, but long ride as the bus took us all around the city. We viewed the city from air-conditioned comfort, making notes of just where we wanted to get off next time to see more of the city. The bus had a pre-recorded commentary which told you what landmark we were passing and what there was to see and do at each location.
We stopped at Chinatown for lunch, but not before sending a text to our friend,
Hui Leng
, to ask where we should go in an attempt to try the famous Melbourne yum-cha (or dim sum). She recomended trying Shark Fin House on Little Burke Street. When we got there I was expecting to see huge queues like we see in Sydney yum-cha restaurants, as it was right in the middle of lunch hour, but we must have been lucky as we breezed right through the doors and were ushered to a table immediately. Good food, but we were a little underwhelmed. I am not sure what I was expecting but it was just "yum-cha", you know? It was good, but amazing?? I am glad we tried it anyway. Next time we're in Melbourne, we'll try a different place for comparison.. all in the name of research, no?
Our tummies now full of dumplings and an assortment of other yummies, we set off around Chinatown. Alex loved the stone lions along the street and I think we must have stopped at almost every one and taken a photo. a small (yes,very small, believe me) selection:
Poor little man - Alex's legs could only carry him that far before he needed a rest, and another.. and another.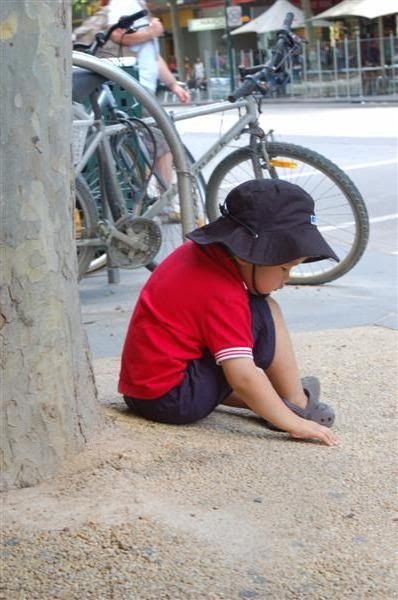 He mastered "the squat".
Finally in an attempt to lure him to walk a bit further so that we could get back to the apartment for a rest, we promised him a tram ride. Can you tell he was a happy boy once we got to the tram stop?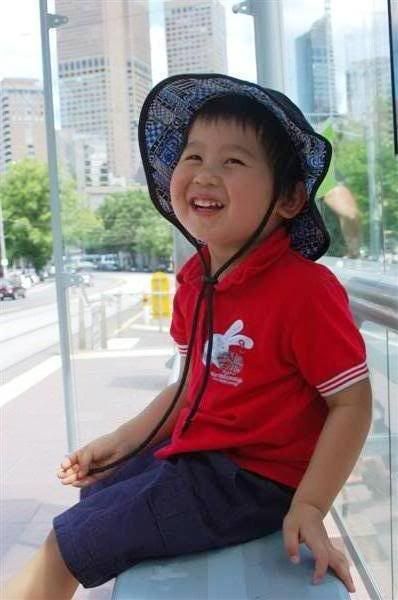 However, it was good 20 minute wait (or more??) before the tram finally arrived, and boy, were we glad to see it!
That night we met Hui Leng and her family (sans daughter who was at a school function) for a very ducky meal at Old Kingdom, Fitzroy. In Sydney, Peking duck is normally served in two courses. Apparently, this is not the case in Melbourne, where it is served in three courses. So, 4 ducks later... we all walked out very over-ducked and very satisfied. This was to be the first of two ducky meals this trip...